Summer of Heroes Opens with Exciting Menus
Summer of Heroes has taken over Hollywoodland in California Adventure! In tune with the opening of "Guardians of the Galaxy – Mission: Breakout!" a heroic overlay has arrived for the oncoming months. New menu items fitting the theme hit quick service restaurants this week.
Knowhere Eats is a new restaurant that will open June 6th. Meanwhile, Cosmic Canteen and Studio Catering Co. are serving the space-themed food expected from the new eatery.
Studio Catering Co. is temporarily offering tacos and nachos, before switching to subs and falafel pitas on June 6th.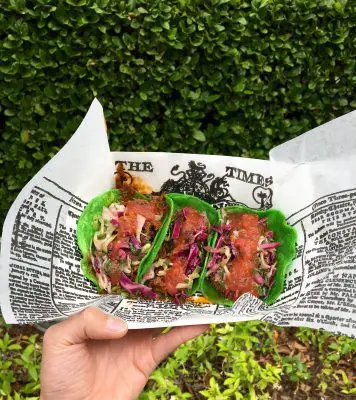 Schmoozies is serving up four themed smoothies, a new lemonade, and a rotating selection of doughnuts. The specialty doughnuts are just available until 11 am. The "Friendly Neighborhood Macaron," a vanilla macaron ice cream sandwich, caught my eye.
Award Wieners introduced two themed desserts. Offerings include a pudding cup and funnel cake fries with dipping sauce.
Bifrosties is a new walk-up serving shaved ice. The themed names, bright colors, and cooling nature will be sure to draw summer crowds.
Cosmic Canteen is currently offering the falafel pitas and sub sandwich. Several themed beverages are the focus. Also available, Groot shaped sourdough and jalapeno cheese breads.
Caitie Bear and I sampled two new arrivals, as a result of working up an appetite waiting for the new attraction.
Can you handle "The Most Dangerous Tacos in the Galaxy?"
Currently served at Studio Catering Co., these beef barbacoa tacos are topped with green onion slaw, purple cabbage, pickled onions, habanero salsa, and held together in bright green tortillas.
The barbacoa beef is tender and flavorful. I felt the proportion was just right: full without overflowing the taco shell. 
The green tortilla may appear dangerous, however the real danger is the spicy kick! Between the habanero salsa and spicy marinated beef, each bite really packs a punch.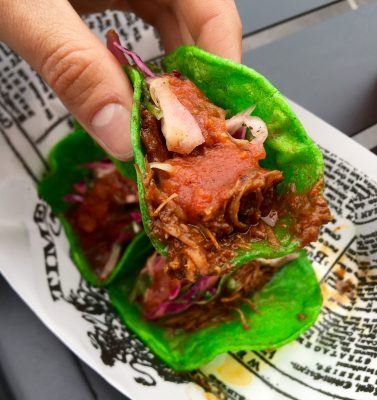 Lightening up each bite, the pickled onions and purple cabbage add a touch of tang. However, the prevailing flavor remains the heat.
The green tortilla idea is fun, but I found them to be bland. I do appreciate the fun color, calling Gamora's beautiful green shade to mind. Additionally, they did not fall apart, despite the very moist meat.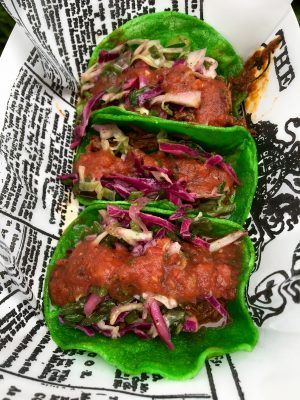 On this visit, I got lucky with an entertaining cast member. He joked with me about my ability to handle "the most dangerous tacos in the galaxy." This challenge made it all the more satisfying to enjoy the meal and conquer these tacos!
I absolutely would order these again! 
Angry Little Pudding Cup Falls Short
Award Wieners introduced a Groot inspired desert is called the "Angry Little Pudding Cup." This features layers of whipped cream, chocolate pudding, and crushed cookies. Three funnel cake fries finally top it off.
This item is extremely simple, with just 4 components coming together in a plastic cup.
Disney whipped cream is a favorite of mine, however this dessert did not do it justice. The chocolate pudding overpowers the delicate sweetness of the whip. 
The chocolate sandwich cookies are soft, likely a result of moisture and refrigeration. This is a shame because the body of this dessert would have benefitted from some crunch.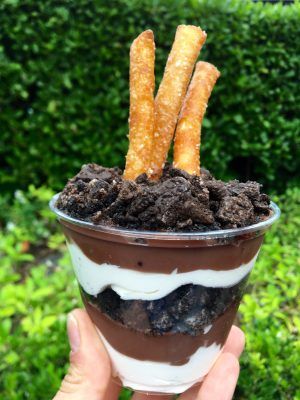 The funnel cake fries are unexpectedly dense, opposite to how crisp they appear. This may be due to refrigerated storage as well. 
Overall, I would skip this dessert and try the shaved ice offerings next time I decide to hero up. 
Bring your appetite to Hollywoodland to try the new Summer of Heroes menus. I certainly will be throughout this special event!