Disney XD and OhMyDisney.com has released more information and the brand new opening title sequence for the upcoming DuckTales reboot series.
Title Sequence and Poster
The title sequence incorporates nostalgic references to the old sequence while establishing how this reboot will feel.  It seems like it takes from the original Carl Barks' comics.  It also shows off the elements of adventure this series will have.  The animation looks great and fluid for the sequence, which gives way to the series being quality in terms of art.
The big element that longtime DuckTales fans will notice is the sequence centers around chasing down a dime.  What is significant about that is Scrooge McDuck's fortune is built around his lucky number one dime.  Could this be the same?  I think it is, but it doesn't say explicitly in the sequence.
On top of the title sequence release, a teaser poster has been released to build more hype for the new cartoon.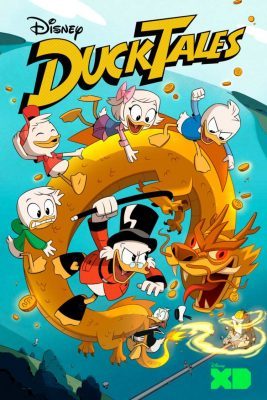 Movie Premiere
DuckTales will premiere on August 12 with a 2 hour movie that will be replayed for 24 hours.  So, there is a lot of time to catch it throughout that day.  September 23 will be both the anniversary of the original television series and the premiere of the regular half hour episodes.  For the premiere there will be 2 new episodes to kick it off.  Episodes will air 7:00 a.m., 11:00 a.m., 2:00 p.m., 5:00 p.m., 8:00 p.m., and 10:30 p.m., EDT/PDT.
On Behalf of Fans
For me, it's putting some things at ease.  I have been a fan of the original series and even the comics for a long time.  Having incorporation of both makes this a dream series for Disney fans.  I'm looking forward to Gizmo Duck being a recurring character and hope that it could even lead to a reboot of Darkwing Duck!  In all, I'm looking forward to the series even more because of all these releases and announcements.