JEAN GREY Flies Solo This May For All-New Series – Your First Look!
New Series Launching as Part of ResurrXion
New York, NY—April 4th, 2017 — Like the Phoenix before her, Jean Grey rises from the ashes this May to headline her very first ongoing series! Today, Marvel is pleased to present your first look inside JEAN GREY #1 – the new series launching on May 3rd! Blockbuster creators Dennis Hopeless (All-New X-Men, X-Men: Season One) and Victor Ibanez (Extraordinary X-Men, Storm) take the fiery young heroine on her own journey in preparation for the fight of her life!
A vision. A premonition. A warning. The Phoenix is coming back to Earth. It could be tomorrow, it could be years from now. But it's on its way. Determined to not succumb to the fate that befell her adult counterpart, Jean will fight the future and forge her own destiny. One problem – she's not ready. Not even close. So, on a quest to save her own life, she'll travel across the Marvel Universe, honing her gifts under the tutelage of the greatest heroes and teachers. Even that may not be enough. Can Jean ever hope to escape the Phoenix? Or is the cycle of death and rebirth doomed to repeat itself? The heat is on this May as Jean Grey sets out on a journey that will turn her world upside down.
Because if she fails – all is lost. Don't miss JEAN GREY #1 when it comes to comic shops and digital devices on May 3rd!
JEAN GREY #1 (MAR170958)
Written by DENNIS HOPELESS
Art by VICTOR IBANEZ
Cover by DAVID YARDIN
Variant Cover by STEPHANIE HANS (MAR170962) and MARGUERITE SAUVAGE (MAR170961)
Corner Box Variant by LEONARD KIRK (MAR170960)
Hip-Hop Variant by SHAWN CRYSTAL (MAR170959)
Remastered Variant by DAVE COCKRUM (MAR170963)
Phoenix Mille Variant by DAVE WILLIAMS (MAR170964)
FOC – 04/10/17, On-Sale – 05/03/17
ALL-NEW GUARDIANS OF THE GALAXY #1 Blasts Off May 3rd – Your First Look!
A New Era Begins – Shipping Twice Monthly!
New York, NY—April 6th, 2017 — A new era begins right here! This May, blast off with your favorite ragtag group of spacefaring heroes for a historic new beginning! New adventures. New creative team. High adventure in the depths of space! Today, Marvel is pleased to present your first look at ALL-NEW GUARDIANS OF THE GALAXY #1 – the new ongoing series hitting comic stores and digital devices everywhere on May 3rd! Blockbuster creators Gerry Duggan (Deadpool, Uncanny Avengers) and Aaron Kuder (Death of X) take Star-Lord, Gamora, Drax, Groot and Rocket Raccoon to new heights as the Guardians of the Galaxy return to the stars! Yet as this band of misfit reunites to blast their way through the galaxy, they'll find that it won't be long before trouble finds them! With the new Nova Corps hot on their tail and a war between the Elders of the Universe, thing have changed out on the edges of space!
"I cannot tell you how excited I am for this book!," exclaims series Editor Jordan D. White. "Gerry and Aaron have been working on this puppy in secret for months, and they've cooked up a series that will be the spine of the Marvel cosmic universe, while still being rooted in the great Guardians characters we love. And maybe even a surprise addition to the team eventually, too…"
Exciting alien worlds! Thrilling action! The mysteries of deep space! Strap in and hold on, because you're in for a thrill ride to the furthest corners of the Marvel Universe! On May 3rd, it's a fresh start, and it's coming at you in ALL-NEW GUARDIANS OF THE GALAXY #1! Be there!
Plus – don't miss an original 10-page All-New Guardians of the Galaxy story on Free Comic Book Day (May 6th) from Duggan and Kuder!
ALL-NEW GUARDIANS OF THE GALAXY #1 (MAR170937)
Written by GERRY DUGGAN
Art & Cover by AARON KUDER & IVE SVORCINA
Variant Cover by AARON KUDER (MAR170939), LEINIL YU (MAR170941)
And SKOTTIE YOUNG (MAR170942)
Action Figure Variant by JOHN TYLER CHRISTOPHER (MAR170940)
Hip-Hop Variant by JEFFREY VEREGGE (MAR170938)
FOC – 04/10/17, On-Sale – 05/03/17
AMERICA #1 & #2 Have Sold Out – Read The First Issue FREE Right Now!
Free Digital Comic – This Weekend ONLY!
New York, NY—April, 7th 2017 — This weekend from April 6th to April 9th only, take a journey with everyone's favorite no-nonsense heroine America Chavez in the debut that has the world talking with the FREE America #1 Digital Comic.* Available through the Marvel Comics App, this FREE digital comic is yours for the taking!
Get AMERICA #1 FREE – This Weekend Only
The red-hot first issue sold out at the distributor level in record time, with issue #2 selling out in its first day of release! It's not too late to jump on board one of the most talked about comics in the industry with this FREE digital comic offer! Superstar YA author Gabby Rivera (Juliet Takes a Breath) teams with artist Joe Quinones (Howard the Duck) to bring you a debut issue that has the comics industry buzzing. Don't believe us? Here's what the critics had to say:
"A triumphant debut that almost dares readers to not be entertained." – Newsarama.com
"Perfect. America is simply one of the best new comics that Marvel have put out in a while." – All-Comic.com
[America #1] is as visually inspiring as the lead character, carrying an energetic visual style that compliments the book's vision. – ComicBook.com
"If there were any doubts that Miss America truly needed her own comic, America #1 should put them to rest." – IGN.com
"Rivera writes a confident and multidimensional America, while Quinones and Villarubia illuminate the pages with energy and vibrancy." – Comicsverse.com
She's stood side-by-side with some of the most powerful heroes in the Marvel Universe. But now it's time for her to go it alone. The adventure is just beginning, and you can hop on board with a FREE digital copy of AMERICA #1. Plus, continue the adventure with AMERICA #2 – available now at your local comic stores.
*Offer valid until Sunday April 9th at 11:59 EST on one (1) digital copy of America #1 only.  Free digital copy of America #1 can be accessed through the Marvel Comics App and Marvel Digital Comics Shop. Marvel user account and internet connection required.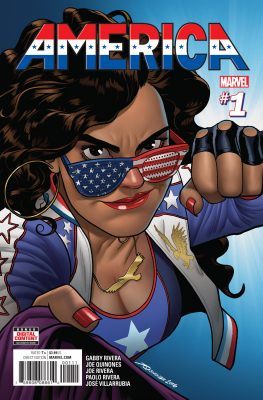 BLACK BOLT #1 Plots An Impossible Jailbreak – Your First Look!
New York, NY—April 3rd, 2017 — The King of the Inhumans – now in his very first solo series! Today, Marvel is pleased to present your first look atBLACK BOLT #1 – the new series launching on May 3rd. Award-winning science fiction author Saladin Ahmed (Throne of the Crescent Moon) makes his Marvel debut alongside fan-favorite artist Christian Ward (Ultimates) to take you deep inside the mind of the silent monarch of Inhumanity. With a voice that can crack a planet in half, he'll find himself somewhere he never thought possible – imprisoned at the edges of the cosmos! The newest resident of a prison designed to house the most dangerous criminals in the galaxy, Black Bolt must find out how he ended up here and who imprisoned him. But first, he'll have to survive a fight to the death with a fellow inmate – The Absorbing Man! It's time for the Midnight King to plot the impossible: an escape! That is…if he survives. Prepare for a truly mind-bending sci-fi epic unlike any other when Ahmed & Ward bring you the can't-miss BLACK BOLT #1 – on-sale May 3rd!
BLACK BOLT #1 (MAR170984)
Written by SALADIN AHMED
Art & Cover by CHRISTIAN WARD
Variant Covers by PAUL POPE (MAR170985) & TBD (MAR170987)
Hip-Hop Variant Cover by RAHZZAH (MAR170986)
Kirby 100th Anniversary Variant Cover by JACK KIRBY (MAR170988)
Action Figure Variant Cover by JOHN TYLER CHRISTOPHER (MAR170989)
FOC – 04/10/17, On-Sale – 05/03/17
The Hottest Marvel Titles On The Stands Have Sold Out –
Will Return For New Printings!
Three Must-Have Marvel Titles Return For New Printings
New York, NY—April 6th, 2017 — Three of the hottest titles on the stands. Three sold out comics. Today, Marvel is pleased to announce that X-MEN PRIME #1, AMERICA #2 and CAPTAIN AMERICA: STEVE ROGERS #15 have all sold out at the distributor level (though copies may still be available at retail) and will immediately return for new printings! These three books are lighting up the industry, and now is your chance to get in on all the excitement!
First up, she's the leader of the Ultimates. She punches so hard she can shatter the barriers between dimensions. And fans everywhere can't stop talking about her new series! After a lightning-quick sell out of issue #1, AMERICA #2 is headed back for a new printing! The series has been called "visually inspiring" (ComicBook.com), "a triumphant debut" (Newsarama) and "simply one of the best new comics that Marvel have put out in a while" (All-Comic). What are you waiting for? Don't miss the series that has fans buzzing!
Then, the RessurXion begins as Marvel's Merry Mutants kick off a new beginning in X-MEN PRIME #1. It's back to basics as Kitty Pryde returns to reclaim her rightful place alongside the X-Men. In the wake of their war with the Inhumans, the stage is set for an bright new beginning! Featuring lead-in stories for the highly anticipated X-MEN GOLD, X-MEN BLUE and WEAPON X – this is not one to miss!
Finally, the road to the upcoming Secret Empire rolls on in CAPTAIN AMERICA: STEVE ROGERS #15! As Hydra's tentacles slowly work their way across the Marvel Universe, the final seeds of Captain America's master plan are laid here. There's only one thing standing in his way – his arch-nemesis the Red Skull! Locked in combat once again, Captain America is done playing games and looks to put an end to the Skull once and for all!
Don't miss these epic titles when they return to comic shops in the month of May!
Retailers: Check your upcoming Marvel Mailer for ordering information on these covers.
AMERICA #2 SECOND PRINTING
Written by GABBY RIVERA
Art by JOE QUINONES & MING DOYLE
Cover by JOE QUINONES
X-MEN PRIME #1 SECOND PRINTING
Written by MARC GUGGENHEIM, CULLEN BUNN & GREG PAK
Art by KEN LASHLEY, LEONARD KIRK & IBRAIM ROBERSON
Cover by KEN LASHLEY
CAPTAIN AMERICA: STEVE ROGERS #15 SECOND PRINTING
Written by NICK SPENCER
Art by JAVIER PINA & ANDRES GUINALDO
Cover by GABRIELE DELL'OTTO
EXPERIENCE MARVEL'S STAR WARS™ COLLECTED IN ONE GALAXY-SIZED SLIPCASE!
Over 30 Years of Star Wars Available in this Massive Collection!
New York, NY – April 6, 2017 – Celebrate Marvel Comics' STAR WARS with a box set that you'll need the strength of the Force to lift! Enjoy adaptations of every film in the series so far, plus a special prelude to Star Wars: The Force Awakens. Follow Luke Skywalker and the Rebels into all new adventures with the first collection of Marvel's best-selling new STAR WARS series, and turn to the dark side with Darth Vader's own debut volume! Then savor a stunning gallery of STAR WARS covers by Marvel's greatest artists. It's the ultimate celebration of cinema's greatest space epic in comic book form!
"Our Slipcase Sets continue to be massive hits with fans and retailers, selling out almost instantaneously, and we wanted to build something equally impressive to honor the legacy of Star Wars," says Marvel SVP Sales & Marketing David Gabriel. "With these premiere hardcovers, not only do you get the entire catalogue of Marvel's Star Wars packed with extras and bonus material, but they are all presented in one of the most stunning packages we've ever produced."
Relive the complete Marvel Comics STAR WARS saga in one complete, stunning package light years ahead of any other collection complete with 12 premiere hardcovers chronicling the history of a galaxy far, far away!
STAR WARS BOX SET SLIPCASE is only available in extremely limited quantities, so don't miss your chance to own a piece of STAR WARS history. This slipcase will arrive in local comic shops April 2017 containing the following volumes:
STAR WARS: THE PHANTOM MENACE PREMIERE HC
STAR WARS: ATTACK OF THE CLONES PREMIERE HC
STAR WARS: REVENGE OF THE SITH PREMIERE HC
STAR WARS: A NEW HOPE PREMIERE HC
STAR WARS: THE EMPIRE STRIKES BACK PREMIERE HC
STAR WARS: RETURN OF THE JEDI PREMIERE HC
STAR WARS: JOURNEY TO THE FORCE AWAKENS – SHATTERED EMPIRE PREMIERE HC
STAR WARS: THE FORCE AWAKENS ADAPTATION PREMIERE HC
STAR WARS VOL. 1 PREMIERE HC
STAR WARS: DARTH VADER VOL. 1 PREMIERE HC
STAR WARS: HEROES FOR A NEW HOPE PREMIERE HC
STAR WARS: THE MARVEL COVERS VOL. 1 PREMIERE HC
STAR WARS BOX SET POSTER
Star Wars
Box Set Slipcase

(OCT161000)

Hardcover: 2,208 pages

Language: English

ISBN-13: 978-1302903947
Pre-Order on Amazon

On Sale April 18th
UNITED WE STAND – Your First Look at SECRET EMPIRE #1!
The Avengers, X-Men, Defenders, Inhumans, Champions, and More Galvanize as One
New York, NY—April 7th, 2017 — This is it, the moment you've been waiting for! It has been building for months, but now the time has come. The most trustworthy, stalwart hero the Marvel Universe has ever known will step into the light and reveal himself! How will the heroes of the Marvel Universe cope with such a shattering betrayal? It's all happening on May 3rd, as the highly anticipated SECRET EMPIRE #1 makes it's thunderous debut at your local comic shops and on digital devices everywhere! Today, Marvel is pleased to present your first eye-popping look inside issue #1!
From blockbuster creators Nick Spencer & Steve McNiven comes a first issue that must be seen to be believed! The Marvel Universe is under siege from within. Due to the manipulations of the Red Skull, Captain America, secretly a true believer in the cause of Hydra, uses the trust and respect he has gained over the years to ascend to a position where he can enact Hydra's ideals. But now, the dominos of his master plan will begin to fall! Ask yourself, what if your greatest ally was secretly your greatest enemy?
Now, the rise of Hydra stands as a rallying cry for the heroes across the Marvel Universe. Avengers, Champions, Guardians, Defenders, X-Men, Spider-Man, Deadpool and more must unite. Put aside their differences and come together as one. The first and last line of defense against Hydra!
The sensational, can't-miss SECRET EMPIRE #1 hits comic stores and digital devices May 3rd. Get in on the ground floor of the comic event of the year that's sure to have the world talking! As Hydra's grip tightens around the Marvel Universe, can the heroes stand triumphant? Find out this May!
Retailers: FOC on Secret Empire #1 is fast approaching (04/10). Retailers are strongly encouraged to check their orders on Secret Empire #1. Check your Marvel Mailer for ordering options and opportunities.
SECRET EMPIRE #1 (MAR170901)
Written by NICK SPENCER
Art by STEVE MCNIVEN
Cover by MARK BROOKS
Variant Covers by ADI GRANOV (MAR170902), J. SCOTT CAMPBELL (MAR170903),
And SKOTTIE YOUNG (MAR170906)
Action Figure Variant by JOHN TYLER CHRISTOPHER (MAR170907)
Villain Variant by DAN MORA (MAR170908)
Hydra Heroes Variant by ANDREA SORRENTINO (MAR170905)
FOC – 04/10/17, On-Sale – 05/03/17
MARVEL INSIDER To Reward SECRET EMPIRE Readers & Retailers This Summer!
Enjoy the Biggest Comic Event of 2017 & Earn Bonus Points!
New York, NY—April  6th, 2017 — Excitement is ramping up for the highly-anticipated Secret Empire #1 (in-stores May 3rd), and today Marvel is pleased to unveil a new promotion that's set to reward loyal Marvel fans and comic store retailers nationwide! Utilizing the new Marvel Insider fan loyalty program, we're awarding fans with bonus points throughout the duration of Marvel's Secret Empire comic event and driving more foot traffic into comic retail stores. Marvel Insider points can be redeemed for cool rewards, limited-edition collectables and more!
Marvel Insider members who purchase Secret Empire comics at their local stores can rack up major Marvel Insider bonus points for redeeming the digital codes for each issue! Currently, Marvel Insiders can already earn up to 2,000 points per week for redeeming 10 digital codes at 200 points each. For each Secret Empire issue, Marvel Insiders will also earn an additional 1,000 bonus points on top of the regular 200 points for their digital code redeem – that's a total of 1,200 points per issue! As a special reward for "completing the set," Marvel Insiders who redeem digital codes for all 9 issues of Secret Empire will earn a whopping 10,000 points bonus!
Are you a Marvel Insider yet? Go to marvel.com/insider to join and start getting rewarded for the things you're already doing as a Marvel fan!* Earn points for things like purchasing comics, connecting with Marvel on social, checking out the latest and greatest original content on Marvel.com, playing Marvel mobile games, and more! Then, redeem your points for cool rewards like bestselling digital comics, collectible merchandise, exclusive Marvel mobile game rewards and unforgettable experiences! Check back frequently for new opportunities to earn and spend points, especially around major Marvel events!
*Program available to residents of the continental U.S., Alaska, and Hawaii only. Must be 18+. Please see the Marvel Insider Loyalty Rewards ProgramTerms for program terms and conditions and the Insider homepage for program details.
SECRET EMPIRE #1 (MAR170901)
Written by NICK SPENCER
Art by STEVE MCNIVEN
Cover by MARK BROOKS
FOC – 04/10/17, On-Sale – 05/03/17