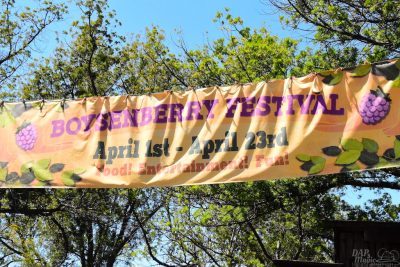 One of the events of the year I always look forward to is the Boysenberry Festival at Knott's Berry Farm.  But, is each year good?  Can it top itself each year?  Well, let's take a look…
Food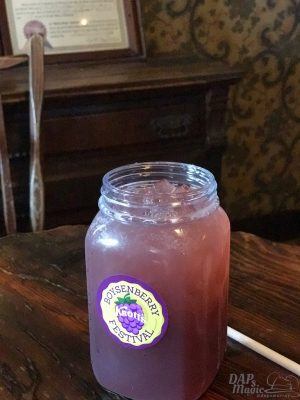 I'm actually not going to get into the food too much.  It deserves a whole separate post, and that's what we'll do.  But, I'll point out a few highlights.
The tasting card items are some of the best the Festival has.  The pizza was great, and has a good amount of sweet.  The meatballs and buffalo wings are classics.  The fry bread may be my new favorite item.
But, in addition to the tasting card items are many more foods to taste.  Alligator bites, short ribs, flautas, and Fun Buns are just a few of the many items to purchase.
There's wine tasting as well in the Wilderness Hall.  Several wineries have gathered for tasters' enjoyment.  Right outside the barn doors is the infamous Boysenberry beer and cider.  All of these can be tasted via a separate tasting card purchased inside the Hall.  It's well worth the price and comes with a pairing plate of cheese, crackers, and fruit.
The other amount of food and drink is located in various shops.  There are items for purchase like Boysenberry Beef Jerky and limited edition Boysenberry Cream Soda that are in the shops, not eateries.  A fresh cream soda, hand made, is located in Judge Roy Bean's.  It comes in a take home plastic mason jar.  Well worth the slightly over $4.
A person could spend just a day getting everything there is to eat at the Festival.  But, there is much more!
Entertainment
The Boysenberry Festival has a great amount of entertainment to enjoy during the whole event.  Quite a bit is centered in Ghost Town on the various Calico stages.  Some of it is at night at dance parties.
A returning performance is in the Bird Cage Theater.  For many years, Knott's Berry Farm had a melodrama going inside.  It has been brought back for the Festival with a berry theme to it.  A 4 person ensemble performs a classic feeling story with some audience participation in the form of cheering for the hero and booing the villain.  It is a great addition to the theater!  The comedy is fairly basic and family friendly.  The performers did a great job at capturing the nostalgic melodrama feel.  It's worth taking the time to watch.
Over in Calico Square are an assortment of family participation games.  There are things like balloon popping relays, pie eating contests, and chicken dance contests.  Even if you don't participate, it's fun to stop and watch many of these families have a great time with the silly and fun activities.
Camp Snoopy Theater has some activities throughout the day as well.  When we stopped to watch there was a round of the hokey pokey.  Following the activities are photo opportunities with the Peanuts gang.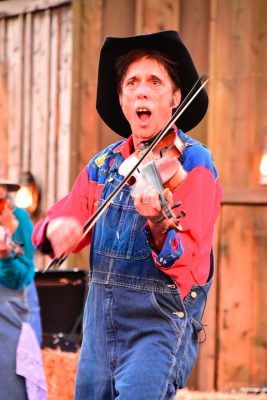 The gang is also in a brand new show at the Calico Square Stage called Snoopy's Boysenberry Jamboree.  A number of singing dancers join the gang as they get ready and put on the jamboree.  Songs like Easter Bonnet and Singing in the Rain are performed with colorful costumes and, of course, Snoopy.  It's one of the finer shows of the park.  Though it's a basic story, I thought everything moved along and a finale that let's kids dance in is a great feature.  The renditions of songs are festive, and are sure to grab anyone passing by.  But, set aside time to go and watch.
Two dance parties happen during the night.  A salsa oriented dance is at Fiesta Village.  While an 80's themed dance party is at the Boardwalk theater.  The 80's dance party is continuous throughout the night, and features a club-like atmosphere.  Lots of lights and fog permeate the hall.  A few 80's arcade games are available for play if you don't care to dance.
Since the melodrama is performed into the night, Krazy Kirk and the Hillbillies are unable to perform in the Bird Cage Theater.  Instead, they are at the Wagon Circle Theater that hosts the stunt show during the day.  It's a bigger and nicer venue for the Hillbillies.  They were in great form as they performed their new stage opening night of the Boysenberry Festival.  The performances drew a good sized audience.  Of all the entertainment, they are the ones that keep people coming back and enjoying.  Their stellar in music and do a great job being entertaining at reactions around the crowd and even what happens in the background…like a roller coaster that keeps having people scream while a song happens.
Atmosphere
Knott's always decorates the park well for the Boysenberry Festival.  Ghost Town especially has great decoration.  There's a small field of berry plants as a Camp Snoopy train passes by them.  There are banners and giant berries that sit atop the roofs of Ghost Town buildings.  It all makes it feel like we entered an old time fair where a pie baking contest is just around the corner.
Inside the Town Hall, the history of Knott's Berry Farm can be watched via a short video that is continuously shown throughout the day.
At the Livery Stable, Old MacDonald's Farm has several animals to observe and pet.  Horses, a burro, and even sheep can be viewed.  When we were in the barn, one of the sheep was getting sheared, which is not something seen on an average basis.
A craft village is throughout Ghost Town, with opportunities to buy things like candles, brittle, and wood sculptures.
Taking a stroll around the park is worth the energy to see all there is to see in decoration.  Again, it's like going to a country fair, with great food and festive events.
Bigger and Better?
The dates for the Festival have been extended from years before.  Does the Boysenberry Festival need to be around for this long?  Absolutely!  It's not to be missed, but it would take a few days to experience everything!  On this opening day visit, we didn't ride any rides at all.  It was filled with entertainment and food.  And, we still didn't see all the entertainment!  There is so much to do here that it's something to keep coming back to again and again.  Anticipate getting a Season Pass if you don't already have it, or buy tickets for a couple of days.  It's best to pace yourself and not try to do everything in one day.
The Boysenberry Festival gets better and better every year!  The entertainment grows.  The food is more and more delicious every year.  Not to mention the menu expands too.  It's still one of the events I anticipate every year, and I'll be going back again within this month, as it's only open from April 1 to April 23!
If you go by, let us know what you think in the comments below!
Daps Magic received a sample product or experience for this review in exchange for an honest review. The views of the reviewer are wholly their own. Read full disclosure policy
here.