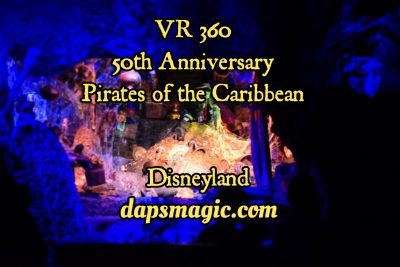 Pirates of the Caribbean is celebrating its 50th anniversary at the original Disneyland.  What better way to celebrate than having virtual rides of two Pirates of the Caribbeans from the original Disneyland and the newest one!
Disneyland recently refurbished the 50 year old classic attraction.  The result is having it in top form again with the ransacking swashbucklers upsetting travelers aboard boats.  The video below captures this beloved attraction with 3D sound to give a complete experience.  It was recorded on the reopening day.
One of Shanghai Disneyland's featured attractions is the newest incarnation of the Walt Disney original ride.  This newest attraction is more centered around the films that were inspired by the attractions that are in almost every park around the world.  Where all the others are variations of the original, this is an original in itself.  Guests are tossed in the middle of a feud between Jack Sparrow and Davy Jones.  This 360 video was recorded on opening day of Shanghai Disneyland too!
It is clear that Pirates of the Caribbean has a huge following and appeals to cultures all across the globe.  Though it takes travel to go on the ride in person, hopefully these videos will help give a great impression of the popular ride.
To view them well you can watch on a Google Chrome browser on your computer and use your mouse to move around within the video.  It's also viewable on YouTube mobile apps.  You can move your mobile device around and the video will follow your movement to look completely around the attraction.  Or use your finger like you would the mouse to move it around.  The best way to enjoy these videos is with mobile devices that connect to Google Cardboard, or VR devices like Samsung Gear VR.  Have headphones handy as well because the audio will surround you to complete the experience!