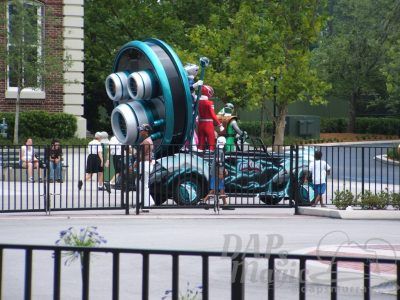 There is a new Power Rangers movie that is premiering in theaters this weekend.  It's not a Disney produced movie, BUT there is a Power Rangers Disney connection from the past.
Disney actually owned the Power Rangers franchise from 2001 to 2010.  It was part of a deal that got Fox Family to become ABC Family, and also the birth of that channel that is now Freeform.  Disney produced the American footage and used the Japanese footage from Super Sentai, as it's called in Japan.  The shows aired on several Disney owned channels besides ABC Family.  ABC Kids, Toon Disney, and Jetix were all under the Disney network banner and aired a Power Rangers show at one point or another.
During the Disney owned era the Power Rangers incarnations were:
Time Force
Wild Force
Ninja Storm
Dino Thunder
SPD
Mystic Force
Operation Overdrive
Jungle Fury
RPM
Each had at the beginning of the title "Power Rangers."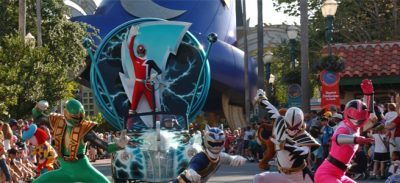 Besides airing on television, the Power Rangers made appearances at Disney's Hollywood Studios in parades and also in their own meet and greet show.  Costumes could be seen within the Planet Hollywood store that was on Sunset Blvd. in the park.  These were from the first feature film of the Mighty Morphin Power Rangers.
For the "real" Rangers appearances, an elaborate car would herald members of different teams, and be available for photos and autographs.  At first they were part of a parade down the main boulevard of the park.  Later they appeared in their own scheduled times in the backlot area with the same car bringing them on stage.
Instead of having one team of Power Rangers from a single show, the members rotated based on what shows were recently aired.  Possible members were from the teams of Wild Force, Ninja Storm, Dino Thunder, SPD, and Mystic Force.  Their appearances ended in 2010 when Disney sold the Power Rangers back to their original company, Saban Entertainment in 2010.