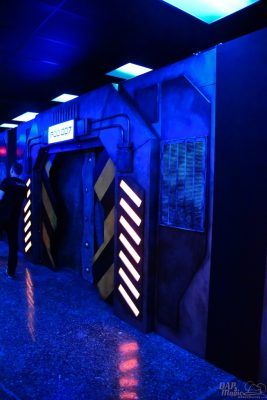 Knott's Berry Farm has a great new attraction custom built and placed under Voyage to the Iron Reef in the Boardwalk area of the park.  The extra cost game was a collaboration between VRstudios and Cedar Fair, and features iconic characters and settings from the history of Knott's.
The game makes use of wireless Virtual Reality headsets (VR) that fit over guests' heads.  In addition, wireless headphones keep the immersive-ness with audio streamed to them.  Physical guns appear in the game as well.  Game guests can move freely around a small room, known as a pod.  Though there is almost nothing else in the room, the game will simulate the classic Ghost Town setting with barrels and boxes to hide behind.
The pods can have two players in them, but all pods are connected to allow for teams.  Up to 4 can play at once.  The pods also provide different perspectives. depending on the sides you are on.
The story takes place in Calico Square where time traveling robots are trying to take over.  Professor Welles sends you to stop the robots from succeeding.  Welles is known to Knott's Berry Farm fans as the main character in the extinct attraction Kingdom of the Dinosaurs, which was located in the same building as the VR Showdown.
The game has a continuous play story, but really 3 stages.  Each stage has a mini boss that attempts different take overs, like the Blacksmith Shop and Water Tower.  The end boss attempts to steal a safe from the bank.  Steam Engine 41 plays a part in the game and players have to dodge debris.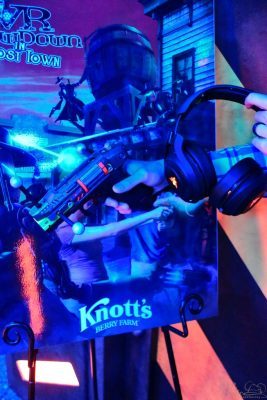 The game is challenging, but not overwhelming.  In that way it can get bigger and better depending on how players do and how many are around.  If a player gets hit by a robot, their score goes down.  A ranking system shows team score, individual score, and will have an online leader board to show overall player scores.
Having played a few times at the preview night, this was an incredible experience!  It is like no other virtual reality game I've played before.  Responsiveness was amazing, and helped make this a great interactive experience.  Being a Knott's fan, I appreciated the homages to classic Knott's lore.  Though it's an extra admission attraction, I'm already planning on doing it again…and again.  Having replay value will make this a success with Season Passholders.
The attraction opens to the public on April 1 in time for the Boysenberry Festival!
<i>Daps Magic received a sample product or experience for this review in exchange for an honest review. The views of the reviewer are wholly their own. Read full disclosure policy at dapsmagic.com/disclosurepolicy.</i>