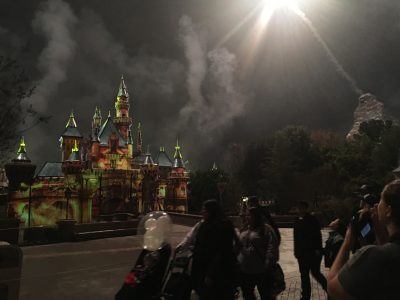 Remember… Dreams Come True is now a classic fireworks show for the Disneyland Resort.  When it premiered for the 50th anniversary it showed what Disney was capable of with a fireworks spectacular.  It takes guests on a musical journey through the park and past and present attractions.  It also surrounds guests with pyrotechnics around those on Main Street.
Since its first showings over a decade ago, technology has vastly improved both for the Resort and guests.  There had been simple projections and lights on Sleeping Beauty Castle and "it's a small world."  Now there are more sophisticated projection mapping to create a more visual show.
Besides projections, other video technology has improved for guests.  4K cameras and 360 video was not even thought of during the 50th anniversary.  Now with both there can be an interactive home experience for Disneyland and Remember fans.
We've recorded Remember… Dreams Come True in 360 VR video.  If viewed in a Google Chrome Browser or on mobile YouTube apps you can move the view around.  On computers through Chrome browsers, use your mouse to drag around the video.  On mobile devices, either move your device around or use your finger like you would a mouse on a computer and drag around the video.  It can also be used in VR devices like Google Cardboard or Samsung Gear.  Be sure to put on headphones for the full sound immersion too.  With it you can see how the show truly surrounds guests while they watch on Main Street or the Hub in front of Sleeping Beauty Castle
We hope you enjoy this interactive look at the famous pyro show.  We have other 360 videos to enjoy including the Main Street Electrical Parade and attractions from Hong Kong Disneyland and Shanghai Disneyland.
Check out our Disney 360 video playlist with Disneyland, Walt Disney World, and overseas parks here.