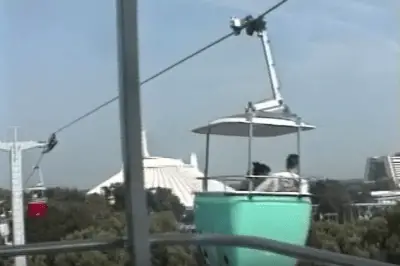 Walt Disney World has recently filed plans with the state that have some interesting buildings in them, according to Orlando Sentinel.  The buildings are at various locations on the property as part of an overall improvement plan with Reedy Creek Improvement District – the government entity on property.  The buildings' plans call for floors that are elevated 100 feet, leading some to believe this could be for a gondola system.  One of the other pieces of evidence is in a V-Shape that is reminiscent of other gondola projects in other places.
Plans lay out construction south of Epcot and east of Disney's Hollywood Studios.  The speculation is that it would provide transportation to some of the resorts nearby without expanding the monorail system.
The gondola system would not be the first of its kind at Walt Disney World.  The attraction Skyway was in the Magic Kingdom for a number of years and took guests over the park from Fantasyland to Tomorrowland.  It was closed in 1999.
Disney has not confirmed or denied the system being built.