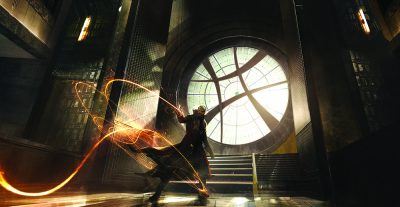 Doctor Strange is out on Blu Ray and DVD today in several stores.  To commemorate the release of the movie to homes, Marvel has released a behind the scenes look at the casting of Benedict Cumberbatch.  It also shows how he made the role his own and the making of his costume.
Over in a Best Buy in Atwater Village in Los Angeles, Joe Hill of 3D Joe & Max has created a 3D painting of Doctor Strange above New York.  The art will be on display through March 4 at 2909 Los Feliz Blvd., Los Angeles, CA 90039.  Below is the official statement about the artwork and the video of the behind the scenes of the film.
To celebrate the arrival of Marvel Studios' "Doctor Strange" on Blu-ray™ 3D, Blu-ray, DVD and On-Demand on Feb. 28, renowned 3D artist Joe Hill — who's created unique 3D anamorphic street paintings worldwide and set world records for the enormity of his artwork — has recreated a thrilling scene from the critically acclaimed blockbuster inside Best Buy Atwater Village. Feb. 28 – March 4, fans are invited to interact with the life-size 3D painting, which features the Master of the Mystic Arts suspended above the streets of New York City within a dimensional gateway.