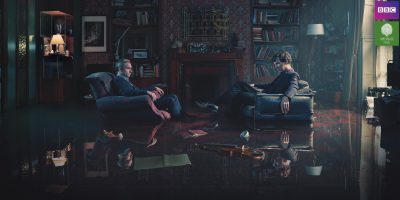 Sherlock Holmes will be returning for the 4th series of Sherlock in less than a month! The BBC has released a trailer with a few teasers of what will be coming when the world's most famous consulting detective returns. It also gives a few perhaps perilous previews of what could be coming this series. All three episode titles have now been released and will include:
The Six Thatchers
The Lying Detective
The Final Problem
Here is a description of The Six Thatchers:
In episode one of this new series, written by Mark Gatiss, Sherlock waits to see where Moriarty will make his posthumous move.

One mysterious case in particular baffles Scotland Yard – but Sherlock is more interested in a seemingly-trivial detail. Why is someone destroying images of the late Prime Minister Margaret Thatcher? Is there a madman on the loose? Or is there a much darker purpose at work? Something with its roots deep in Mary Watson's past…

Benedict Cumberbatch returns as Sherlock Holmes, with Martin Freeman as John Watson, Mark Gatiss as Mycroft, Rupert Graves as Inspector Lestrade, Una Stubbs as Mrs Hudson, Amanda Abbington as Mary Watson and Louise Brealey as Molly Hooper.
It also turns out that Dr. John and Mary Watson now have a baby girl named Rosamund Mary Watson! The BBC made the following tweet that showcased the arrival of the newest Watson from a copy of The Telegraph.
Congratulations to the new parents… pic.twitter.com/0bgOJFMKjI

— BBC One (@BBCOne) December 12, 2016
Watch the trailer here and see that it is no longer a game this series for Sherlock:
What do you think of this second trailer of Sherlock Series 4? Are you excited for this series?
Sherlock Series 4 will be coming to TVs on January 1, 2017 on BBC One in the UK and PBS in the United States. For fans wanting to see even more of Sherlock,  The Final Problem will air in US theaters on January 16th and 18th. More details can be found here: http://www.fathomevents.com/event/sherlock-season-4-finale