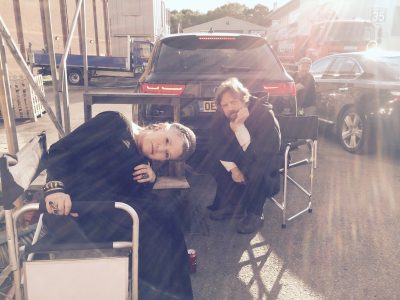 With tributes coming in to Carrie Fisher from around the Galaxy, Oscar Isaac shared a tribute that showed a picture taken during the filming of Star Wars Episode VIII.
Isaac captioned the picture saying, "She had no patience for pretense or small talk. She saw through things, at a different angle, with the gritty wisdom that comes from the hardest lessons. And, man, did she make me laugh.
Will miss you dearly, Carrie."
In the picture Fisher is cocking her head to the side while Hamill sits with his head on his hand. It is unknown if this is just Carrie Fisher being quirky or what the context is behind the story. What is known is that Fisher had a profound impact on the new cast members that joined the Star Wars franchise for The Force Awakens.
The photo really does not give any major clues to Fisher's role in Star Wars Episode VIII but it does seem to indicate that Luke Skywalker and General Leia Organa will find themselves crossing paths. This really isn't a huge surprise. It will be interesting to see next year how much their paths cross and how much this movie has to be modified due to the loss of Fisher. She will be greatly missed by the cast, the crew, and a galaxy of Star Wars fans everywhere.