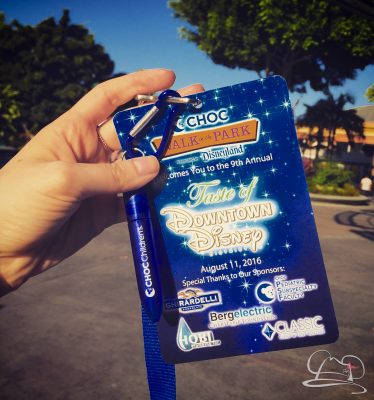 As summer gives way to fall, it is time to look forward to the 26th annual CHOC "Walk in the Park." This year, CHOC Walk will be taking place on October 30th. With this special 5k taking place on Halloween weekend this year, it is being billed as a very "spooktacular" event that turns October into "CHOCtober."
The festivities began this year with the Taste of Downtown Disney event on August 11. This special fundraiser showcased some of the best food and drink to be experienced in the Downtown Disney District, along with some other special surprises.
AMC Theaters
For the DAPs Magic team, the evening began at AMC Theaters where everyone was served popcorn and ushered into a theater to see a rendering of a future bar being added to the location. Following the brief demonstration, the Pete's Dragon trailer that is being shown in Disney California Adventure was played.
Ralph Brennan's Jazz Kitchen
The next stop was at the Ralph Brennan's Jazz Kitchen for a couple of delicious tastes and drinks. A jazz saxophonist accompanied the stop and added to the atmosphere. The first dish served was a Pan Seared Sea Scallop with Crispy Pork Belly and Jalapeno Plum Chutney. This was one of my favorite dishes of the night and was kind of a fun surf and turf. Next came a Grilled Lamb Loli-Pop, roasted Vegetable Cous Cous, Mint Infused Olive Oil, and a Honey Balsamic Drizzle. The lamb was delicious with the balsamic drizzle. These two plates were paired with Bodega San Antonio Sangria Tradicional and Bodega San Antonio Sangria Blanca. If this had been an entire meal, I would definitely have been a very happy camper.
Westside Stage
Next stop was the main stage in Downtown Disney Westside Stage where everyone was treated to a mini Polynesian luau that offers a preview of the CHOC Walk Ambassador's Luau. Starbucks provided provided refreshments as the dancing began. During the course of the show, both members of the DAPs Magic team were pulled to the front to add to the entertainment. While this may have been entertaining for those that were watching, this moment will probably not go down in the annuls of dignified moments… or decent dancing for that matter. However, it gave a wonderful sneak peek of the CHOC Walk Ambassador's Luau.
Tortilla Joe's
The outdoor patio of Tortilla Joe's was the next delicious stop on the tour. Upon entering the patio, margaritas were served. There was also quite a few other offers that included their Tableside Guacamole, Baja Ceviche, and Puffadillas. This was a favorite stop of the evening and the guacamole in particular still makes my mouth water as I think back over this evening.
Naples Ristorante e Pizzeria
At Naples Ristorante e Pizzeria there were quite a few delicious things to taste. This included arancini, Ortolana Pizza, and Gaspaccio All'italiana. There were several wines also offered there. It was a very generous offering and by this point in the night I was learning the importance of pacing oneself. The highlight here for me was the Ortolana Pizza. The Arancini is worth noting too. It was basically a fried risotto ball and I would definitely eat it again.
Wonderground Gallery
Wonderground Gallery has food you ask? Well, it did for Taste of Downtown Disney. It partnered with La Brea Bakery to provide food while watching an artist at work. It really is a nice combination when you think about it. The food was a Panzanella Salad and a Caprese Meatball Slider. If I hadn't already eaten so much as the evening progressed, several of these sliders could have been easily consumed.
Ghirardelli Chocolate
The next stop for our group was upstairs at Naples Ristorante e Pizzeria on the outdoor patio overlooking Downtown Disney. There, Ghirardelli had put together an incredible pairing of chocolate and dessert wine. This was definitely the highlight of the evening. We were treated to dark chocolate bourbon and caramel squares that were paired with several different types of one. One had a sort of port flavor to it with a chocolate hint to it. There were also some red and white sangrias to pair with the chocolate. The red wine was perhaps the most floral smelling wine I have ever encountered. It was also delicious. To top it all off, there was chocolate lava cake with raspberries. As we enjoyed the sweet treats, the Ghirardelli staff shared their vast knowledge of chocolate with us. It was delicious for the taste buds and also for the soul. As we parted, we were given a gift basket filled with Ghirardelli deliciousness.
Catal Restaurant & Uva Bar
The Catal Restaurant & Uvar Bar is a beautiful location. For this event, we were escorted upstairs where we had a beautiful view of Downtown Disney and also of some incredible food. Paella, Cucumber Gazpacho, and Ahhi Tosta was being served there. All were delicious. My favorite though was the Jamon Iberica. It was being sliced as we watched and it was absolutely incredible. It could be eaten on a crostini or just by itself. It was amazing meat. Catal Barrel Aged Old Fashioneds, Virginia Dare Pinot Noir, and Two Arrowheads White Blend were served alongside.
The End
The night ended between Tortilla Joe's and what used to be the House of Blues. There, each couple was given a gift bag (that was also an ice bag) that included either vodka or wine. The gift bag also included coupons for various Downtown Disney venues. Around the area Bread Pudding and cookies were being served by La Brea Bakery. Starbucks Coffee and Jamba Juice Smoothies were also provided as the night came to a conclusion.
The Taste of Downtown Disney was really a delicious experience that supports an incredible cause. Before CHOC Walk on October 30th, there are several other dates to note leading up to it:
October 5th – Minnie Walk at CHOC: This closed event is a special trick or treat event for patients at CHOC Children's Hospital who are too ill to participate in the CHOC Walk at Disneyland. Minnie Mouse will be on hand to add a little bit of extra magic.
CHOC Walk Check-In Dates: October 15, 16, 19, 20, 21, and 22 at CHOC Children's Foundation at 505 S. Main Street, Suite 800, Orange, CA 92868.
October 29th – CHOC Walk Ambassador's Luau: This Polynesian Luau event takes place the night before CHOC Walk. It will have traditional dances, hula lessons, and cuisine which are all inspired by the Pacific Islands. This year the event will take place outside of the Disneyland Hotel on the Adventure Lawn. To register, please visit this website: http://www.teamkailualani.com/#!choc-luau/c1se2
This year's CHOC Walk will be on Sunday October 30th at 6:00 AM. DAPs Magic will be walking this event and if you would like to join the team or support it, please visit our CHOC Walk page and help make a difference while having a great time with some fantastic people. October might still be over a month away, but "CHOCtober" is in full swing after a fantastic kickoff with the Taste of Downtown Disney event.