Some very exciting and even controversial news came out of Marvel Comics this last week.  The new Iron Man(s) have brought a lot of attention to the Marvel NOW! lineup.  Then there's a new Champions team that has a few former Avengers.  Marvel finally released Cage – a Genndy Tartakovsky story and art.  Tartakovsky is famous for Samurai Jack and the Dexter's Laboratory.  Death of X will explain the state of the X-Men and Inhumans.  Finally, a midnight release party will be at comic shops across the country for Civil War II #3.  Check out all the info below!
INVINCIBLE IRON MAN #1 Suits Up & Blasts Off This Fall!
New Character Riri Williams Dons Iron Man Armor For Marvel NOW!
New York, NY—July 6th, 2016 — The Marvel Universe stands divided. As those who once stood together now stand apart, new heroes will rise to answer the call. This Fall, a new armored avenger suits up in INVINCIBLE IRON MAN #1 – a new series launching as part of Marvel NOW! Superstar creator Brian Michael Bendis welcomes incoming artist Stefano Caselli to the ongoing adventures of Marvel's newest leading lady – Riri Williams!
Making her debut earlier this year in the pages of Invincible Iron Man, Riri Williams will explode out of the pages of Civil War II and into the boots of the Armored Avenger. Reverse-engineering her own set of armor to make the world a better place, Riri will lead the charge as Iron Man! Well, for now. She's working on the name! But what has become of Tony Stark? What could have happened during Civil War II to make him hang up the repulsors? That is, if he makes it out in one piece!
"We're in the middle of a very big Tony Stark storyline – actually three storylines converging," says Brian Michael Bendis, speaking with TIME. "His best friend died, his company is collapsing and he's finding out who his biological parents were all at the same time. How that all shakes out such that Tony is no longer in the armor? You'll have to wait to find out for the end of Civil War II. But it does create a path for Riri Williams, who Tony will know and will be interacting with very shortly in the comics."
Strap in and suit up, True Believer. There's a new hero in town. And she's ready to take the Marvel Universe by storm. Be there as Bendis and Caselli armor up to bring you a new armored hero for Marvel NOW! Don't miss INVINCIBLE IRON MAN #1 – coming to comic shops and digital devices everywhere this fall!
INVINCIBLE IRON MAN #1
Written by BRIAN MICHAEL BENDIS
Art by STEFANO CASELLI
Promo Art by JEFF DEKAL
Coming Fall 2016!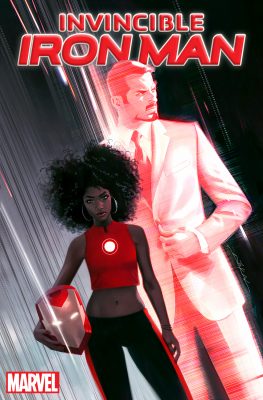 CAGE! #1 – Coming This October From Marvel & Genndy Tartakovsky!
Animation Superstar Takes on Luke Cage for New Series!
New York, NY—July 8th, 2016 — Sweet Christmas, the wait is finally over! Award-winning animator Genndy Tartakovsky (Dexter's Laboratory, Samurai Jack, Hotel Transylvania) comes to Marvel to bring his long-awaited Luke Cage tale to life! Written by Tartakovsky with art by Tartakovsky & inker Stephen DeStefano, Marvel is pleased to announce the hard-hitting, action-packed CAGE! #1 is due to be published this October!
Welcome to the mean streets of New York City – shoes are big, bottoms are belled and crime is rampant! But in the heart of the city, the world's hardest-working, smack-talking, chain-wearing, tiara-sporting super hero is hitting the streets hard and hitting the bad guys harder. This Hero for Hire is on the case, and his rates are reasonable! He's Luke Cage, and he'll save your behind. Dig it!
"Growing up with those [Power Man and Iron Fist] comics in the 70's and 80's I have a very strong fondness of that version of Power Man so my version is very rooted in that time, but I think it's totally fun and feels new," says Tartakovsky, in an interview with Birth.Movies.Death. "It was about making something entertaining with a character that I really liked. So I think it can appeal to young and old readers."
At long last, the eagerly anticipated series returns! Be there when CAGE! #1 comes to comic shops and digital devices this October!
CAGE! #1 (of 4)
Written by GENNDY TARTAKOVSKY
Art & Cover by GENNDY TARTAKOVSKY & STEPHEN DESTEFANO
On Sale Fall 2016!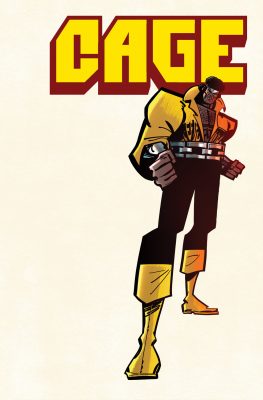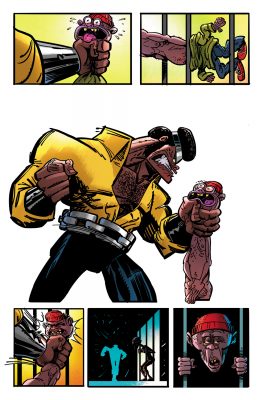 Change the World. Meet Marvel's CHAMPIONS!
New York, NY—July 5th, 2016 — The Marvel Universe is fractured. Heroes, who once stood together, now position themselves in opposition to one another. Idols of the Marvel Universe who once endured in the light are now shrouded within shades of gray, and the heroes of tomorrow are fed up! It's time for a change. It's time for a brighter tomorrow. Enter…the CHAMPIONS! They're coming to you in Marvel's CHAMPIONS #1 – a brand-new ongoing series launching this October as the flagship title of Marvel NOW!
Eisner Award winning writer Mark Waid and Eisner Award nominated artist Humberto Ramos join forces bring you a brand new super team for a new era. A teen team supreme that refuses to adhere to the antiquated ways of old. It's time to be heroes again, and Ms. Marvel, Miles Morales, Nova, Viv Vision and the Totally Awesome Hulk are striking out on their own to make a new future. Not Avengers. Not Defenders. Champions!
"To their mind – the reputation of super heroes has taken a very public beating and they're very intent in proving to the world that super heroes still have value and still have relevance," says series writer Mark Waid, in an interview with Marvel.com.
It doesn't take a Tony Stark or a Captain America to make a difference. All it takes is six young heroes and you can change the world – and they're only the beginning! It all starts this October as Waid & Ramos bring you Marvel's CHAMPIONS #1 – coming to comic shops and digital devices everywhere!
CHAMPIONS #1
Written by MARK WAID
Art & Cover by HUMBERTO RAMOS
On Sale October 2016!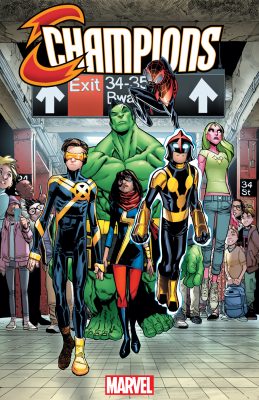 DEATH OF X #1 Ignites the Feud Between Mutants & Inhumans!
New York, NY—July 7th, 2016 — The X-Men and the Inhumans are on a collision course. Cyclops is missing and presumed dead. But the question on everyone's lips is "why"? That question and more will be answered in DEATH OF X #1 – a new 4-issue series launching this fall! Superstar creators Jeff Lemire (Extraordinary X-Men) and Charles Soule (Uncanny Inhumans) are joined by fan-favorite artist Aaron Kuder (Action Comics) for an incendiary tale that will change the course of Mutantkind and Inhumanity alike!
As the Terrigen Mists roll across the Earth, it's transformative properties are birthing new Inhumans across the Marvel Universe. But while the mists bring life to the Inhumans, they spell only doom for the X-Men, leaving dead or sickly mutants in their wake. As the Inhumans travel to Japan where the Terrigen Cloud has created a shocking new Inhuman, the X-Men travel to Muir Island where the cloud has caused something truly terrible. For the sake of his people, Cyclops must take action or face extinction. But how?
"Right now things are not good for mutantkind," says Jeff Lemire, speaking with Entertainment Weekly. "On the flipside, Inhumans have been growing and becoming more prominent in the Marvel Universe. There is a lot of tension between these characters about that…'
"For both sides of this, it doesn't affect just a small group of them," continues Charles Soule. "It's not just their livelihood and way of life but their very lives at stake, so they're going to react the way you think they would."
The burning questions will be answered here as the Inhumans and the X-Men's untold past comes to light. But with the fuse lit, how long until this powder keg explodes? Find out this October as Soule, Lemire and Kuder bring you DEATH OF X #1!  
DEATH OF X #1
Written by JEFF LEMIRE & CHARLES SOULE
Art & Cover by AARON KUDER
On Sale in October!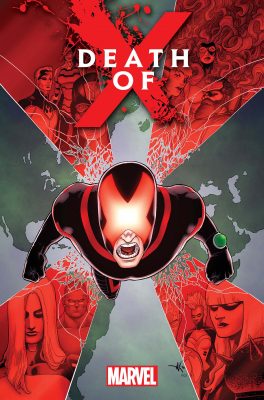 Be First to Get CIVIL WAR II #3 & the Marvel NOW! Previews Magazine!
Marvel NOW! Begins at Midnight on July 13th
New York, NY—July 8th, 2016 — You've seen the blockbuster announcements, but those were just the beginning. Mark your calendars, True Believers because Marvel NOW! comes to your local comic shops at 12:00 AM your local time this coming Wednesday July 13th! We're celebrating the dual release of CIVIL WAR II #3 and the free MARVEL NOW! PREVIEWS MAGAZINE with an epic midnight release for these two can't miss books! Participating stores will be holding Marvel NOW! midnight release parties. Fans are encouraged to call their local comic shop for additional information and confirmation of midnight release parties!
Visit Marvel.com For a List of Participating Retailers in Your Area!*
Who will fall? That's the question on everyone's lips, as one of the biggest heroes in the Marvel Universe meets their end. Who is it and how will divide fans for years to come. It all happens in CIVIL WAR II #3 – and you can be one of the first to find out! How can the heroes of the Marvel Universe survive after the unthinkable happens? As the war escalates to new heights, the table is set for Marvel NOW! Then, get your biggest look into Marvel NOW! yet with the free MARVEL NOW! PREVIEWS MAGAZINE! Exclusive to comic shops, this magazine is packed cover-to-cover with new series announcements, creator interviews and a snapshot of the Marvel Universe of tomorrow!
The party starts at Tuesday night at midnight at your local comic shops! Be there for the midnight release of CIVIL WAR II #3 and the MARVEL NOW! PREVIEWS MAGAZINE on Wednesday, 7/13!
*List of participating stores based upon retailers who ordered CIVIL WAR II #3 QUESADA MIDNIGHT VARIANT. Fans are encouraged to call their local retailers for additional information about midnight openings.