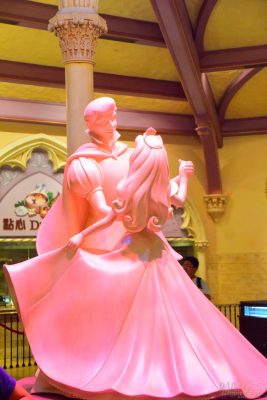 The next stop on the tour around the Hong Kong park is Fantasyland.  This classic land found in all Disneyland-type parks is always home to the beloved stories and characters of the classic Disney films.  Hong Kong was no exception to this.
A Quiet Village
Fantasyland at Hong Kong Disneyland has a very village feel to it.  The facades remind me of the Anaheim look, but with a bit of update.  Probably the closest is an expanded Fantasy Faire.  It has both a renaissance fair quality with a few tent like structures, but it's all nestled in village buildings.  Having this more rural village fits with the quainter park overall.  It's a more intimate Fantasyland instead of a large, spread out one like Shanghai had.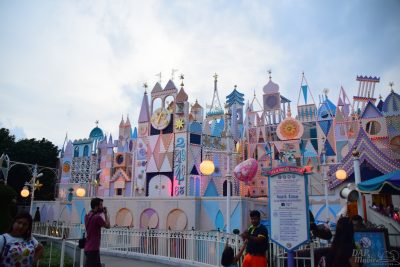 A Small World After All
The big attraction in Fantasyland was probably it's a small world.  This classic boat ride was a variant that gave a uniqueness to the park.  It had many of the same elements as its predecessors in other parks, but there were scenes and dolls that made this a must ride.
First that should be talked about is the building and the queue.  To get to the attraction, guests travel under the railroad tracks and up to the colorful building.  The facade was obviously inspired by the original, but painted with pastel hues that make it much more colorful.  A clock is present to chime at appropriate moments, similar to the original as well.  But, where it starts to differ is that the line is entirely inside.  It's nice as there can be a lot of rain in Hong Kong and very humid summers.  This attraction was quite the respite from both of the elements.  The line wound around the building with the walls full of the pastel panels of geometric shapes like its front.  The catchy song played throughout, and glimpses of the boats loading were seen throughout.
The ride had great scenes that portrayed the feel of the original, but had a bit of updating.  Things different that I noticed was a scene with a couple of Israel citizens, an homage to the Hong Kong skyline, and Pocahontas on a mountainous region to partly represent the Americas.  That leads me to say that there was an abundance of Disney characters throughout.  Disneyland has taken up some of them in a refurbishment, but this really has them in spades.  And, rightly so because of it having them first.  It was fun to catch them all as I traveled through.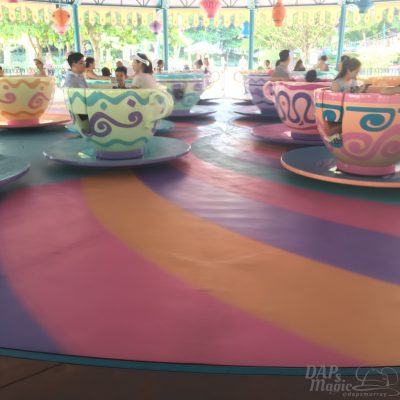 Classics
There were many attractions that were represented here now being classics from first being in other parks.  Philharmagic, The Many Adventures of Winnie the Pooh, Dumbo, a carousel, and Mad Tea Party were all featured here.  Winnie the Pooh took on a similar quality as the Magic Kingdom version, complete with facade.  But, it's pre-interactive queue.  Mad Tea Party had the Magic Kingdom touch as well, being under a canopy to provide shelter from rain.  Dumbo was fun to ride having a great view of the beautiful hills that provide backdrop to the park.  Philharmagic was housed in a village theater.  I liked this look more than the Florida version because it seemed like the residents were putting on a production in the village.  There was even a picture on the wall with the words "Ye Olde Fantasyland Theatre."  It's a nice touch to a quaint place.
Shrubbery
A part of Fantasyland is like a city park.  There are spaces to explore and enjoy nice flora and fauna.  The Fantasia Gardens had a nice Sorcerer's Apprentice sculpture and had characters for greetings throughout the day.  But, it's beautiful landscape was enjoyable to enjoy without having any photos taken.  The other park like atmosphere is also its newest attraction.  Fairy Tale Forest was part maze and part Storybook Land Canal Boats.  The Storybook element was because of the miniature recreations of Disney animated film locations.  There was also an opportunity to make it come alive as dials made fountains spout, lights turn on, or something else magic happen in buildings and also enclosed small scenes.  It was a delightful way to see different films represented.  Also amidst the walk through was a fairy garden for a photo opp with Tinker Bell.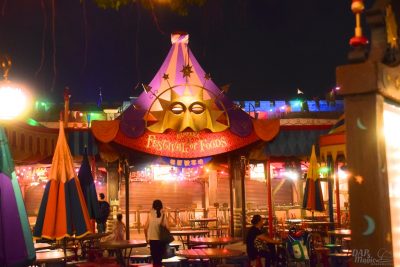 Fanciful Feasts
Two places to eat were some of the most fun in the park.  Festival of Foods was half outdoors and half within a tent.  It takes its cue from the Festival of Fools of Hunchback of Notre Dame fame.  The food doesn't have to do with the film, but I found myself eating here a couple of times.  It was delicious and had a colorful atmosphere because of the drapery of tents.
Though the Royal Banquet Hall sounds similar to a fancy restaurant in the castle of Magic Kingdom, this was a quick serve eatery.  Though it wasn't quite as gourmet as the Florida one, it still had an environment full of royalty.  A statue of Aurora and Philip showed that this courtyard belongs to this royal couple.  Stations provided different types of food in carved out pieces of the castle interior.  The dining rooms featured banquet hall pieces that also payed homage to animated films.  It was a beautiful place to eat with a lot to look at.
So Much To Say And Do
Though this is now the end of the post, it's not the end of Fantasyland.  One attraction in a previous post has a base here: The Disneyland Railroad.  Another attraction I'm saving for a later time: Mickey and the Wondrous Book.  That will need more detail than I think it deserves here.  Until then, keep coming back as we head to another land of Hong Kong Disneyland!