Celebrities Among the First to Enjoy Highly Acclaimed
Broadway Musical at Walt Disney Grand Theatre
Guests Explore Disneytown and Wishing Star Park as Resort
Approaches Official Grand Opening on June 16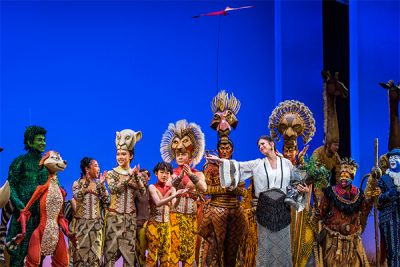 PRESS RELEASE: SHANGHAI, June 14, 2016 – Shanghai Disney Resort celebrated the global premiere of the first Mandarin production of Disney's THE LION KING Tuesday night in a gala affair at the Walt Disney Grand Theatre. The premiere launched the Grand Opening festivities for the new resort, which officially opens on June 16. A red carpet entry to the new theatre welcomed celebrities, luminaries and Julie Taymor, the Tony-award winning director of the original Broadway production of THE LION KING.
One of the most popular and acclaimed musicals of all time, the Broadway hit THE LION KING is presented at the beautiful Walt Disney Grand Theatre, with all the memorable music, drama and grandeur that has entertained more than 85 million people around the world. This is the first time the full Broadway production will be presented at any Disney resort, and it opens to the public on June 16, 2016.
"We are very proud to present the world premiere of the first-ever Mandarin production of Disney's beloved classic, THE LION KING," said Bob Iger, chairman and chief executive officer, The Walt Disney Company.  "This historic performance brings the story to life for our guests in a way that is authentically Disney, distinctly Chinese and completely unique."
Disneytown Guests Experience Shopping, Dining and Entertainment
The red-carpet occasion also saluted Disneytown—the resort's international retail, dining and entertainment area—as well as two imaginatively designed hotels and Wishing Star Park. Following the grand opening of those areas, Shanghai Disneyland will open on Thursday, June 16.
Disneytown is home to the first Walt Disney Grand Theatre, the first World of Disney Store in Asia and approximately 50 dining and shopping locations. The 1,200-seat Walt Disney Grand Theatre, with its separately ticketed shows, brings an authentic Broadway theatre experience to China.
The World of Disney Store is one of the most technologically advanced Disney retail experiences in the world, offering an extensive array of Disney merchandise and many items found exclusively at Shanghai Disney Resort.
Disneytown comprises five distinctive areas: Marketplace, Lakeshore, Spice Alley, Broadway Boulevard and Broadway Plaza. Also open is Spoonful of Sugar, a confectionery boutique and show kitchen; LEGO, a hands-on retail experience and world's largest LEGO store; Wolfgang Puck Kitchen & Bar, the celebrity chef's latest contemporary restaurant; and Shanghai Min, the popular restaurant chain serving authentic Shanghainese cuisine.
Hotels of Shanghai Disney Resort and Wishing Star Park Welcome Guests
The hotels of Shanghai Disney Resort are now welcoming guests to the elegant Shanghai Disneyland Hotel and the imaginative Toy Story Hotel. With more than 1,200 guest rooms, the hotels extend the Disney experience for guests from day until night, with unique dining experiences, character encounters and magical amenities. Wishing Star Park is also open to the public with a serene walking path around the glittering lake, stunning landscape and recreational activities.
Shanghai Disney Resort is Vacation Destination for Everyone
As the first Disney resort in Mainland China, Shanghai Disney Resort is a magical family vacation destination filled with Disney storytelling and experiences designed especially for Chinese guests of all ages. The resort's theme park, Shanghai Disneyland, features world-class attractions and live entertainment spectaculars across six themed lands: Adventure Isle, Gardens of Imagination, Mickey Avenue, Tomorrowland, Treasure Cove and Fantasyland, with the Enchanted Storybook Castle. For a complete vacation experience, theme park guests may also stay at the resort hotels, and visit Disneytown and Wishing Star Park.
Incorporating unique characteristics that Chinese guests will recognize and appreciate, Shanghai Disney Resort offers a distinctive Disney experience that reflects the beauty and unique identity of today's China—from entertainment with Chinese acrobats and traditional regional dining options, to the Shikumen architecture at Disneytown and Chinese Zodiac designs in Garden of the Twelve Friends.
Throughout the resort, visitors will encounter another distinguishing Disney difference: warm hospitality and renowned guest service delivered by Disney cast members
THE LION KING admission is separate from entrance to Shanghai Disneyland. Guests may purchase tickets for THE LION KING at Walt Disney Grand Theatre at:
The official website of Shanghai Disney Resort, www.shanghaidisneyresort.com
THE LION KING Reservation Center at 400-108-8888 or 86-21-31768888
Official ticketing companies and travel partners
###
About Shanghai Disney Resort
Shanghai Disney Resort is a world-class family entertainment destination, imagined and created especially for the people of China. Ideal for multiple-day visits, the resort consists of Shanghai Disneyland, a theme park with magical experiences for guests of all ages; two richly themed hotels; Disneytown, an international shopping, dining and entertainment district; and Wishing Star Park, a recreational area with peaceful gardens and a glittering lake. The resort's hotels are the elegant, 420- room Shanghai Disneyland Hotel and the playful, 800-room Toy Story Hotel.
Shanghai Disney Resort is a joint venture between The Walt Disney Company and Shanghai Shendi Group comprised of two owner companies (Shanghai International Theme Park Company Limited and Shanghai International Theme Park Associated Facilities Company Limited) and a management company (Shanghai International Theme Park and Resort Management Company Limited). Shanghai Shendi Group holds 57% of the shares and Disney holds the remaining 43% of shares of the owner companies. Disney has a 70% stake and Shanghai Shendi Group has a 30% stake in the joint venture management company. The management company is responsible for creating, developing and operating the resort on behalf of the owner companies.