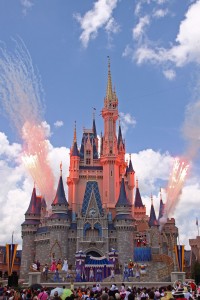 Dream Along With Mickey is saying goodbye to the Magic Kingdom at Walt Disney World. This show which celebrates the magic and power of dreams concludes its nearly ten year run today. The show originally debuted September 2006 during The Year of a Million Dreams.
About 20 minutes long, Dream Along With Mickey shows how Mickey Mouse, Minnie Mouse, and Goofy help Donald discover that dreams really can come true… with the help of all those watching as well.
Along the way, they face Captain Hook with Mr. Smee and Maleficent. They are also joined by Aurora, Cinderella, Snow White and their princes. Peter Pan and Wendy also join the party. Full of heart, this show added magic daily to those visiting the Magic Kingdom.
While Dream Along With Mickey is saying goodbye, Mickey won't be leaving the stage in front of Cinderella Castle for long. Mickey's Royal Friendship Faire will debut this summer with Princess Tiana, Rapunzel, Anna, and Elsa appearing.
Dream Along With Mickey Photos