The World of Color Dessert Party at Disney California Adventure is relatively new to the park.  It premiered in March and has been entertaining guests through both show and food.  Guests are seated at tables and served various items and drinks to their delight.  Then, World of Color lights the night, and all from the comfort of a seat.  Here are some reasons to try this party…
The Great Selection of Food
Of course the food is something to enjoy at this party.  Bread and cheese sticks are served first.  Though it's a dessert party, it's nice to have these more savory items first.  And it goes great with the cheese that is accompanying the pastries on the dessert plate.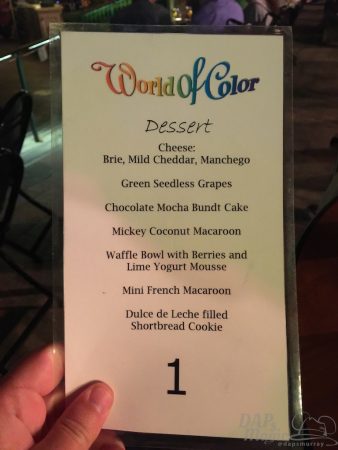 Each guest gets their own plate of grapes, assorted cheeses, and pastries.  Among the pastries are Chocolate Mocha Bundt Cake, Mickey Coconut Macaroon, a Waffle Bowl with Berries and Lime Yogurt Mousse, a Mini French Macaron, and Dulce de Leche filled Shortbread Cookie.
It's a good amount of food, and they're all quite tasty.  My favorite was the cookie and bundt cake.  The Brie cheese was very creamy and spread right on the bread.  My favorite item, out of everything, was the cheese bread sticks.  They had a great crispness and cheesiness to them.  But, nothing was bad about any other food items.  I devoured them all and enjoyed them very much.
Drinks Included
I was a little surprised to find that a good selection of drinks were available with the package.  The usual coffee, tea, and cocoa was offered.  But, champagne was a choice and also a great drink called the Wonderful Cooler could be drank.  The Wonderful Cooler's base was a coconut rum, and tossed in were a few other drink mixers, and even Sprite.  It was a very blue, very fun, very delightful drink that was appropriately named.
It is nice to also have some coffee or cocoa post show viewing.  The night can get chilly, and having some water drops can affect temperature as well.  Having the option of a hot drink to warm one's self up is a nice way to top off the evening.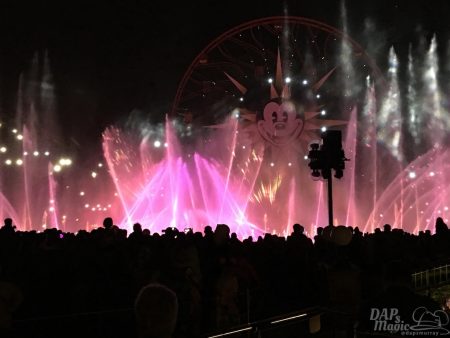 A View To Remember
What really made the party special was the view of World of Color.  I've seen this show a number of times, but in no fashion like this.  Having comfortable seats made a huge difference.  What is also nice is that the tables are staggered in seating arrangement, where taller chairs are for the back tables, and more lower to the ground ones are in the front row.  Either set provides great viewing as they still put people over the heads of other viewing locations.  Some tables are going to have a little better viewing than others.  The party extends from the middle (also known as preferred dining viewing) towards the bridge to Paradise Pier.  It doesn't quite get to the bridge, but it does make those table viewings not quite as good of an angle as the ones in the middle.  Nonetheless, it is just a relaxing way of watching.  So many times my feet have gotten sore from standing for such a long period of time, this made it such a great way to watch without aches and pains.
So, whether you've seen World of Color hundreds of times, or you're getting ready to watch for the first time, this is a great treat to view.  It's $79.99 per person and can be made at disneyland.com/dine or by calling 714-781-DINE.
Daps Magic received a sample product or experience for this review in exchange for an honest review. The views of the reviewer are wholly their own. Read full disclosure policy here.