Oh boy! Looks like Mickey Mouse and friends are about to journey on a few new adventures. Heading to DVD on May 24 is that of Mickey Mouse Clubhouse: Mickey's Sport-y-thon. 
This DVD comes with six episodes featuring all things sports. With over two hours of content, this release is perfect for fans of the Clubhouse.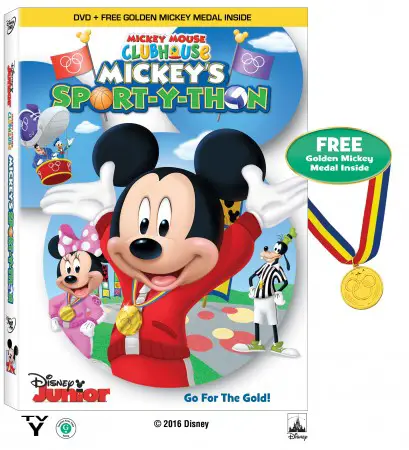 Put on your sneakers and get ready for the greatest sporting event ever! Join referee Goofy, along with Mickey and all of his Clubhouse Pals, as they compete in the first-ever Sport-Y-Thon, an action-filled sports tournament. Share the excitement – and a sky-high view of the action – as sportscasters Pete and Donald Duck broadcast live from above in the Sport-Y-Thon Blimp! Who will earn a prized Golden Mickey Medal? Help our heroes discover that with teamwork and good sportsmanship, everybody wins! Jam-packed with over two hours of song-filled episodes, Mickey's Sport-Y-Thon will have you calling for an instant replay!
DVD episodes include Mickey's Sport-Y-Thon, Mickey's Mousekeball!, Donald's Brand New Clubhouse, Mickey's Mousekedoer Adventure, Mickey's Mystery! and Mickey's Happy Mousekeday. 
Will you be adding this DVD to your collection?