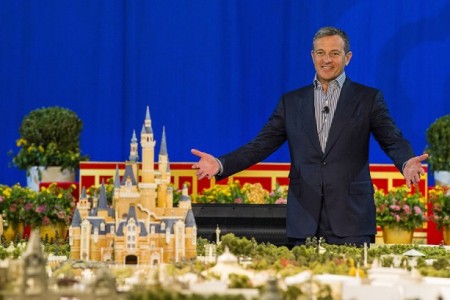 This week executives and shareholders of all ages gathered together in Chicago, Illinois for The Walt Disney Company's annual shareholder meeting. This meeting is known for being a mix of magic and mayhem as news is shared about the company and then shareholders are allowed to ask questions. This year was no exception to either. Some high points include a hot box office run, including Star Wars: The Force Awakens which has generated over $2 Billion since being released in December. Investors continue to be concerned about the future of ESPN as the television industry continues to evolve.
Here is a look at some of the more noteworthy things to come out of this year's meeting:
Disney Cruise Line Adding Ships
The Disney Cruise Line will be adding two new ships to its magical fleet. The names and exact details haven't been chosen yet. But when these two new ships take to sea, they will be the most magical vessels afloat. More details can be found here.
'Star Wars' land Construction Begins in April
Anyone visiting the Disneyland Resort already can tell that some work has begun to make way for the new Star Wars themed land. Disney CEO and Chairman Robert Iger announced that work will officially begin on this new land in April at both Disneyland and Disney's Hollywood Studios. This new addition will be 14 acres and feature two new attractions placing guests right in the middle of the Star Wars universe.
ESPN A "Healthy Business"
During the question and answer portion of the meeting, Bob Iger affirmed that "ESPN is a healthy business and a large business." He also noted that it is the most watched sports network in the country as over 200 million people watch it each month. Iger did note that ESPN's growth in the future would most likely not match the speed at which it had grown during the last 15 years. 
Star Wars: The Force Awakens Coming Home in April
Star Wars: The Force Awakens will be available on Disney HD on April 1st and then on Blu-Ray/DVD on April 5th. Details were also released about the bonus features that will be included. Read more here.
Walt Disney Company Supports Walt Disney's Home
The Walt Disney Company will be donating $250,000 to the efforts to restore the home where Walt Disney was born. The restoration project will turn the house into a museum and children's center. More information Walt Disney Birthplace can be found at thewaltdisneybirthplace.org.
Disney Board of Directors Re-elected
The board of directors for The Walt Disney Company were overwhelmingly re-elected. The board of 11 includes:
Susan E. Arnold
John S. Chen
Judith L. Estrin
Robert A. Iger (Chairman)
Fred H. Langhammer
Aylwin B. Lewis
Monica C. Lozano
Robert W. Matschullat
Sheryl K. Sandberg
Orin C. Smith
Jack Dorsey
Questions From Shareholders
The question and answer portion of the shareholder meeting is always amusing. Frequently the question is asked about the return of The Song of the South, this year was an exception. Instead, Disney CEO and Chairman Bob Iger was asked about the increase of prices at the Disney Theme Parks. One regular questioned whether it would make sense to eliminate monthly payments for Annual Passes. Iger said that the comments would be taken "into consideration."
On tiered pricing Iger shared, "We actually feel pretty good about what we've just announced because it provides so many different variables for the guests and it may end up providing a slightly better guest experience during the most popular days."
Iger was also asked his favorite Disney character. He jokingly responded that Orange Bird is his favorite. Another young shareholder asked about Pixar Studios lack of private tours. While Iger says that Pixar Studios is too small for tours, this young shareholder was granted a tour.
After the recent success of Deadpool, Iger was asked about the possibility of R-rated Marvel movies.  "We don't have any plans to make R-rated Marvel movies," Iger replied. 
The Walt Disney Company shareholder is a yearly event that generally has some pretty big news come out of it. This year, the two big newsmakers to come out of it centered on Star Wars and the Disney Cruise Line. Inside the room, a new clip from Captain America: Civil War was also shared. Unfortunately, everyone else will just have to wait for more on Captain America.
What are you most excited about from this year's shareholder meeting for The Walt Disney Company?