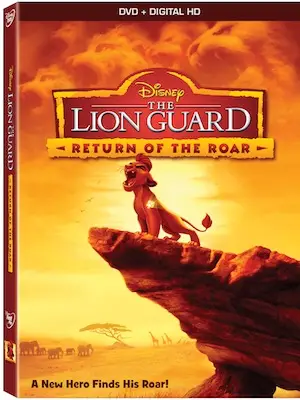 The Lion King is back, well his son is, in the newest continuation of the story of Simba and his family. The Lion Guard focuses on Simba's son Kion who becomes the leader of the Lion Guard. This is the group tasked with protecting the Pride Land and insuring the Circle of Life continues in a balanced and safe way. Traditionally, the Lion Guard is made of up lions. Kion has other ideas though. Kion instead builds his team with those who are uniquely gifted to fill specific heroic roles.
Quality
The quality of The Lion Guard: Return of the Roar is about what should be expected for a television movie. The animation harkens back to the original movie and subsequent releases in a way that is consistent, although not as polished. There were a few moments where the animation wasn't quite what I expected but overall it was decent. The sound was equally well done and I really didn't find it distracting at all. There won't be any awards won for quality but there shouldn't be any major complaints either.
Extra
There was only one extra included with this feature. It was a music video of Here Comes the Lion Guard with Beau Black. It's kind of a catchy tune but isn't one I would necessarily write home about. There were trailers for Zootopia and The Good Dinosaur included as well but I really wouldn't consider those an extras so… there was just one.
Final Thoughts
The Lion Guard: Return of the Roar is a cute show that will probably end up being enjoyed by young ones. It is an origin story of how Kion became the leader of the Lion Guard. It also answers some more backstory question about Scar and the old Lion Guard. Rob Lowe is now the voice of Simba and that is… well, weird. It isn't bad but it just doesn't seem right. For the most part, that is what I felt throughout the entire 44 minute special. It isn't bad, it just isn't quite right. It is a cute story and the characters are like-able enough, just not something I will fall in love with. The same goes for the songs. For the most part they sound pretty simplistic and almost unfinished. Overall, this is a show that young Lion King fans will probably enjoy. It isn't worth of a hat tip though. It is cute, but not a home run. 
 Daps Magic received a sample product or experience for this review in exchange for an honest review. The views of the reviewer are wholly their own. Read full disclosure policy here.