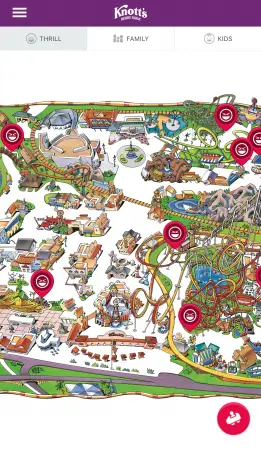 Knott's Berry Farm updated its iOS app this last week, and now has some great features to the already great app.
First, the interface has an updated look that fits better with the sleeker iOS 9.  There is an expanded menu that contains links to tons of info about the park that make visits that much better and easier.  The map looks like what you would find in the park and has a much easier way of finding locations.
That leads me to one of the better features in the update.  You can get directions in park to where you want to go.  Besides getting directions to things in park, there's a great car locator feature.  When you park you can save your location so to retrieve your car instead of hunting it down.
Another new feature is the My FunPix area of the app.  In the park many of the attractions are now outfitted with FunPix where photos are grouped together according to your information (that you provide when you sign up for it, of course).  Guests are able to purchase packages before heading to the park.  It just takes the FunPix card, login info, and the app, and families can easily take home their day of fun from the rides and shows.  Season Passholders can add the FunPix for the whole season as well.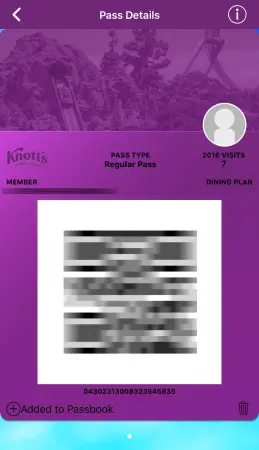 Besides these great new features, my favorite two were the addition of wait times and ability to add the Season Pass to be scanned through the app.  With the wait times, one must be in park with bluetooth on to receive actual wait times, but it's still nice to not have to walk all the way to a ride only to find out that it is over an hour long in line.  Having Season Pass scannable in the app makes it that much easier to get into the park, and enjoy discounts and meals (if you have the meal plan added).
In all, this app sets up Knott's to be an even greater family experience.  With people connected to digital media so much more than before having this app will take Knott's into the future already.  Check it out by downloading through the iOS App Store or through iTunes!