For 75 years, a California gem and landmark has been Knott's Berry Farm's Ghost Town.  This year the theme park will be celebrating its anniversary in grand style.  Knott's will be restoring much of the classic elements, buildings, and attractions of this first theme park of California.
Ghost Town Alive will be a way to experience the Calico Ghost Town like never before!  Residents of the town will be on hand to interact with guests and create a whole story surrounding the western city.  A hoe down will take place every night to celebrate the 75th anniversary.  Guests can help get the town ready for the hoe down by doing things like create posters and even shape how the whole day goes.  Bandits will be trying to thwart the plans, and guests have a chance to help catch them.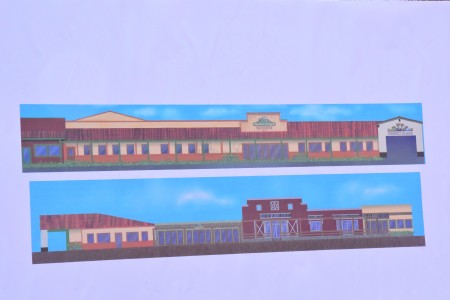 Ghost Town will not only have an interactive experience, but a restored one as well.  Several of the buildings will have new fronts and many of the old purposes of the buildings will be restored.  Among them will be the bank back to being an old west bank.  The manager may be absent minded and forget where he put his safe, which sends guests to go searching for it.  Another great conversion will be the barn that's near the blacksmith.  This will now be a real stable with horses and mules.  The "Pan For Gold" will go back to its original location near Ghost Rider.  A new stage is being constructed near Pony Express and Boardwalk as the Calico Stage will be leaving soon.  Where the Calico Stage once sat, a smaller venue will be available with seats and to showcase some of the former atmospheric performances.  This is also where the nightly hoe down will take place.  Yes, The Hanging will be on the new stage during Knott's Scary Farm.
Another building of Ghost Town that is getting some tender care is the Calico Saloon.  This classic eatery has been around for much of the park's history, and is being redone in time for the anniversary.  Inside, a new stage is being built and will feature a new show.  Don't worry, the can can will still be part of it.  The team is excited to include some much needed dressing rooms to allow performers easier access to be on stage.  Another feature will be a new bar area with on tap beer.  The saloon will have amazing detail as the Knott's team has been researching and coming up with period decor to make it a spectacular place to be.  Gas lamps will adorn the inside, as well as details like authentic wallpaper will make this not just a themed adventure, but a historical one as well.  More seating will be available, including a new upstairs wing that guests can even view on side balconies.
Ghost Town is getting an overarching story to go with its refurbishment.  Characters will be more integrated to the surrounding.  One of the highlights is the idea that Goldie will now be proprietor of the saloon, not just a performer.  Her family gets involved in Ghost Town doing things like setting up a craft shop next door.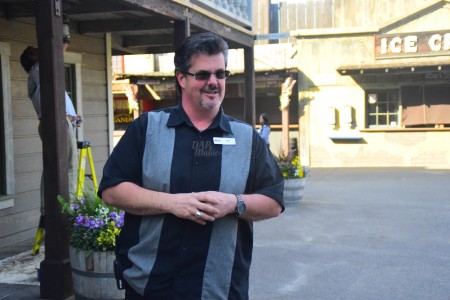 One of the big attractions for Ghost Town and Knott's Berry Farm itself is Ghost Rider.  This acclaimed roller coaster will be better than ever!  A new track is being constructed with GCI and more wood support will be put in.  In fact, some of the steel support that caused it to be a bit of a bumpy ride is being taken out for wood to create a smoother experience.  Ghost Rider has been one of the biggest wooden coasters in the country, but it will be even faster now!  A b-section of the track that had brakes to slow down the train will now be gone, creating a fast ride from start to finish.  New banked turns will help smooth out the speed.
Outside of the park, another classic area is getting a much needed overhaul.  Mrs. Knott's Chicken Dinner restaurant was the thing that started it all, and it's getting a new interior.  Over 700 seats will be available making it one of the largest restaurants in the nation.  A great new decor that looks to be themed to fit the park and harken back to the original kitchen and dining room the Knotts family had is being constructed now.
One of the great new features of the restaurant will be through technology.  Where guests had to wait near the host area to get a table, families can now put their name and phone number in and a text will be sent when seating is ready.  This enables people to visit the newly constructed bar that will be part of the restaurant, or they can visit the Marketplace.  Wifi will be available throughout the restaurant as well.  Though the inside will change dramatically, the menu will remain the same with the original recipe of chicken that Cordelia Knott originated in the 1930's, and boysenberry delights and rhubarb will still be mainstays.
Knott's Berry Farm is a classic park that has a historical setting and exciting attractions.  Ghost Town will definitely be alive again this summer from May 27 to September 5.  Ghost Rider is expected to open in June.  Having an interactive element will mean a different experience each visit.  It's exciting to see all the amazing things being done for this wonderful park!  I loved Ghost Town as a kid and I'm excited to see it in a new way this summer!  It's a California treasure that keeps getting better and better.  And, I'm glad to see Mrs. Knott's getting back to being one of the best restaurants in Southern California.  It truly has a delicious menu, and I'm getting hungry just thinking about when it will open.
These are all just a few reasons to visit Knott's soon.  There are so many more attractions in Camp Snoopy and Boardwalk to enjoy.  It's a great park and I will certainly be there to enjoy it this year!