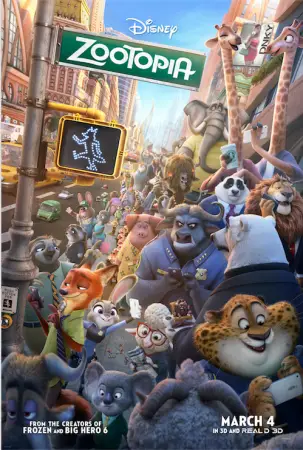 Disney has released a new trailer for Zootopia. This trailer features a new song from Shakira, Try Everything. The song is written by singer-songwriter Sia and songwriting duo Stargate. It will be available as a single on January 8, 2016. Take a look at the trailer below and tell us what you think of it! 
Zootopia Official Trailer #2
SUPERSTAR — Revered worldwide by herds of fans, Zootopia's biggest pop star Gazelle is a socially conscious celebrity with equal parts talent and heart. Shakira lends her Grammy®-winning voice to the phenom. 
PRESS RELEASE
The modern mammal metropolis of Zootopia is a city like no other. Comprised of habitat neighborhoods like ritzy Sahara Square and frigid Tundratown, it's a melting pot where animals from every environment live together—a place where no matter what you are, from the biggest elephant to the smallest shrew, you can be anything. But when rookie Officer Judy Hopps (voice of Ginnifer Goodwin) arrives, she discovers that being the first bunny on a police force of big, tough animals isn't so easy. Determined to prove herself, she jumps at the opportunity to crack a case, even if it means partnering with a fast-talking, scam-artist fox, Nick Wilde (voice of Jason Bateman), to solve the mystery. Walt Disney Animation Studios' "Zootopia," a comedy-adventure directed by Byron Howard ("Tangled," "Bolt") and Rich Moore ("Wreck-It Ralph," "The Simpsons") and co-directed by Jared Bush ("Penn Zero: Part-Time Hero"), opens in theaters on March 4, 2016.

 

Officer Judy Hopps (voice of Ginnifer Goodwin), the very first bunny on Zootopia's police force, jumps at the opportunity to crack her first case—even if it means partnering with fast-talking, scam-artist fox Nick Wilde (voice of Jason Bateman) to solve the mystery.

 

Notes:

"Zootopia" is Walt Disney Animation Studios' 55

th

 animated feature.

Award-winning composer Michael Giacchino marks his first-ever feature collaboration with Walt Disney Animation Studios for next spring's big-screen adventure "Zootopia." Giacchino's credits feature some of the most popular and acclaimed film projects in recent history, including Disney•Pixar's "Inside Out," "The Incredibles" and "Ratatouille," as well as "Jurassic World," "MissionImpossible: Ghost Protocol" and "The Dawn of the Planet of the Apes." His score for Disney•Pixar's 2009 feature "Up" earned him an Oscar

®

, a Golden Globe®, the BAFTA, the Broadcast Film Critics' Choice Award and two GRAMMY® Awards.

International superstar Shakira is lending her Grammy®-winning voice to Gazelle, the biggest pop star in Zootopia. Shakira performs the film's all-new original song, "Try Everything," written by singer-songwriter Sia and songwriting duo Stargate.
Directors Byron Howard and Rich Moore both have Oscar®-nominated films: Howard directed Disney's 2008 feature "Bolt," and Moore directed 2012's arcade-game-hopping adventure "Wreck-It Ralph," which was produced by "Zootopia" producer Clark Spencer.

 

OFFICIAL BOILERPLATE:

The modern mammal metropolis of Zootopia is a city like no other. Comprised of habitat neighborhoods like ritzy Sahara Square and frigid Tundratown, it's a melting pot where animals from every environment live together—a place where no matter what you are, from the biggest elephant to the smallest shrew, you can be anything. But when rookie Officer Judy Hopps (voice of Ginnifer Goodwin) arrives, she discovers that being the first bunny on a police force of big, tough animals isn't so easy. Determined to prove herself, she jumps at the opportunity to crack a case, even if it means partnering with a fast-talking, scam-artist fox, Nick Wilde (voice of Jason Bateman), to solve the mystery. Walt Disney Animation Studios' "Zootopia," a comedy-adventure directed by Byron Howard ("Tangled," "Bolt") and Rich Moore ("Wreck-It Ralph," "The Simpsons") and co-directed by Jared Bush ("Penn Zero: Part-Time Hero"), opens in theaters on March 4, 2016. For more information, check out the website at http://movies.disney.com/zootopia, like us on Facebook, https://www.facebook.com/disneyzootopia, and follow us on Twitter, http://www.twitter.com/DisneyAnimation, and Instagram, https://instagram.com/DisneyAnimation.

Voice Cast: Ginnifer Goodwin, Jason Bateman, Shakira, Idris Elba, J.K. Simmons, Nate Torrence, Jenny Slate, Tommy Chong, Octavia Spencer, Bonnie Hunt, Don Lake, Alan Tudyk, Tommy "Tiny" Lister, Raymond Persi, Katie Lowes, Jesse Corti, John DiMaggio

Directors: Byron Howard, Rich Moore

Co-Director: Jared Bush

Producer: Clark Spencer

Composer: Michael Giacchino