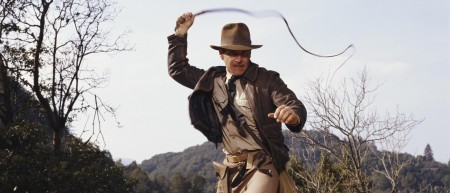 There is only one Indiana Jones. At least according to producer Frank Marshall. Ever since Lucasfilm was purchased by The Walt Disney Company, speculation has run rampant about the future of the series. Details have been few and far between, however. At different times names like Chris Pratt have been rumored to be in the running to don the fedora. But… still no official details. This changed (maybe) in a recent interview Marshall did with Total Film. Marshall made it fairly clear that Harrison Ford is Indy.
"There are a lot of rumours," Marshall said. "We haven't even sat down to talk about Indy yet… at some point we'll sit down. But there's a bunch of people who could probably take the baton… We're not doing the Bond thing where we're going to call somebody else Indiana Jones… we have to figure this out."
If this does indeed mean that there won't be multiple actors playing Indiana Jones, it could mean that the franchise takes a more Star Wars approach in storytelling than say James Bond or Star Trek which cast new characters for the title roles.  Marshall did mention a passing of the baton. So conceivably there could be a new generation of archeological adventurer that Indiana Jones mentors or perhaps even accompanies before the baton is completely passed.
It is interesting that Marshall brought up James Bond as George Lucas did envision Indiana Jones as a sort of American James Bond.
At this point, this news really doesn't clear up anything about the future of the franchise or character. There have been no discussions or plans about the future so it is possible that when they do happen, thing change. This does seem to echo though recent remarks by Steven Spielberg who said he would make a 5th Indiana Jones movie with Harrison Ford.
What do you think should happen with the future of the franchise? Do you think that only Harrison Ford should portray Indiana Jones? Where do you think the 5th movie should take the character?