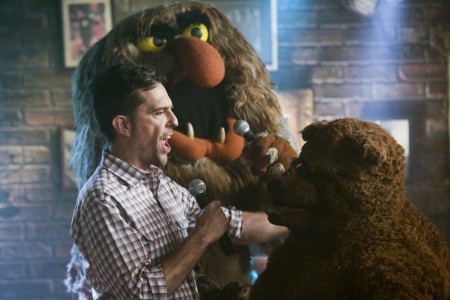 What happens when you mix Karaoke and the Muppets? A lot of laughter. However, it isn't all laughs in this episode as Fozzie shoots Statler with a t-shirt gun, and the Muppets find out what happens when they show up late for work. The Muppets seem to edge towards stronger episodes with Pig Out but the jury is still out on where this show will go.
Episode Description
The gang has an epic night out when they run into Ed Helms at Rowlf's Tavern and they all perform their favorite karaoke jams, but Kermit is not pleased when no one shows up to work the next day. Meanwhile, Fozzie has an unfortunate accident during the show.
 Review
Fozzie's Accident
Fozzie accidentally shoots Statler with a t-shirt gun. While Waldorf snags the free shirt, Statler gets a ride to the hospital. The only person who visits him? Fozzie Bear stops by with flowers only to be shot down again. When he tries to make things right by fetching Statler's wish list, Statler pulls a fast one on Fozzie. Fozzie returns to an empty hospital bed with a "sucker" sign. He realizes who Statler is and is disappointed. The end of the show he voices his displeasure only be invited to dinner… and to be treated like a sucker again. This storyline was mediocre sadly. There definitely could have been potential but I almost think it should have been done with a guest star or something. Instead, both Statler and Waldorf went from the two hecklers to the two bullies… and it just wasn't as charming as their characters usually are.
Karaoke with Ed Helms
When Miss Piggy finds out that the crew from Up Late With Miss Piggy goes out at Rowlf's Tavern after the show at night, she wants to be included. She tells Kermit she wants to be invited so she can turn down the invite. However, it turns out that she actually wants to go… much to everyone's dismay. However, upon arriving at Rowlf's, Ed Helms shows up and the crew decides that Miss Piggy is actually a lot of fun and the night gets a bit crazy.
This was easily the best storyline of the show and led to some of the best scenes/laughs. While Ed Helms really wasn't the most important role in this, it turned out to be a great thing as the Muppets really were the star of this storyline. For me personally it was all about the Swedish Chef singing Karaoke. It was my favorite moment of the show. It was also great hearing them all sing Don't Stop Believing with Ed Helms. It felt and sounded like the Muppets and was a very welcome moment that brought on a tinge of nostalgia for me.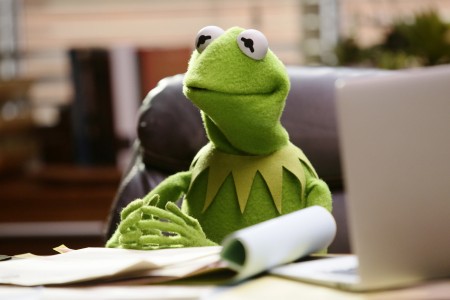 Boss Kermit
Kermit is the Excutive Producer of Up Late With Miss Piggy. His quest to keep everything running smoothly has led to quite a few problems for him and the show. This episode was no different. His efforts to keep Miss Piggy led to him upsetting the crew when she actually accepted their invitation. He could have no clue that it would turn into a good thing so imagine his surprise when he showed up the next morning and nobody is there because they had too much fun the night before. Out came the not so nice Kermit again who was trying to again regain control of the show. To do this he turns to manipulation that he learned from the best… Miss Piggy. The result was a return to the status quo of the crew going out and Miss Piggy being aloof. Honestly, I'm not sure what to think of some of these things Kermit does. He's definitely been a bit diplomatic with Miss Piggy in the past but full on manipulative Kermit who is proud of himself for his manipulation was a bit different and not quite as appealing. On the flip side, it was nice to see Kermit acknowledging he learned manipulation from the best and appearing to show some genuine affection for Miss Piggy as he admits this. Do we see the beginnings romance being rekindled? Only time will tell.
Sam Falls in Love
Speaking of romance. Another side story in Pig Out was that Sam apparently is madly in love with Janice… and that was just weird. His love is not recognized or returned by Janice at this point, who really has been more interested in pursuing most of the male celebrity guests on the show. In fact, she has been connected with more celebrity guests to date than Miss Piggy has I think. While this all makes sense with Janice, it does not fit my perception of Sam. I'll be curious to see what happens in the future. I really hope this is something that comes and goes quickly.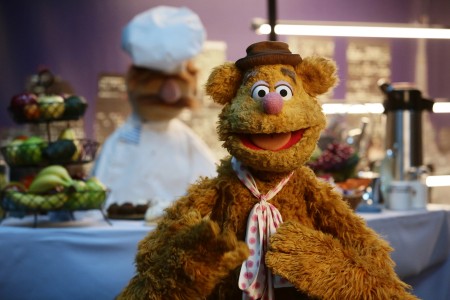 Final Thoughts
Pig Out definitely had some highs and lows.  Most of the highs actually came from the supporting characters. The lows came from the central characters. Miss Piggy was as outrageous as ever and I actually found her more like the Piggy I'm used to. She was aloof and elitist but also insecure. The highs can easily be kicked off during the Karaoke scenes and Swedish Chef should get first mention. And really, pretty much everything that happened at Rowlf's was incredibly enjoyable so hats off to Ed Helms who fit right in with the Muppets. Kermit was definitely not as central to the show and instead was a bit of an outside loner in this episode. He wasn't really one of the crew and he's not with Piggy either. I was realizing that this is weird to me as the Muppets have always been a big gang of friends that come together around Kermit. It seems a bit off to not have Kermit as the center of that circle of friends, even if they are all working together. Lastly, the Fozzie and Statler storyline. There were amusing moments but it was a bit predictable. I also just ended up feeling bad for Fozzie at the end. This might not be the worst thing in the world though as the show definitely did make me feel something for Fozzie. Personally though, I'd like to see Kermit be a central storyline with Fozzie supporting as Fozzie just doesn't have enough depth as a character… and that is an ok thing.
The Muppets is an interesting show for me to watch and review. I have loved these characters for a long time. Looking through their history it is interesting to watch them evolve and see how they have changed through the year. They went from being very real and not necessarily family friendly to being completely family friendly. Now I feel like they are trying to swing back to more edginess that was brought by Jim Henson but perhaps shot past the mark. I'm not entirely sure why or how this happened but it is definitely an adjustment that is taking some getting used to. There are elements of this show that I find enjoyable and others that I want to just fast forward through. I find myself wondering what audience is being targeted for this show. I also find myself thinking that if they let the Muppets be the Muppets, and not the sanitized Disney channel ones, the show would sell itself. My hope is that the show is still finding its balance and will level out and fly. At this point, I'm just not sure though. I really hope that they succeed but only time will tell!
What did you think of this episode? What do you think of the show so far? Let me know in the comments below!