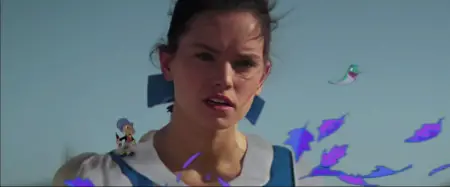 Have you ever stopped to think about the similarities between Star Wars movies and Disney movies? The folks behind PistolShrimps did. The result is a mashup between Star Wars: The Force Awakens and several Disney movies that is really quite entertaining, and at times unexpected.
Star Wars: The Force Awakens – Disney Mashup
Description:
A mashup of The Force Awakens trailers and Disney movies.
Star Wars – Where Dreams Come True
Facebook: https://www.facebook.com/Pistolshrimps
Twitter: https://twitter.com/pistolshrimps
IG: https://instagram.com/pistolshrimps/
Thanks to Andreas Næs for doing the 3D work!
So what did you think?
I personally really enjoyed this mashup. It wasn't perfect but it made me smile. My one complaint would be some of the audio quality I felt could have been a bit more polished. BUT… that's not the end of the world… or galaxy? It also is interesting to think of the universality of storytelling. There are always similar things that people are pursuing in many different stories. There are also similar roles that appear in the different stories that are told. What similarities do you see being highlighted in this mashup?
Make it a GREAT day!