Marvel has had another busy week, probably from their participation with NYCC, but also because the All New, All Different Marvel has begun with a few series launch this week.  Before getting to some thoughts on a couple of those comics, this digest of news has snippets about Black Widow, Vision (both that I'm excited about coming up), and the end of Uncanny X-Men's run by Bendis.  Also here are looks at Nova, Deadpool, and the return of the Heroes For Hire – Power Man and Iron Fist!
So, how is the All New, All Different Marvel shaping up?  Well, this week I read Amazing Spider-Man and Invincible Iron Man to see what's in store for the Marvel Universe.
Invincible Iron Man is one of, perhaps the main, flagship series for the new take on this long time publishing company.  Tony Stark is back to his old tricks, although keeping memory and new old outlook on life and business.  Gone are much of his supporting cast from previous series.  The comic centers around his date with a fellow scientist, but also with sudden attacks from Madame Masque.  A huge surprise awaited both him and readers at the very end of the issue.  Don't worry. I won't spoil it here.
I liked the take on Iron Man's new ways.  I like that the armor represents this as well.  There's always a struggle with Tony and both his company and being Iron Man.  His personal life is always in disarray because of it all, and it looks like this will take him through this again.  There was not a lot of action with Iron Man in this premier issue, and that's maybe the only critique I have.  The writing of dialogue was great, and fun to read!  The ending was a huge surprise for me.  Mostly because Secret Wars has not ended yet.  When I saw a lot of these new series were for sale along with only issue 6 of 9 for Secret Wars, I went "What the!?"  I was afraid it would spoil some things with Secret Wars.  It does a bit, but in a good way.  I want to keep reading Secret Wars to find out what in the world happened to have this surprise.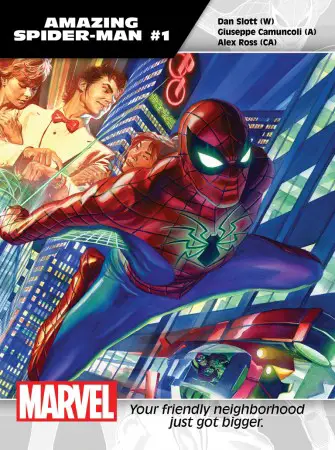 Amazing Spider-Man was the comic I enjoyed more out of the two.  I was a little skeptical because Marvel is taking Peter Parker out of his New York neighborhood and making him into a globe trotting CEO of a technology corporation that rivals Stark's.  I'm happy to say it just seems like Spider-Man's neighborhood is different.  He's having to balance a lot of different things, while still being a geek with super powers.  With the stakes being higher, it makes this book very exciting.  Spidey is facing the Zodiac, who wants to steal Parker tech.
The book seems to be stories of Stark Industries/Resilient as if it were benevolent from the beginning.  The book points out how Parker Industries is always being compared to Stark's company.  It's a fun comparison, and I'd imagine it'll set up some crossovers.  Spider-Man still has his witty banter, and a cool new Spider-Mobile.  Immediately we get to see his interaction with other heroes in the Marvel Universe, and he's still that annoying but likable guy that gets the job done.
I have high hopes for Amazing Spider-Man, and it looks to be a great book.  It's different from the previous Amazing Spider-Man books.  I'd imagine the Miles Morales centered Spider-Man series will take up the small neighborhood feel.  This issue of Amazing also had kick-offs for several Spider-Verse series that are coming out soon.  Quite a few seem connected, and there's a shocker at the end that makes me want to keep reading this series, and maybe even the others.  It's a great premier for ol' Spidey!
And now onto the news!
BLACK WIDOW #1 – From The Eisner Award Winning Team Behind DAREDEVIL!
New York, NY—October 5th, 2015 — All-New, All-Different Marvel charges forward with the most popular characters in the world brought to life by red-hot creators! Today, Marvel is pleased to announce BLACK WIDOW #1, the new ongoing series from the Eisner Award winning creative team behind Daredevil! Writer Mark Waid, artist Chris Samnee, colorist Matt Wilson and letterer Joe Caramagna re-unite for a new take on the Marvel Universe's greatest super spy!
Natasha has spent years gathering secrets. Knowledge and intel on friends and enemies alike. But when some of those dark secrets begin mysteriously going public, no one is safe. Now, Natasha has become the one thing she never thought she'd be – S.H.I.E.L.D.'S MOST WANTED! Betrayed by her former accomplices, with friend and foe alike nipping at her heels, all bets are off. With a lifetime of training and ingenuity at her disposal, she's out for answers, and she's going to get them any way she can.
"I think Mark and I are crafting a really fun, exciting spy story, unlike anything that's ever been in comics," says series artist & co-writer Chris Samnee, in an interview with Marvel.com. "And honestly, I think the entire team is giving their absolute all here. I'm pushing myself harder than ever to make these pages my best yet and I think [colorist] Matt Wilson is doing the best work of his career here. I can't wait for folks to get a look at this stuff."
It's a knock-down, drag-out tale of action, adventure and espionage! All eyes are on the Black Widow. With enemies closing in at every side, it's time to show everyone why she is and always will be the world's greatest spy. The chase is on when BLACK WIDOW #1 explodes on to the scene early next year!
BLACK WIDOW #1
Written by MARK WAID & CHRIS SAMNEE
Art & Cover by CHRIS SAMNEE
Coming Early 2016!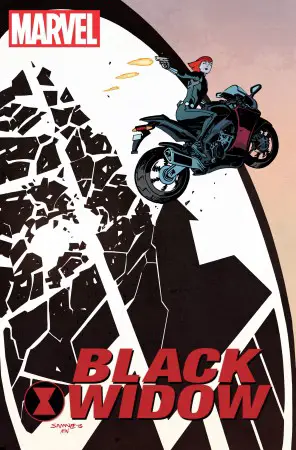 Meet The Super Powered Family Next Door in THE VISION #1!
New York, NY—October 6th, 2015 —What does it mean to be human? Is it to have emotions? Is it to have a family? This November, join Marvel's synthezoid super hero as he searches for the answers in THE VISION #1 – a brand new ongoing series from writer Tom King and artist Gabriel Hernandez Walta! Be there as the longtime Avenger embarks on his most harrowing journey yet – being a family man.
"What I find fascinating about the Vision is his desire to be human," says writer Tom King in an interview with Marvel.com. "I wanted to push on this idea, twist it, until maybe it breaks. Maybe Vision wants to be ordinary, he wants to be human – and what's more ordinary than family? So Vision creates a family, finds them a home and tries to live an ordinary life. But that act, creating life, leads to problems he could not possibly imagine…"
Meet his wife, Virginia. His two teen twins – Viv and Vin. They look like him. They have his powers. They share in his greatest ambition – to be normal. But they are anything but. They're the family next door and they have the power to destroy us all. And they're holding a secret. What could possibly go wrong?
Behold The Visions! Making their debut this November in the can't-miss THE VISION #1!
THE VISION #1 (SEP150758)
Written by TOM KING
Art by GABRIEL HERNANDEZ WALTA
Cover by MIKE DEL MUNDO
Variant Covers by MARCOS MARTIN (SEP150759) & RYAN SOOK (SEP150760)
Hip Hop Variant by VANESA DEL REY (SEP150761)
FOC – 10/12/15, On-Sale – 11/04/15
More Deadpool Than You Wanted in Your New Look at DEADPOOL #1!
New York, NY—October 7th, 2015 — He's annoying, he's dangerous and he smells terrible. But the public loves him! You heard right – Wade Wilson is the world's most popular superhero! Take that Spidey! Today, Marvel is pleased to present your new look at DEADPOOL #1, the new ongoing series from fan-favorites Gerry Duggan and Mike Hawthorne! The Merc with a Mouth is now the Man With The Fans, and Wade is loving every second of it. Not to mention he's an Avenger now. Yes we're serious. But what happened in the eight months since Secret Wars to make him so popular? We're not telling here! It's Wade's world and we're just living in it. Bo be there for the start of his most successful adventure yet when DEADPOOL #1 crashes comic shops this November!
DEADPOOL #1 (SEP150699)
Written by GERRY DUGGAN
Art by MIKE HAWTHORNE
Cover by TONY MOORE
Variant Covers by KATIE COOK (SEP150704),
KRIS ANKA (SEP150705), KAMOME SHIRAHAMA (SEP150706)
Secret Comic Variant by SCOTT KOBLISH (SEP150700)
Hip-Hop Variant by KAARE ANDREWS (SEP150701)
Candy Variant by DAVE JOHNSON (SEP150702)
Blank Cover Also Available (SEP150703)
Candy Sketch Variant Also Available (JUL158432)
FOC – 10/12/15, On-Sale – 11/04/15
The End of an Era – Your New Look at UNCANNY X-MEN #600!
New York, NY—October 8th, 2015 — This November, cap off this era of Marvel's mutants with an epic bang. Today, Marvel is pleased to present your new look at UNCANNY X-MEN #600 – the finale of Brian Michael Bendis' epic X-Men saga. Brought to life by A-list creators  – Uncanny X-Men #600 features 38 pages of new content from Stuart Immonen, Chris Bachalo, Sara Pichelli, David Marquez, Mahmud Asrar, Kris Anka and Frazer Irving – mutant history will be made! What will become of Scott Summers' mutant revolution? What will become of the Jean Grey School and the New Xavier School? Find out as in this explosive final chapter! Be there as UNCANNY X-MEN #600 hits comic shops and digital devices this November!
For more information on UNCANNY X-MEN #600, visit Marvel.com for a full interview with Brian Michael Bendis.
UNCANNY X-MEN #600 (MAR150760)
Written by BRIAN MICHAEL BENDIS
Art by CHRIS BACHALO, STUART IMMONEN, SARA PICHELLI,
KRIS ANKA, DAVID MARQUEZ, FRAZER IRVING & MAHMUD ASRAR
Cover by CHRIS BACHALO
Variant Covers by ART ADAMS (MAR150768), PAUL SMITH (MAR150765), RICK LEONARDI (MAR150770),
ADAM HUGHES (JUN158867), OLIVIER COIPEL (MAR150766), ED MCGUINNESS (MAR150767), LEINIL YU (MAR150769),
And KRIS ANKA (MAR150764)
Action Figure Variant A by JOHN TYLER CHRISTOPHER (MAR150761)
Action Figure Variant B by JOHN TYLER CHRISTOPHER (MAR150762)
Action Figure Variant C by JOHN TYLER CHRISTOPHER (MAR150763)
FOC – 10/12/15, On-Sale – 11/04/15
POWER MAN AND IRON FIST RETURNS TO MARVEL COMICS
Marvel continues to invigorate the creative landscape
with writer David Walker and artist Sanford Greene
New York, NY — October 7th, 2015 — Luke Cage and Danny Rand – heroes for hire – return to Marvel Comics next year with an all-new on-going series, POWER MAN AND IRON FIST lead by writer David Walker (Shaft) and Sanford Greene (Runaways, Uncanny Avengers).
Luke Cage and Danny Rand, once a dauntless duo of street-fighting justice, have drifted apart. But when an old friend comes to them in trouble, the boys are back! Can the former besties best brutal bad guys, dangerous weapons, and sinister plots all while rekindling Marvel's mightiest bromance?
"I've loved these two characters since before they even teamed up," exclaims series writer David Walker.  "When Power Man and Iron Fist first teamed up back in the late 1970s, their title quickly became one of my favorite books, and it was always something I fantasized about writing. Seeing them back together is like being reunited with your oldest friends. "
The passion for this heroic duo has withstood the test of time through the all of Marvel fandom and Marvel is confident in enlisting a creative time that is primed to take Luke Cage and Danny Rand on exciting new adventures. "David and Sanford are both extremely well versed in the background of these characters, the world they're from, but they're also bringing their own style to this," explains series editor Jake Thomas to FastCompany. "Expect some solid, old school Marvel characters—both enemies and allies like, say, Tombstone and Black Mariah—to show up."
David Walker and Sanford Greene deliver so much fast action and wild adventure it takes two heroes to handle it! If you need help, if you're lost and alone, if you need a champion, the brawler with unbreakable skin and the kung fu fighter with chi-powered fists are for hire! Just tell your local comic retailer that you want your copy of POWER MAN AND IRON FIST.
Blast Off With Your New Look at NOVA #1!
New York, NY—October 6th, 2015 —What's that? TWO NOVAS?! Your eyes do not deceive you, True Believer. It's a double dose of Human Rocket this November in the all-new NOVA #1 – the explosive new ongoing series from writer Sean Ryan and artist Cory Smith! Sam Alexander is still an Avenger and the Human Rocket, but these days he's got his old man, Jesse, by his side! For the first time in years, there's more than one Nova in the galaxy and things are finally starting to go Sam's way! But what really happened to Jesse while he was stranded out in space? The answers begin here! Don't miss a fresh start for the whole Alexander family as they blast headlong into All-New, All-Different Marvel in NOVA #1 – on sale in November!
NOVA #1 (SEP150662)
Written by SEAN RYAN
Art by CORY SMITH
Cover by HUMBERTO RAMOS
Variant Cover by CHRIS SAMNEE (SEP150665)
Hip-Hop Variant Cover by ERIC CANETTE (SEP150663)
Cosplay Variant by CAP SANTIAGO (SEP150664)
FOC – 10/12/15, On-Sale – 11/04/15
Ancient Hero Meets Modern World – Your First Look at HERCULES #1!
New York, NY—October 5th, 2015 — He's gone by many names and accomplished many heroic deeds. But now, it's time for the world's first super hero to get back in the game! Today, Marvel is pleased to present your first look at HERCULES #1 – the new series from Dan Abnett and Luke Ross! Time to show the world why he set the bar for heroism in the first place. Whether its street crime or cosmic level threats, not labor is too big or small for the greatest son of Olympus. But a new evil has awoken – one that will push the demi-god to the limit and test his mighty resolve. Witness the Marvel Universe through the eyes of one of its most powerful warriors, and the heart of a true champion. A modern world, an age-old hero and non-stop action await you in HERCULES #1 – on-sale this November!  
HERCULES #1 (SEP150711)
Written by DAN ABNETT
Art by LUKE ROSS
Cover by CLAY MANN
Variant Covers by SKOTTIE YOUNG (SEP150715) & JAY ANACLETO (SEP150712)
Action Figure Variant by JOHN TYLER CHRISTOPHER (SEP150714)
Hip-Hop Variant by THEOTIS JONES (SEP150713)
FOC – 10/12/15, On-Sale – 11/04/15