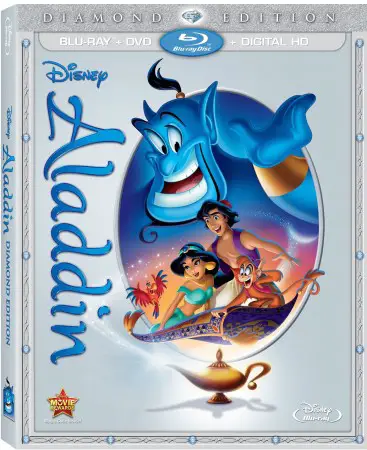 Aladdin is the story of a street rat who falls in love with a princess. Unfortunately, since Aladdin (Scott Weingler) isn't a prince he isn't eligible to marry Princess Jasmine (Linda Larkin)… until he meets the Genie (Robin Williams) who grants him three wishes that could change his life forever. Of course things are never that simple and there is also the evil vizier Jafar (Jonathan Freeman) who wants the power that could come from the Genie. Aladdin is a musical love story about heart and being true to oneself. Now Disney is giving it the Diamond Edition treatment to make it look and sound better than ever with a whole bunch of new extras.
Quality
Reviewing Aladdin was definitely a pleasure as my initial feeling as that the quality has been substantially improved since the last version I reviewed. The colors were vibrant and the picture crisp, both of which added up to a beautiful viewing experience. Then, there is the sound and music. This was definitely my favorite part of the viewing experience. I had forgotten how much I enjoyed the music. The surround sound in my home theater room was utilized effectively and at one point definitely woke up my dog from the back of the room. Both the sound effects and music came through all the speakers in a nice supplemental way that didn't overpower the dialogue or singing.

Extras
There were both new and old extras included with the extras of Aladdin Diamond Edition.
The Genie Outtakes – These outtakes include Robin Williams having fun with the role with different options of different lines. It also includes some memories by directors John Musker and Ron Clements with Genie lead animator Eric Goldberg. This has both moments that will genuinely make you laugh and others that could bring tears as they share about the Robin Williams' death. It is a nice little tribute to Williams and his work bringing the Genie to life.
Aladdin: Creating Broadway Magic – Take a trip to New York and follow the road that Aladdin took from animation to a hit Broadway show. This is an extra that is full of heart from the history of this story along with new heart being shared in this musical theater version. This was also an enjoyable feature that really showed the ups and downs of bringing Aladdin to the Broadway stage.
Unboxing Aladdin – Joey Bragg from Disney Channel's Liv & Maddy, explore the Easter eggs and hidden secrets of Aladdin in this unboxing video. It has a few tid bits that are kind of fun and at under five minutes, it's fun to watch… although I think I could go for a different host.
Genie 101 – This was a a feature that was dedicated to Robin Williams and hosted by Scott Weinger (the voice of Aladdin). It goes through all the impressions that Robin Williams used as the Genie in Aladdin. This was definitely fun to see how many of these you already caught and knew just watching the movie. How many did you get?
Ron & John: You Ain't Never Had a Friend Like Me – Directors John Musker & Ron Clements talk about their friendship and their working relationships through now 40 years of friendship. The two of them are clearly good friends who enjoy their company and it was fun to watch their relationship shine through this feature. They talk about their beliefs in filmmaking and how together their difference complement each other to create something better than they could individually.
Songs – Quick links to the songs in Aladdin.
Classic Bonus Features
DMA Exclusive:

Deleted Song – "My Finest Hour" – This was a song sung by Jafar that was cut from the movie. This song would have happened when Jafar first took control of the Genie. While it was kind of fun, it also made sense that it was cut. It is definitely interesting to see though and to think how this would have changed the movie.
For the purposes of this review, I'm just writing about the new bonus features that are included for this release. The classic bonus features have some great offerings that definitely should be checked out. Aladdin's Diamond Edition extras are very satisfactory. I found myself really enjoying them. There were definitely some emotional highs and lows through the extras. There are some very entertaining extras included and some poignant moments as Robin Williams and Howard Ashman are remembered.
Final Thoughts
It has been a few years since I watched Aladdin. It was a pleasure getting to see it again. This movie has really held up better than I realized. Yes, some of the jokes and references are going to be missed by younger audiences but… it is still very entertaining. It is a movie that is full of heart and perhaps with the loss of Robin Williams, I realized even more of that heart in moments of the movie that I hadn't felt before. This definitely added a level of poignancy to the movie.
Reviewing Diamond Edition releases is truly a pleasure as Disney really does a good job at making these top notch releases. The movie was beautiful to watch. The extras were also very enjoyable. The Diamond Edition of Aladdin easily earns a hat tip.
<i>Daps Magic received a sample product or experience for this review in exchange for an honest review. The views of the reviewer are wholly their own. Read full disclosure policy at dapsmagic.com/disclosurepolicy.</i>