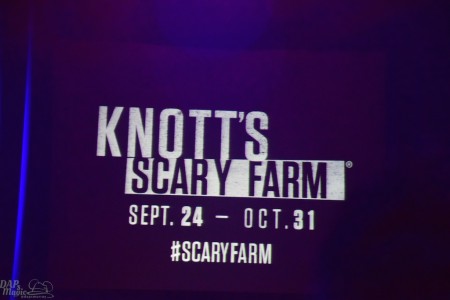 Summer is almost at end, and at an end for some already dealing with school.  Though this season has ended it means one thing: Halloween is almost here.  And with Halloween comes Knott's Scary Farm, one of the biggest haunts in the country!  This year they are adding to the fun and mayhem with their scare zones, mazes, attractions, and shows!
The announcement night began with audience having several ghouls run amuck.  Each represented a different part of the annual event.  Once the night got started, it was time for Jeff Tucker to take the stage to introduce all that will be at Knott's Scary Farm this year.
Jeff came on stage with a Hannibal Lecter ensemble, and proceeded to get things rolling.  Introduced first was the Scary Farm season pass.  Until September it will be $70 and good for any of the Scary Farm nights.  After the date, it goes up to $80.  Parking is an option, but if you already have a Knott's Season Pass with parking, you can get the Scary Farm one with parking already included.
Next it was time for shows.  Elvira's Asylum was announced at Scare LA and is a returning hit for Scary Farm fans.  The Hanging is another favorite and returning as always.  The full title includes Straight Outta Calico, and will have an interactive element where audience can actually decide some parts of the hangings.
Following the show announcements was the roundup of Scare Zones.  These are open areas of the park that have monsters and ghouls running around scaring crowds as they get from place to place.  Fiesta De Los Muertas and Carnevil are returning zones that have been popular for the event.  Ghost Town is another returning area, but will be expanded this year, and have a special character: The Dollmaker.  Dollmaker is in reference to an old maze, and will be someone to find amidst the fog.  They said it will be worth the search, though.
Then it was time for the crowd favorites: the mazes!  Most are returning favorites with some significant twists.  Pinocchio Unstrung, Gunslinger's Grave, Trick or Treat, Voodoo, Tooth Fairy, Forevermore, and Black Magic are favorites coming back this year.  New will be Dead of Winter and Paranormal Inc.  But, even with the returning mazes there are differences.  Pinocchio will have a new Skeleton Key room.  Gunslinger's Grave will have a new story consisting of a werewolf vibe.  Tooth Fairy will have a Skeleton Key room for the first time and a new ending, as well as new special effects.  Forevermore has some new elements to it.  Trick or Treat keeps its usual vibe but will include new effects as well.  Black Magic will have a new version of the Skeleton Key room.  Voodoo's full title includes Order of the Serpent and will have a new story with it.
Dead of Winter will be a maze not using darkness.  Having it set in winter, there will be some bright lighting, but will have some bloody effects and still scary.  The story includes a snow queen with a full army of vikings.  It will also include a Skeleton Key room.  Paranormal Inc. will be based on the ghost hunting reality shows we see on various channels.  It will have an interactive element and a choose your path type way to get through.
If you're wondering what a Skeleton Key room is, it's a special addition (price add on to ticket) that lets you get an introductory show room before going through the maze.  It is a good way to understand what is happening in a maze.
During the maze introductions, there was a small interruption showing off Special Ops: Infected.  This is a unique attraction that is like a living video game.  Guests go through in groups with light guns shooting "zombies" in real time.  This year, upgraded guns will be handed out where "kill streaks" upgrade the power of the gun as you go.  A health meter on the gun will tick down with getting "hit" and will cause you to have to go to a "respawn" mark before getting back into the game.  Last year this was my favorite thing to do and almost had me getting a season pass to do over and over again.  Being a longtime video game player this was the best real life experience I have ever had, and I've made up my own Nerf games.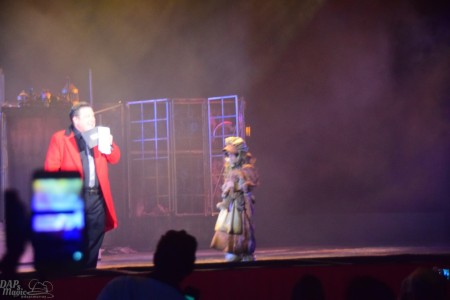 The other attraction mentioned is the Calico Mine Train.  In the past the attraction has been a maze where "talent" or monsters are placed to scare people.  In recent years it has had an overlay with the Green Witch, a recurring character favorite of the event.  This year the story will entail My Bloody Clementine where a family that was murdered in the mine tunnels haunts passengers.  Full effects including video mapping will take place.  I'm sure it'll be quite the attraction.
At the end of the presentation came the Green Witch herself with several representatives from Scary Farm.  They came on a ghoulish circus wagon that displayed the Deadly Seven.  It's certainly a theme for Scary Farm, but what it will more entail is yet to be seen.
Knott's Scary Farm has been scaring and providing fun for many years now.  Each year is something different and unexpected.  This certainly showed off that there is much to see and do.  I'm intrigued by the mazes this year, even having been in some of them from years before.  There's new twists that will keep returning guests entertained.  Special Ops is a very unique attraction that is worth the price of admission on its own.  I'm glad that Calico Mine is getting a maze treatment this time around.
Scary Farm may not be for the whole family, but it's a fun outing for many.  I have a good time going with friends and all of us jumping at the surprises we encounter.  I can't say enough about Special Ops.  It's worth checking out.  The Hanging is a fun and satirical show that will cause quite a bit of laughter.  In addition are the great attractions that Knott's has to offer.  It's something worth going to, and this presentation showed there is much to look forward to!
Full press release and info is below after the gallery.
NEW EVIL RISES AT KNOTT'S SCARY FARM THIS HALLOWEEN SEASON
Whatever You're Imagining, It's Here…Including All-New Mazes And The Return Of Elvira
BUENA PARK, Calif. (2015) – The 43rd annual world renowned event, Knott's Scary Farm, returns for 24 horrifying nights September 24 – October 31 and conjures up never before seen experiences and show-stopping entertainment including three new bloodcurdling mazes, Elvira, Mistress of the Dark, in an all-new stage show and the return of the groundbreaking Special Ops: Infected – Patient Zero.
Three new terrifying attractions will debut this year, with more astounding special effects and richer back stories than ever, including:
PARANORMAL, INC. – Case #1 – The Haunting of Hayden Hill (New for 2015): Featuring high flying aerial stunts and scares, in the groundbreaking new maze, guests investigate a haunted hospital where the patients were tortured for decades by deranged doctors and nurses. Demonic spirits of the murdered victims have been detected throughout the mysterious halls, while evil medical staff hunt for new patients to torture.
My Bloody Clementine (New for 2015): There is no tale more vicious and vengeful than that of My Bloody Clementine. Take a grim ride through the Calico Mine where Clementine and her father were brutally murdered centuries ago. Their wretched spirits roam the tunnels in search of those who killed them. This year the ride through maze will feature live monsters out for revenge at the train track's every turn.
The Dead of Winter (New for 2015): Escape the icy grasp of the chilling Snow Queen in the all new maze. Backed by with a ravenous beastly army of resurrected Viking warriors, she is hell bent on avenging her beloved family's murder, and preys upon any unsuspecting visitors who enter the borders of her icy domain. Guests with a Skeleton Key will have the opportunity to unlock a bone chilling surprise.
(New for 2015) Prowling the darkest corners of Knott's midways and scare zones, the Green Witch and her Deadly 7 is a sadistic crew guilty of more terror than meets the eye. Each of the monsters represent one of the seven deadly sins and make terrifying surprise appearances throughout the park each night.
Returning Favorites
Back by overwhelming demand, guests can enlist to fight the zombie apocalypse in an all-out war against the undead in the interactive experience, Special Ops: Infected – Patient Zero. In 2014, the ambitious new attraction was the first of its kind in North America and in 2015 continues to be the largest infestation of zombies nationwide. In 2015, the highly sought-after attraction will include more blood thirsty zombies, new missions, brand new high-tech laser guns, and more.
Special Ops: Infected – Patient Zero seamlessly integrates interactive gaming technology with an immersive mountainous landscape, delivering a breakthrough interactive haunted experience that is as terrifying as it is challenging. Missions lead by brave Squad Leaders will take guests through a variety of wilderness terrains, including the unpredictable barrel bridges across the rushing river, through the dark caverns, and through mysterious backwoods. Groups must work together to fend off zombies and complete various missions before time runs out. Six acres of the theme park is now home to mutinous, scream-inducing zombies, and the time has come for a harrowing Special Ops survival mission (limited spaces available).
Elvira, the legendary Mistress of the Dark, returns to Knott's Scary Farm in a spectacular all new show, Elvira's Asylum, featuring insane dance and comedy performances.
In honor of Elvira's return to Knott's Scary Farm, the Nautilus merchandise shop will temporarily become Elvira's Boo-tique, where fans can purchase stylish apparel and sinfully fun products featuring and inspired by the Legendary Mistress of the Dark. Each night, a limited number of guests who spend at least $50 at Elvira's Boo-tique during Knott's Scary Farm will get a chance to meet Elvira between performances of Elvira's Asylum and collect her signature on one of the purchased items. Knott's Scary Farm is the only place Elvira can be seen this Halloween season, and Elvira's Boo-tique offers fans a once in a lifetime meet and greet opportunity!
Black Magic: Houdini's vengeful spirt continues to wreak havoc on the Faux Theater, where the veil between the living and the dead is severed. Houdini's ghost comes alive and ushers a host of demonic illusions to play tricks on anyone who intrudes, only to finally meet Houdini in a show-stopping finale. Back for its third year, Black Magic is one of the most popular mazes at Scary Farm.
Forevermore: Follow the destruction of the "Forevermore Killer," one haunting tale after another, as the slayer makes his way through one of the longest mazes ever created in Knott's Scary Farm's history. With a Skeleton Key, guests can witness the work of the Forevermore Killer firsthand.
The Gunslinger's Grave: A Blood Moon Rises: Deadly howls and a full blood moon mark your impending doom as werewolves overrun the crime stricken old west town. Walk in the bloody footsteps of a betrayed and left for dead gunslinger on his path of retribution against the Skinwalkers.
Pinocchio Unstrung: Years have passed since the blue fairy denied him his final wish, but Pinocchio has returned with an army of murderous marionettes intent on killing his former masters. Meander your way through the carnage-riddled village and an all new sinful Pleasure Island and Skeleton Key Room. Revenge comes with no strings attached.
The Tooth Fairy: This twisted tooth fairy steals more than just baby teeth as he drags his victims out their bedroom window and into a world of deranged dentistry. Unbelievable special effects include a blackout room through which guests must feel their way out, a disorienting x-ray strobe light room, and new this year, an all-new Skeleton Key room…says aahhh.
Trick-or-Treat: Take a brave step forward and ring the witch's doorbell…trick or treat, which will it be? After surviving her grisly welcome, wander into the Green Witch's never before seen potion room and bewitched attic. But don't leave too soon; you're the special guest at the Green Witch's deadly dinner party where she and her menacing Tricksters await your arrival.
Voodoo – Order of the Serpent: The haunting legend of Papa Legba continues as guests follow him on his foreboding journey to conjure the serpent demon goddess in the outskirts of New Orleans. Trudge cautiously through the cursed swamps of the Deep South, where creatures search the murky bogs for their next bloody sacrifice and demons curse the innocent with Voodoo hexes. Guests who are brave enough to venture through the Skeleton Key room may fall prey to a defiled ritual.
The Hanging®: A live stage show in Calico Square irreverently looks back at the year's pop culture with killer comedy. Notorious for its special effects, pyrotechnics and high-flying stunts, The Hanging is a no-holds-barred assault on pop culture's most infamous moments of the past year. A must see parody!
160 Acres of Scare Zones
Knott's Scary Farm is far more than a collection of haunted attractions. Every night monsters spill out onto the streets and turn theme park midways into murderous scare zones. From the world famous Ghost Town Streets to the Boardwalk area filled with evil clowns, there's nowhere to hide in Knott's Scary Farm.
Ghost Town Streets is the original and largest, most terrifying scare zone that started it all.   Bands of half-human, half-animal monsters prowl the streets and inhabit the fog, and beware the notoriously startling sliders, who lunge from in every fog-filled corner of the land. Fiesta De Los Muertos fuses dance music, colorful costumes, and larger than life stilt walkers in a dance party scare zone. It's the ultimate late night celebration of Dia de los Muertos. On the Boardwalk clowns crave your undying attention in the CarnEVIL scare zone.
More Ways to Scream This Season:
Selling out in its inaugural year, the Knott's Scary Farm Pass returns in 2015 and offers unlimited visits to all 24 event nights. Current 2015 Knott's Berry Farm Season Passholders can purchase the pass at the limited time price of $70, now through Sept. 20 (while supplies last, plus applicable fees); the general public can purchase the pass for $80 (while supplies last, plus fees). New for 2015, Season Long Parking is valid for Knott's Scary Farm nights.
Single night tickets are $39.99 – $49.99 depending on the event night when purchased online (plus applicable fees). Knott's Season Passholders receive discounts on single night tickets when purchasing online. Tickets purchased at least 24 hours in advance at the theme park ticket booths are $49 for all nights, and day-of-event tickets purchased at the ticket booths are $69.
Fright Lane with Skeleton Key offers unlimited priority access to all mazes and unlocks five Skeleton Key rooms filled with unnerving terrors, interactive secrets and exclusive scenes. Guests will also receive a commemorative lanyard and collectible keychain. Fright Lane with Skeleton Key passes start at $70. (Separate theme park admission required, and not included)
Combo Tickets, offering admission and Fright Lane with Skeleton Key are an especially great value offering savings of up to $34, versus purchasing each item separately at the ticket booths.
Fast Lane offers unlimited priority access to many of Knott's world-class coasters for as little as $35.00 (when four or more are purchased online). Fast Lane is valid during regular Knott's Berry Farm operation and for Knott's Scary Farm operation on the date of intended use. (separate theme park admission required, and not included)
Hotel Packages are available at the Knott's Hotel for Knott's Scary Farm fans who wish to turn a night of thrills into a full-service weekend getaway.  All packages are based on double occupancy and are subject to availability.  Guests can purchase the special packages by visiting knottshotel.com or by calling the Knott's Hotel at (866) 752-2444, please reference the package names below:
Bare Bones Packages (Starting at $179) includes hotel accommodations and tickets to Knott's Scary Farm for all registered guests.
Haunted Dreams Packages (Starting at $279) includes hotel accommodations, Scary Farm tickets, buffet dinner at the hotel, all you can eat breakfast buffet, exclusive t-shirts, souvenir key cards, and early admission to Scary Farm for all registered guests.
Haunted Supreme Packages (Starting at $339) includes hotel accommodations, Scary Farm tickets, Knott's Berry Farm tickets, buffet dinner at the hotel, all you can eat breakfast buffet, exclusive t-shirts, souvenir key cards, and early admission to Scary Farm for all registered guests.
Gruesome Package (Starting at $479) includes hotel accommodations, Scary Farm tickets, buffet dinner at the hotel, all you can eat breakfast buffet, exclusive t-shirts, souvenir key cards, early admission to Scary Farm, and Fright Lane with Skeleton Key for all registered guests.
Boo-fet dinner at Mrs. Knott's Chicken Dinner Restaurant and Spurs Chophouse invites guests to feed the beast before Knott's Scary Farm opens each night. Meals include a collectible 2015 souvenir cup, which includes unlimited complimentary refills on the event night and $0.99 refills for the rest of the 2015 season. After dinner, enjoy early entry into Knott's Scary Farm a few minutes before it opens to other mortals. Boo-fet dinner is $26.99 +tax when purchased online and $32.99 +tax when purchased at the door. (Separate theme park admission required, and not included)
Knott's Scary Farm parking is $20 per vehicle and can be purchased online (plus applicable taxes and fees) or at the parking booth upon arrival.
Knott's Scary Farm has welcomed millions of visitors over the past 42 years and has become an institution in the Southern California theme park landscape. This year, the event returns September 24, 25, 26, October 1, 2, 3, 4, 8, 9, 10, 11, 15, 16, 17, 18, 21, 22, 23, 24, 25, 28, 29, 30, 31. Knott's Scary Farm is open 7:00pm – 1:00am Wednesdays, Thursdays and Sundays and 7:00pm – 2:00am Fridays and Saturdays. With more than 1,000 monsters roaming the park and lurking in the fog – whatever you're imagining, it's here…
For more information on Knott's Berry Farm, including admission, park hours and events, visit knottsscaryfarm.com or download the Knott's Berry Farm app for your smart phone. Join the scary conversation by using #ScaryFarm on Facebook, Twitter or Instagram.