Jump to recipe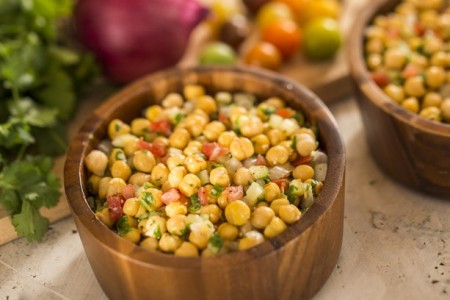 If you live in California, it is that time of year where let's face it… it's hot. Salads are always a nice refreshing way to combat the heat.
Today we share with you a a Chickpea Salad from Disney's Animal Kingdom in Walt Disney World that was introduced earlier this spring for the opening of the Harambe Market.
This is a good side dish or appetizer that can go well with Karubi Ribs. It is good for late summer bbq or an afternoon picnic.
Notes
Tamarind paste has a distinctive, tart flavor. It can be purchased in Asian and Latin-American grocery stores or online. Chaat masala is a spice blend available in specialty food stores and some grocery stores or online.
The longer you marinate this dish, the more authentic it will taste.

Ingredients
2 tablespoons olive oil
1 tablespoon minced garlic
1 tablespoon minced fresh ginger
1/2 small jalapeno pepper, seeds removed, minced
1 teaspoon tamarind paste, dissolved in 3 tablespoons of water
1/4 teaspoon chaat masala, optional
1/2 medium yellow onion, diced
2 (14.5-ounce) cans chickpeas, drained and rinsed
2 to 3 tablespoons fresh lime juice, divided
Coarse salt, freshly ground black pepper, to taste
1 large tomato, seeds removed, diced
1/2 cucumber, peeled, seeded and diced
1/2 bunch cilantro, stems removed, minced
© 2023 dapsmagic.com
This recipe is provided courtesy of the Disney Parks Blog. What is your favorite food at Disney's Animal Kingdom?