It's Marvel Comics news time!  The DAPs team is currently at the D23 Expo, so stay tuned to the site, Twitter, and Instagram for news including Marvel stuff.  In the meantime, here's the weekly news for Marvel Comics!  I'm curious about Secret Wars Too, a follow up to this game changing series of the Marvel universe.  Then there's the classic re-teaming of Deadpool and Cable.  A new series of Moon Girl and Devil Dinosaur will erupt in November.  And Marvel Kids has some family friendly Marvel Comics.  Check it all out!
SECRET WARS TOO #1 Takes You Beyond The Biggest Comic Event of the Year!                             New York, NY—August 12th, 2015 — Give Secret Wars a grand sendoff as some of the hottest names in the comics industry bid adieu to Battleworld later this year! Today, Marvel is pleased to present SECRET WARS TOO #1, an oversized one-shot of epic proportions coming to comic shops and digital devices in November! Secret Wars scribe Jonathan Hickman himself unites with the likes of Sergio Aragones, Ryan Browne, Al Ewing, Rob Guillory, Kate Leth, Eric Powell, Declan Shalvey, Kyle Starks, Ramon Villalobos and Brittney Williams to bring you a 40 page epilogue to the biggest comic event of the year. Prepare for a side of Secret Wars you've never seen before when SECRET WARS TOO #1 hits stores this November!
SECRET WARS TOO #1
Featuring JONATHAN HICKMAN, SERGIO ARAGONES,
RYAN BROWNE,  AL EWING, ROB GUILLORY, KATE LETH,
ERIC POWELL, DECLAN SHALVEY, KYLE STARKS,
RAMON VILLALOBOS and BRITTNEY WILLIAMS
Cover by CHIP ZDARSKY
On Sale in November!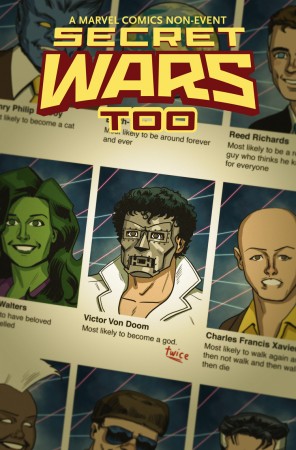 MOON GIRL & DEVIL DINOSAUR #1
Brings You a Girl and Her Prehistoric Pal This November!
New York, NY—August 14th, 2015 — This November, experience a friendship 65 million years in the making and a Marvel team-up that has to be seen to be believed. Today, Marvel is pleased to announce MOON GIRL & DEVIL DINOSAUR #1, a brand-new ongoing series launching this fall as part of All-New, All-Different Marvel. From the creative team of Amy Reeder, Brandon Montclaire and Natacha Bustos comes a story of unlikely friendship in the Mighty Marvel Manner!
Meet Lunella Lafayette, pre-teen super genius who just wants to change the world and help those in need. Possessing latent Inhuman DNA, Lunella's unsure of what her strange future might hold. But when she stumbles on ancient Kree technology, things are about to get a whole lot stranger.
Opening a doorway to the prehistoric past, her life is turned upside down as she comes face-to-face with a towering Jurassic giant known only as DEVIL DINOSAUR! But he is not alone. Out of the portal and in to the Marvel Universe emerge the Killer-Folk – an ancient tribe of beings who will stop at nothing to acquire the alien technology!
"Something that's the hallmark of a Marvel Hero is that they're gifted with a power they may see as a curse. Their hero's journey is to discover how to use it to help others," says series Editor Mark Paniccia. "Lunella is a little genius with grand plans on going to big schools, but she's got an Inhuman gene, unpredictable alien DNA inside that – once triggered – could take her life in a wildly different direction. She's determined to control that change. She's going to need to grow up really fast to survive in the new Marvel Universe…luckily she will have Devil Dinosaur at her side."
Lunella's about to learn the hard way that it'll take more than just big brains to save the world. This unlikely duo are many things, but together, they're the unstoppable Moon Girl & Devil Dinosaur! Prepare for a Marvel series unlike any you've seen before when MOON GIRL & DEVIL DINOSAUR #1 comes to comic shops and digital devices this November!
MOON GIRL & DEVIL DINOSAUR #1
Written by AMY REEDER & BRANDON MONTCLARE
Art by NATACHA BUSTOS
Cover by AMY REEDER
On Sale in November!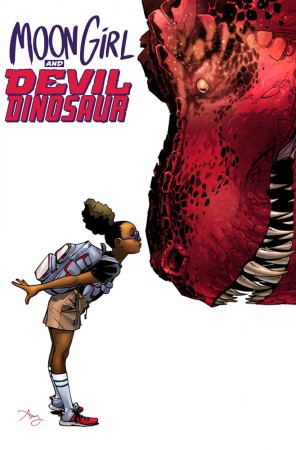 DEADPOOL & CABLE: SPLIT SECOND #1 – Reunited And It Feels So Good!
Marvel's Newest Infinite Comic Series Reunites Deadpool & Cable This October!
New York, NY—August 11th, 2015— Call them a duo with a special kind of dynamics. Call them an odd couple, but with guns. Call them the 1990s distilled down in to two characters. Call them what you will, but know this – DEADPOOL AND CABLE ARE BACK, BABY! The Marvel U's most powerful pair is returning for an all-new series this fall in DEADPOOL & CABLE: SPLIT SECOND #1 – the newest Marvel Infinite Comic Series debuting in October!
The fan-favorite Cable & Deadpool creative team of Fabian Nicieza and Reilly Brown are returning to chronicle new adventures of the Merc With a Mouth and the Solider With a Scowl! Specially designed and optimized for digital devices, Marvel Infinite Comics push the boundaries of what's possible with digital comics. Taking full advantage of the latest technology, Marvel Infinite Comics showcase the new storytelling possibilities of a digital canvas while still staying true to the medium's greatest strengths! Be there as Nicieza & Brown take full advantage of these exciting and dynamic new story possibilities as they bring all the shooting and stabbing of Deadpool and Cable to the digital comics frontier!
When Cable gets a vision of a terrible future brought on by the death of one man, he knows he must protect him no matter what! Three guesses who's been hired to kill this guy. Go on, guess. Give up? It's Deadpool. This isn't going to be pretty…  
Available right at your fingertips, DEADPOOL & CABLE: SPLIT SECONDS #1 will be available on the Marvel Comics app (for iPhone®, iPad®, iPod Touch® & AndroidTM devices) and online in the Marvel Digital Comics Shop this October!
DEADPOOL & CABLE: SPLIT SECONDS #1
Written by FABIAN NICIEZA & REILLY BROWN
Art & Cover by REILLY BROWN
On Sale Digitally in October!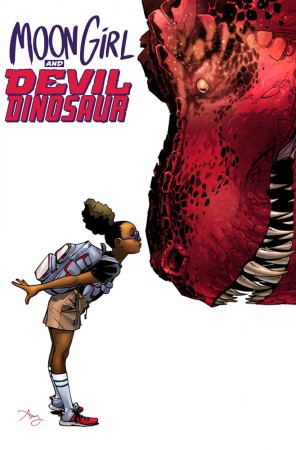 MARVEL CONTINUES TO EXPAND MARVELKIDS.COM
WITH NEW ULTIMATE SPIDER-MAN DIGITAL COMICS SECTION
New York, NY – August 10th, 2015 – Marvel is expanding the ways its younger fans can dive into the Marvel Universe with its all-new and kid-friendly digital comic book section; all part of the expanded MarvelKids.com.  Beginning with the refreshed Spider-Man destination on MarvelKids.com, younger fans can begin reading the adventures of Ultimate Spider-Man, featuring everyone's favorite web-head as he teams up with his amazing friends to fight the forces of evil. 
Designed to captivate readers of all ages, MarvelKids.com's Ultimate Spider-Man offers fans a guided reading experience using Marvel's digital Infinite Comics platform to help younger fans navigate the panels.  Taking full advantage of the latest technology, Marvel Infinite Comics showcase the new storytelling possibilities of a digital canvas while still staying true to the medium's greatest strengths and brings a cinematic experience designed to captivate the next generation of Marvel fans.
With new digital issues arriving every week, the Ultimate Spider-Man series begins with MarvelKids.com's ULTIMATE SPIDER-MAN #1: I THINK I'M PARANOID. After a routine run-in with the villainous Jack O'Lantern, Spider-Man is convinced that his spider-sense is on the fritz, when it starts warning him of danger seemingly at random. Turns out, there's a bigger threat than Jack O'Lantern to worry about, though.
In addition to the high-flying action within Ultimate Spider-Man, fans can take on the role of Spider-Man in a variety of interactive and amazing games and take part in an exciting web of activities including Spider-Man downloadable coloring pages, mazes, and word searches.
"The addition of the Ultimate Spider-Man comics on MarvelKids.com is the perfect way for kids to experience the Marvel Universe and nurture a joy of reading," says Daniele Campbell, VP of Digital Business Development & CRM. "Through the unique digital comic format, kids of all ages will be able to swing alongside Spider-Man in a way that is easy to navigate, kid-friendly, engaging, and most importantly – fun!"
MarvelKids.com will be continually expanding even more in the future with new Marvel Comics' series and more digital features exploring everyone's favorite Marvel Super Heroes!
Be sure to check out the MarvelKids.com sites here:
http://spiderman.marvelkids.com/
http://avengers.marvelkids.com/