When it comes to character dining at the Disneyland Resort, service and food is always a top quality. Whether it's the unique character interactions or the perfectly themed atmosphere, something special always seems to come from it. One character dining location that I would like to discuss is Disney's PCH Grill.
Located across the resort at the Paradise Pier Hotel is that of Disney's PCH Grill and home to Surf's Up Breakfast with Mickey & Friends. Here guests will have the chance to enjoy friendly characters as well as a California beachy themed dining experience. What makes this location even more special is that this is the only character dining location that Mickey Mouse himself attends at the Disneyland Resort.
You heard that correct, Mickey Mouse along with his ever so adorable lifeguard uniform will be in attendance!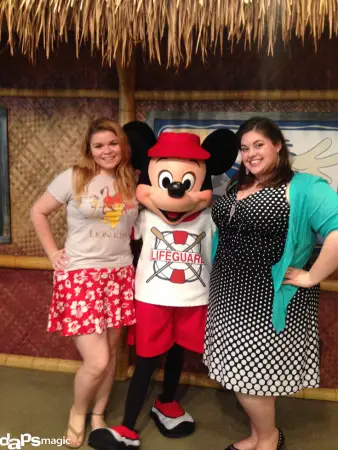 Upon arrival, guests are asked to check-in and wait to be called for a table, similar to that of other table service Disney dining locations. Surf's Up Breakfast with Mickey & Friends does offer a buffet style set up, just like Goofy's Kitchen.
There are many things to enjoy at this location. Sometimes I feel that Disney's PCH Grill is a bit forgotten. In saying that, I would like to shine some light on this dining experience.
First off are the characters. Each character is themed to fit that beach atmosphere. During our breakfast, we enjoyed visits from Minnie Mouse in lifeguard attire, Daisy in a lovely sun dress, Pluto with a starfish on his collar and Stitch. After making their rounds, every 20 minutes or so, the characters would head to the front and dance with guests.
Second, the food! Vegetarian-wise, this location actually had a nice selection of vegetarian items. Food options included an omelette bar, cereal, pastries, potatoes, eggs, juice, Mickey waffles, pancakes, pizza and more. Though the selection was a bit smaller than per say Goofy's Kitchen, it was still very yummy. And yes, as for non-vegetarians, there were many options as well.
Third, the atmosphere was very cute. The walls had various California themed details such as a photo paying homage to Orange County, a lifeguard tower, real kites above your head and a pretty awesome selection of music from the Beach Boys and more.
Lastly, for sure a favorite of mine, was the fact that every drink came with a silly bendy straw. Not sure why, but seeing all these multi colored straws across all the tables really made me smile and feel like a kid.
If you would like to enjoy Surf's Up Breakfast with Mickey & Friends it's best to make a reservation. Guests that did not have a reservation during our visit were told there was a 40-50 minute wait. Though Disney's PCH Grill does open up later for dinner, the character dining experience can only be enjoyed in the morning. Breakfast hours are set from 7 a.m. till 11 a.m., but times can be subject to change.
If you are interested in dinner, click here for more details on the new beach side bonfire themed dining experience at this location.
For further questions about vegetarian dining at the Disneyland Resort, feel free to call Disney Dining at (714) 781-3463 or email Special.Diets@disneyland.com. Also, if you have questions about character dining, check out these tips here.
Be sure to stay tuned to DAPs Magic as I venture through the Disneyland Resort tasting other delicious vegetarian options and dining experiences. You never know what may appear on my plate next.
Hope you enjoyed this meal recap. If you have any suggestions, please let me know.
***Also a special thanks to my friend Sarah in which I had the chance to enjoy this lovely dining experience with. ***