Jump to recipe
It's that time of year when kids are heading back to school which means it is also the time of year to come up with after school snacks. Thankfully, the good chefs at Tony's Town Square in Walt Disney World's Magic Kingdom Park have come up with the perfect after school snack for your enjoyment. 
Tomato Soup, Cheese Dippers and Apple Slices
Tomato Soup, Cheese Dippers and Apple Slices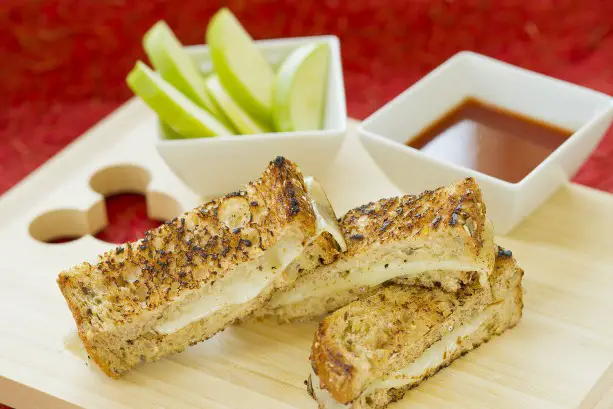 Notes
For an extra fun flourish, use cookie cutters for your sandwiches and put your after-school snack on/in fun dishes!

Ingredients
Tomato Soup
2 tablespoons olive oil
1 onion, diced small
2 cloves garlic, chopped
2 cups tomato puree
1 sprig each fresh thyme, rosemary, basil, and tarragon
2 cups water
1 teaspoon coarse salt, more to taste
1 teaspoon freshly ground black pepper, more to taste
1 tablespoon tomato paste
Multigrain Cheese Dippers
8 slices multigrain bread
16 thin slices provolone cheese
Olive oil spray
Green Apple Wedges
© 2023 dapsmagic.com
What is your favorite after school snack?