On the last day of the D23 Expo, Disney Interactive took the stage to present new games and mobile apps to come.  The Interactive group has gone through a lot of hard times before getting some standing in Disney Infinity.  Star Wars has been a huge boost, and games from this franchise was certainly anticipated at the presentation.
Jimmy Pataro took the stage to present the schedule for the whole presentation.  To start off the anticipated games was Kingdom Hearts 3 with Shinji Hashimoto, Larry Sparks, and translator, Kaori Takasuke.  It was interesting to start with this as it was one of the more anticipated games of whole show.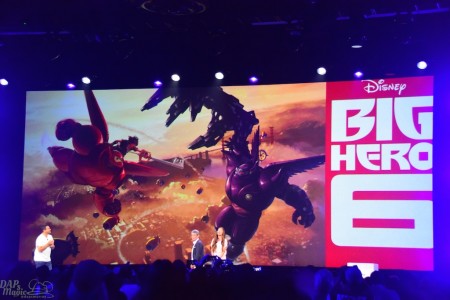 It didn't disappoint as they talked about how Tangled was already revealed to be a world that Sora and company will visit.  They went on to talk about how the Disney parks are paid tribute through spells used in the game.  The big surprise reveal was that Big Hero 6 will be a world to visit in the new game.  This world will have a story taking place after the hit movie, where the first version of Baymax has been lost in a portal.  This version of Baymax will be corrupted by the Heartless, and Big Hero 6 and Sora must defeat the evil Baymax.  With this, Baymax himself took to the stage to greet guests and the game makers.
The presentation moved onto mobile apps with Scott Humphries and Tom Morris.  They went through how games on mobile devices have taken off and become hits.  But, this was about announcing what's next.  Disney's Magic Kingdoms will debut on mobile devices to give theme park experiences outside of the parks.  The mobile apps group is working with Imagineering to convey the magic and excitement of the Disney parks in a digital experience.  Shown was concept art of pieces such as Space Mountain and California Screamin'.  Also told was that though this game is about building your own Disney theme park, a story will be revealed where you will have to defeat villains with other Disney characters.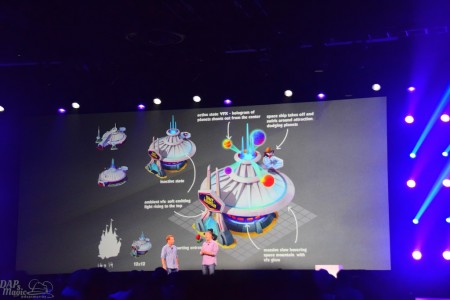 Playmation was the next segment of the presentation.  This new platform combines toys with digital media.  The idea is to have physical play for the digital age.  Using mobile devices, toy armor, and figures and devices, kids can save the world with the Avengers.  Announced were two starter packs, one with an Iron Man repulsor gauntlet and Red Skull and Captain America figure, the other pack with Hulk gloves and a Loki figure.  Each have their own missions and abilities.  Other little devices can be bought that will actually move around and "shoot" back at players.
Star Wars followed Playmation, and had multiple segments to showcase games that will be premiering.  The first was the Battle Pod arcade game.  This anticipated simulator game looks to be an exciting way to live the dream of being a pilot in the Star Wars universe.  A Premium edition was revealed that would have leather seats, a way for your name to be in credits, and a Luke Skywalker and Darth Vader edition.  A live demonstration showed the intense battles that would rage inside the simulator cockpit.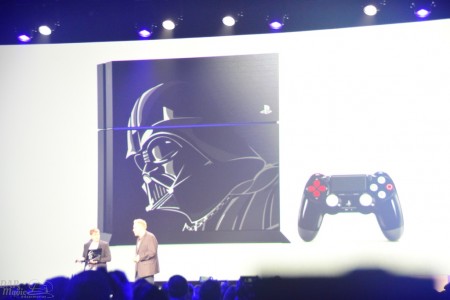 After this arcade demo was a look at Battlefront, a very anticipated and highly acclaimed game.  A lot of footage was shown of what kind of battles there is in store for the game.  One highlight was a rebel soldier trying to stop Darth Vader with a blaster before the screen blacked out.  Announced was the ship multiplayer mode called Fighter Squadron can have up to 20 players on missions and dogfights.  Footage was shown including piloting the Millenium Falcon before Slave I came up to try to stop it.
The big reveal for Battlefront is that the Battle of Jakku will be a starting day download.  This mission will bridge the original trilogy with the new Force Awakens movie.  The battle will take place on Jakku, and show how this became a battle torn planet with a downed Star Destroyer.
Another big announcement was the special editions of PS4's that will be in time for the holidays.  Darth Vader will be an image on the game console and it will be bundled with either Star Wars: Battlefront or Disney Infinity 3.0.  Also with it will be some classic Star Wars games downloads.
The time arrived for Disney Infinity to take the stage.  John Blackburn and John Vignocchi showed off the third version of the hit platform.  A lot has been revealed already as 3.0 will be arriving in a couple of weeks, but more was to be announced.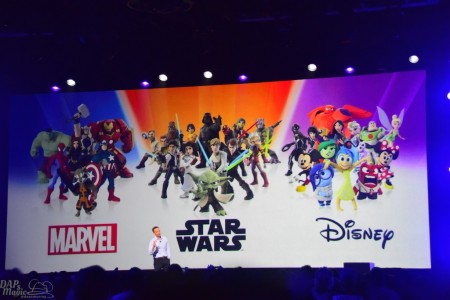 Marvel Battlegrounds will utilize previous Marvel figures from 2.0 in a battle filled playset.  Character figures announced were Spot from The Good Dinosaur and Zootopia figures.  Peter Pan will be a fan choice figure that will come later after 3.0 is released.  Hashimoto came back on stage to join in a special announcement.  In previous incarnations of Disney Infinity is Ultimate Unlock, which is something you get if you have every single character in that version.  For 3.0 the item will be a Kingdom Hearts keyblade!  For guests of the presentation, Hashimoto got to announce that an exclusive power disc would be given out which is the King Mickey costume from Kingdom Hearts for the Mickey Mouse figure already announced to be given out after the presentation.
The panel concluded with another surprise, which was John Boyega and Daisy Ridley joining the team on stage to help reveal the Finn and Rey figures for Disney Infinity.  They shared how fun it is to have figures of themselves, and then proceeded to give them away to two audience members.  Each autographed their figure and took a picture with the receivers.
The Interactive panel was full of great surprises and exciting games!  It was just as grand as the rest of the presentations the whole weekend, and featured just as anticipated media from Disney.  It's great to see this branch have a great life ahead, and I'm very excited about the announcements.  More information will be revealed as it gets closer for the games to be released.  Below is the presentation video for you to enjoy!