The 8th annual Taste of Downtown Disney was a fun filled and entertaining evening that provided support to a great hospital.  The Children's Hospital of Orange County, or CHOC as it's known, hosted this event around many of the restaurants within the shopping and dining complex of the Disneyland Resort.
The night starts by pulling up to the Grand Californian to check in.  Guests are divided into groups to tour the various locations.  Each location has a selection of drinks and food, tapas style.  You start in a particular food location and wait to move on within about 15 minutes.  This allows for a good amount of time to savor the choices while being able to have everyone provided for.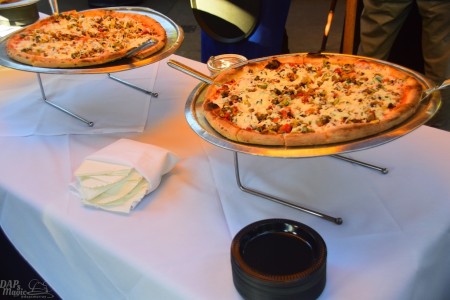 The first location I went to was Naples.  Upon entering I was offered a Starbucks passion tea and a cup of kettle corn.  After a few minutes it was officially time for the event to begin and was served prosciutto with cantaloupe, mozzarella caprese and tomato skewer, and a wonderful roasted vegetable pizza from this delicious restaurant.  A good selection of wine was here, and I tasted a rose.  Not being a wine drinker I do think this was a very fine choice.
After, it was onto Wonderground Gallery.  There La Brea Bakery served a ginger lemonade, while servers walked around as people perused handing out braised short rib atop garlic mashed potatoes.  What I enjoyed about this location is that it turned a usual gallery gift shop into a true art gallery.  People walked around admiring the prints and fine art while enjoying drink and food.  It was classy and magical at the same time.
From there the group traveled to the Westside stage where the Phat Cat Swingers were finishing their set.  We were being seated for a performance from the Anaheim Ballet company.  The teacher and host explained what dancing actually does: it tells a story.  Yes, I know that's a given for performances, but he went into detail about how movements actually represent messages.  One dancer showed how they can say "I love dancing."  It opened my eyes to what ballet really is.  And I enjoyed the performance, admitting that I'm not a fan of ballet.  It was a good amount of time for the dance, "Masquerade" and I wowed at the performance the kids put on.  I can't even come close to what they were able to do.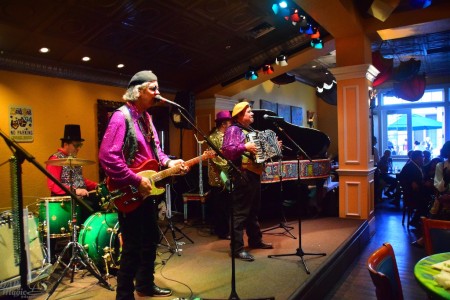 After that we went to Ralph Brennan Jazz Kitchen where a band was playing inside the first floor dining area.  Inside we were served bacon wrapped shrimp and more selection of wines.  As it may go for a few things at the event, I'm not prone to enjoying what was served here, but I loved  it!  The shrimp was excellent!  The drinks were fantastic!  I wanted more, but knew there was going to be a great selection as I traveled on.
Next was House of Blues, which was bittersweet to me as it's leaving Downtown Disney somewhat soon.  This had my favorite bites of the event: a meatball slider and island turkey burger slider with house chips.  Also on hand were Anchor Blue pale ale and lager.  The turkey slider was spicy, but definitely my favorite food out of the event.  We were at the bar on the second floor overlooking Downtown Disney.  It was a beautiful sight to see as the sun began going down and there was plenty to look out upon and enjoy.
From there we traveled to Earl of Sandwich.  If you follow @daps_magic on Twitter you know there are plenty of Sundays we enjoy a sandwich here.  The best part about coming during the CHOC event is there was easy seating!  It transformed the patio into a fine dining reception where I tried the turkey club, having not had it before.  Earl's Lemonade is always a choice of mine and it was served to us as well.
From Earl's it was onto Catal and Uva Bar.  This is one place in all of Downtown Disney that I have never eaten at!  Thanks to the Taste of Downtown Disney I can now say I have!  Left Coast beer company provided the drinks, and they were quite tasty.  A tomato guspaco was served before eating a grilled cheese and ham sandwich.  Where it sounds like a simple meal, this was quite gourmet and delicious!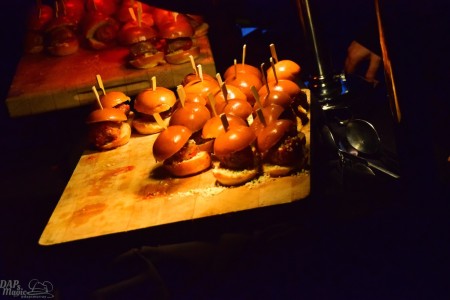 There were two more stops before the night was done, and the first of them was ESPN Zone.  A nice patio setup made for a sports lounge feel, as red couches allowed for comfortable seating.  I liked this atmosphere especially with the swing band playing.  I tried a whiskey bourbon which was fairly smooth while having that hint of sweetness, and a little kick too.  Garlic fries and a pork belly, grits, and cornbread dish were served.  I didn't even know ESPN had this available!
The last stop of the night was Tortilla Jo's.  This was quite the stop as not only more dinner was served, but also dessert.  Chips and fresh made guacamole was given out.  The guacamole was nice and spicy, and especially good being fresh.  You could see them make it as you waited.  Street tacos al pastor were made available as well.  Servers walked around with margaritas to enjoy.
Dessert consisted of coffee from Starbucks, strawberry lemonade smoothies from Jamba Juice, and cookies and bread pudding from La Brea Bakery.  It was a good amount to top off the night, and had a good amount of sweetness to it all.  While enjoying the fare, a good view of the Disneyland Forever fireworks gave that "kiss goodnight" to the event.  It made this Taste a magical one.
As I went around with the group I was in, I could tell there was a good mix of newcomers (like me) and return guests.  I could see why people were returning!  This was a great event full of fine food fare and terrific entertainment.  There was fantastic ambiance and still somewhat casual dining, though most were in business casual wear.  It's an elegant event with the flare and fun of Disney.  Service was great and even added to the event.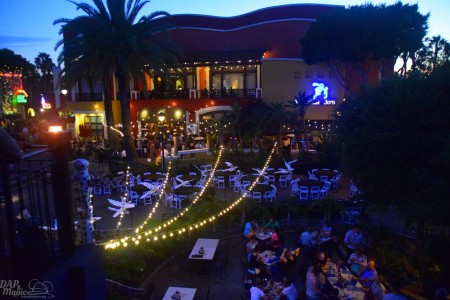 The wonderful thing about the Taste of Downtown Disney is it's not just about getting food.  This supports a truly great hospital that helps save so many lives.  I can't say enough about how synergistic events like this are for the hospital to provide wonderful care to children and their families.  I kept thinking about how wonderful the turnout was thinking how much was going to the health of children.  The event sold out the day before, and that doesn't just speak to the dinner party itself, but the community outreach to the hospital.
My hope is that the Taste of Downtown Disney would grow.  It is a party primed to have even more delicious food and entertainment!  It can only get better and be that much more enjoyable for everyone!  But, the bigger reason is that it supports CHOC.  The more that can be done for that, the greater the future of children.  I highly recommend attending next time.  As you can tell, not only do you support a great organization, but you can savor some of the finest food I've had in elegance.  If you've been to Downtown Disney many times, you have not experienced it like this before!  It gave new light to something that I go to practically weekly.  It made it charming and fanciful.  It was a great event with an even greater mission behind it!