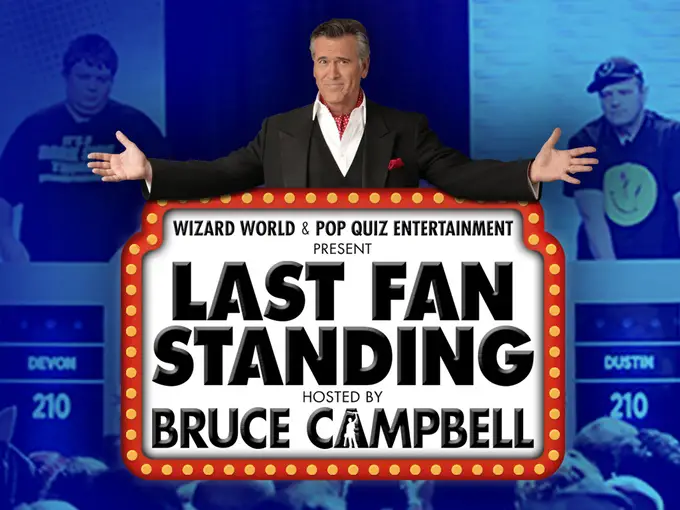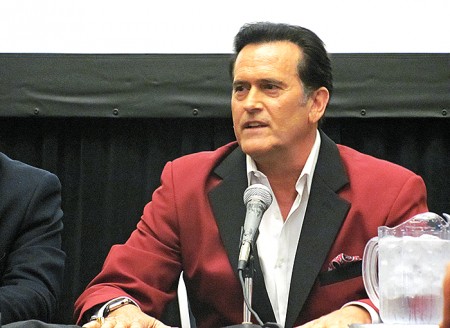 At a special press event in Wizard World Comic Con Chicago, actor Bruce Campbell urged fans of his popular game show, Last Fan Standing, to help fund a second season through a Kickstarter campaign that will run from August 20 to September 21.
Last Fan Standing is a comic convention-exclusive game show hosted by Evil Dead star Bruce Campbell that pits contestants against each other in a battle of geek knowledge. The categories are Superhero, Sci-Fi, Fantasy, and Horror, and contestants must face off to see who is "the ultimate Fanboy or Fangirl". The first season of Last Fan Standing was shot directly at Wizard World conventions and regular con-goers were chosen to participate in the game. More than anything, Campbell said at the event, the show allowed him a platform to crack jokes and make fun of people.
In an exclusive interview with DAPs Magic, Bruce Campbell explains the importance of crowdsourcing such a fan-driven enterprise.
"You just cut to the chase. Everyone says they're "catering to fans", but we're the ones who are actually putting our money where our mouth is – we're directly catering to fans, asking them questions that only they would know the answers to."
Despite being a critic of the summer blockbusters and big franchises that dominate fan culture, Campbell explains that, "It goes beyond [the franchises and blockbusters]. The show isn't just the four categories of franchises and movies. There's a lot of trivia out there."
"You give them the power. You empower the fans," says Campbell of the inherent pros of putting studio-driven products in the hands of the audience. "They will determine whether the show gets made or not, so if they put up the money, then we have the answer."
For Bruce Campbell, the act of taking power away from the studio was the most important element of Last Fan Standing, and by creating a show without the support of the studio system, the show could have that much more freedom and time to find distribution.
"The way this whole public funding thing works is you just do an end-run, you go around it, and nothing could be sweeter if we pull this off to say, "Okay, we don't need anyone else's money." You know, with money comes restrictions, the golden rule is that 'the guy who has the gold makes the rules', so if you get money from a studio, they make the rules. It's their contract, they own the movie, end of story. We'll be in a much stronger position if we go to them, we're already financed, and we've already got 10 episodes. All you want them to do is distribute it, not to finance it. Anyone will distribute, no one wants to finance!"
With an end goal of $250,000, campaign perks range from a custom voicemail by Campbell himself, to signed comics and t-shirts, to private bowling parties with the actor.
Help Bruce Campbell give the fans their voice and fund a second season of Last Fan Standing!  The Kickstarter campaign begins August 20 and ends September 21. The first season of Last Fan Standing is available to watch on ConTV.