The 2015 D23 Expo at the Anaheim Convention Center is almost here. It seems like more often than not, new news is being released on events, panels and more. Announced on Thursday, the expo will have a pavilion dedicated to future Disney Consumer Products.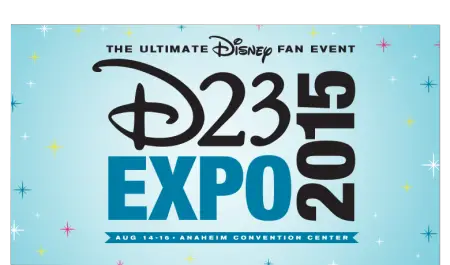 In the Disney Consumer Products pavilion, guests can experience the theme of  where "Tradition Meets Innovation."
Throughout the weekend, Disney Consumer Products will give fans the chance to get hands-on with the very latest in product innovations, explore fashion trends, books, apps, and more, as well as shop for collectible Disney Store merchandise at D23 EXPO. Special artist signings and stage presentations also will take place over the three-day event, offering fans the chance to get up close and personal with their favorite storytellers.
A list of products and sections that can be explored have been released. Check out the lineup below.
If you are interested in learning more about the D23 Expo, please click here.
What product are you looking forward to?
Playmation Marvel's Avengers – EXPO attendees will have the chance to see if they have what it takes to gear up and join the Avengers! Be among the first to experience the recently announced Playmation product, a groundbreaking new system of connected toys and wearables that uses smart technology to inspire kids to run around and use their imaginations, as they become the hero or heroine of Marvel stories.
The Marvel Universe – Fans of all ages collect across the ever-expanding Marvel Universe, and at D23 EXPO they can experience more of their favorite Super Heroes with a preview of the newest large-scale statues, action figures and more. Additionally, attendees will get a first-hand look at how the attributes of Marvel characters – cool, strong, relatable – come together in fashionable apparel and accessories. Attendees are encouraged to follow @StyledbyMarvel on Instagram and to share their own passion for MARVEL with the #StyledByMarvel hashtag.

Evolution of the Star Wars Stormtrooper – Explore the design evolution of the armor-clad legions of Clone Troopers and Stormtroopers that have fought for the light side and the dark side throughout the Star Wars

#TeamMickey – Fans can show off their #TeamMickey spirit and commemorate their visit at a fun-filled Mickey photo booth.

Rock Your #MinnieStyle – The Minnie lounge will feature a nail bar and surprise product giveaways along with an inspired fashion and accessories statement.

D-Style – EXPO attendees will be the very first to preview D-Style, an all-new, curated assortment of fashion items and accessories debuting at DisneyStore.com this fall.

Make it a Tink Moment – Straight from Never Land, #TinkStyle will land at D23 EXPO. Guests can visit the 'Bun Bar,' where professional hair stylists will be on hand to give attendees the iconic Tinker Bell top knot while they peruse a glittering Tinker Bell product display.

Disney Junior 'Fun Spot' – Fans can experience galactic play with new stellar toys from Miles from Tomorrowland and have the chance to meet Doc McStuffins and Sofia the First at the Disney Junior 'Fun Spot.'

Unlock Your Inner Disney Princess – D23 EXPO attendees can unlock their inner princess by leaving an empowering message on a special 'Keys to the Kingdom' gate.

The Breadth of Frozen – Fans will have the opportunity to check out Frozen products for the whole family and engage in fun activities held throughout the day.
Pixar Storytelling Comes to Life – Pixar films have delighted audiences for more than 20 years with memorable characters that have been brought to life in equally delightful product. Explore some of the newest products from everyone's favorite Pixar films. Additionally, fans will be able to see the exciting new app from Disney – Cars: Daredevil Garage – that allows you to take your favorite Mattel diecast cars into the virtual world, using them to perform extreme stunts in crazy environments.
Discover Disney's Descendants – EXPO attendees will get an exclusive look at the wicked world of fashion and toys inspired by Disney's Descendants, the teenage progeny of Disney's most infamous villains.

Disney Store

In addition to the exciting events and attractions offered in the Disney Consumer Products pavilion, the Disney Store shop at D23 EXPO invites attendees to shop an array of special products not yet available to the general public. Showcased throughout more than 3,000 sq. ft. of retail space, new collections and Limited Edition items will launch throughout the D23 EXPO weekend.

Offering even more collectible merchandise, Disney Store will be launching "Disney 3D Print Studio" at D23 EXPO, offering fans the chance to personalize new figures, including a Disney Mouseketeer, Star Wars stormtrooper, and Marvel's Iron Man, with their likeness through the use of facial-scanning kiosks. Marking the first foray into 3D printing by Disney Store, the figures sold at EXPO will feature unique packaging with a special D23 Certificate of Authenticity.

More details about Disney Store merchandise offered at EXPO will be released in the coming weeks.

Disney Publishing

Disney Publishing will take fans into the world of books, apps, and everything in between by showcasing how artists, storytelling, and innovative content come together to create stories full of magic and adventure.

Disney Storytelling Pop-Up Shop – EXPO attendees are invited to take a magical journey into the world of storytelling featuring titles that span Disney's fascinating history. Look behind the magic through Disney Publishing's Disney Editions books that showcase a vast array of feature films, Disney Legends, and Imagineers, available for purchase at the Disney Store retail space.

Discover the Magic of Learning with Disney Imagicademy – Dive into the world of technology-driven learning through apps designed to encourage children to learn by creating, doing, and making.

Disney Publishing's Digital Discovery Zone – Fans can immerse themselves in the exciting world of innovative storytelling through a collection of digital experiences that will engage the imagination of people of all ages.

Whisker Haven Tales with the Palace Pets – Take a journey into a secret realm deep in a fairy tale land between the Disney Princess kingdoms called Animal Royal Kingdom of Whisker Haven, where the Palace Pets characters can meet up with their friends, play, and save the day.

Introducing Star Darlings – Coming this fall, the Star Darlings characters will encourage girls to make wishes from the heart and find their inner star. At D23 EXPO, fans can see a sneak peek into their world, with exciting Star Darlings giveaways being conducted throughout the weekend.

Disney Publishing will also present in Stage 28 at D23 EXPO. Located inside the Disney Consumer Products pavilion, Stage 28 will feature exciting presentations and author signings including:

Friday, August 14

3–4 pm: Stage 28: Exploring the Past, Present, and Future of Storytelling with Ridley Pearson and Marty Sklar

New York Times bestselling author Ridley Pearson joins Disney Imagineering Legend Marty Sklar as they discuss their seemingly different careers and roles as storytellers, along with how their worlds pleasantly and serendipitously collided with the creation of Pearson's Kingdom Keepers series.

4:30–5:30 pm: D23 EXPO Dream Store: Ridley Pearson autographing

Saturday, August 15

10–11 am: Stage 28: One Little Spark—Mickey's  Ten Commandments and The Road to Imagineering—with Marty Sklar in conversation with Eli Erlandson, Shelby Jiggetts-Tivoni, Daniel Joseph, Dexter Tanksley, and Kevin Rafferty                                                     

From the acclaimed author of DREAM IT! DO IT!, Disney Imagineering Legend Marty Sklar joins five well-known Imagineers in a lively conversation about what inspired them to go into the arts, ultimately become Imagineers, and the advice they have for young creative talent who wish to do the same. Sklar will engage his fellow Imagineers in an inspiring discussion that will appeal to young and old alike–those who hope to take that "Road to Imagineering" someday, along with the parents and grandparents who encourage young people to follow their dreams.

11:30 am–12:30 pm: D23 Autograph Central:  Marty Sklar signing

2:45–3:45 pm: D23 EXPO Dream Store: #1 New York Times bestselling author Melissa de la Cruz autographing for The Isle of The Lost: A Descendants Novel

Sunday, August 16

1:30–2:30 pm: Stage 28: An Animator's Gallery:  Presented by Dave A. Bossert and Eric Goldberg

Based on the book containing whimsical, deluxe Art Deco-themed art showcasing Walt Disney characters in a style reminiscent of caricatures from the famed walls of Sardi's and The Brown Derby, join Disney Supervising Animator Dave Bossert and Director Eric Goldberg as they discuss the stylized images in the collection that first debuted as a display within the Roy E. Disney Animation Building in Burbank, California. Fans of all ages, and from all over, will learn what inspired Goldberg to create these playful portraits, starting with Oswald the Lucky Rabbit and Mickey Mouse through characters from Frozen and Big Hero 6.

3–4 pm: D23 Autograph Central: Dave Bossert and Eric Goldberg signing