The deerstalker… I've never worn one.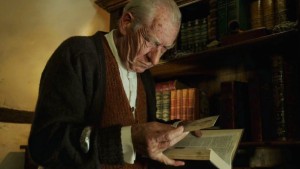 Sherlock Holmes is returning in Mr. Holmes, this time played by Ian McKellen. However, this is a much older Sherlock Holmes and much less glamorous version than has been portrayed of late. And Mr. Holmes is on a quest to solve his final mystery and tell his story more accurately from his perspective.
A new trailer has been released for this film that will be hitting theaters on July 17, 2015. Take a look:
Description:
MR. HOLMES is a new twist on the world's most famous detective. 1947, an aging Sherlock Holmes returns from a journey to Japan, where, in search of a rare plant with powerful restorative qualities, he has witnessed the devastation of nuclear warfare. Now, in his remote seaside farmhouse, Holmes faces the end of his days tending to his bees, with only the company of his housekeeper and her young son, Roger. Grappling with the diminishing powers of his mind, Holmes comes to rely upon the boy as he revisits the circumstances of the unsolved case that forced him into retirement, and searches for answers to the mysteries of life and love – before it's too late.
So What Do You Think?
This should be a very interesting take on the Sherlock Holmes character and stories. It will be quite different from recent movies and TV shows but judging by the trailers for Mr. Holmes and the talent associated with this movie, it will be a movie that is worth watching. I doubt I will be seeing this movie on opening night but I have no doubt that I will see it.
What did you think of this trailer? What do you think of the movie?
Make it a GREAT day!