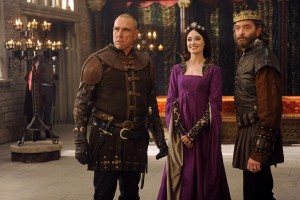 ABC has renewed the musical comedy Galavant for a second season. The series, starring Joshua Sasse was a wacky short-run show that told the story of a knight pursuing his love… while she was pursuing other things.
The show had a quirky appeal but was by no means popular. It did attract some fun guest stars that included Ricky Gervais, "Weird Al" Yankovic, John Stamos, and Hugh Bonneville during its 8 episode run.
The season ended with a cliff-hanger so despite the oddities, fans will be looking forward to seeing where this twisted adventure goes during season two.
Galavant was created by screenwriter Dan Fogelman, award-winning composer Alan Menken and lyricist Glenn Slater. It stars Joshua Sasse, Timothy Omundson, Vinnie Jones, Mallory Jansen, Karen David, and Luke Youngblood.
What did you think of Galavant? Do you think it should have been renewed?