Located in the beautiful Downtown Disney District of the Disneyland Resort lies the Rainforest Café. Upon entering, you are transported into a brand new world; world full of adventure, unique animals, thunderstorms and so much more. Let's not forget the occasional 'volcanooooo' sound you can hear if a guest orders the Sparkling Volcano dessert. This place is so much fun and I can go on for days about the perfect theming. What is also great about this dining location is that it serves up a variety of food. Guests of all ages and dietary needs will find something to satisfy their appetite.
As for those vegetarians out there, including me, sometimes eating out can be a pain. Have no fear though when dining at the Rainforest Café.
During a recent visit, I had the chance to grab a bite to eat during their dinner hours. The menu was just jaw dropping. Items such as Onions Stacks, the Calypso Salad, Rainforest National Burger, Portofino Pasta and so much more caught my eye. The one item that was suggested was that of the Portabella Wrap. Can you say delicious?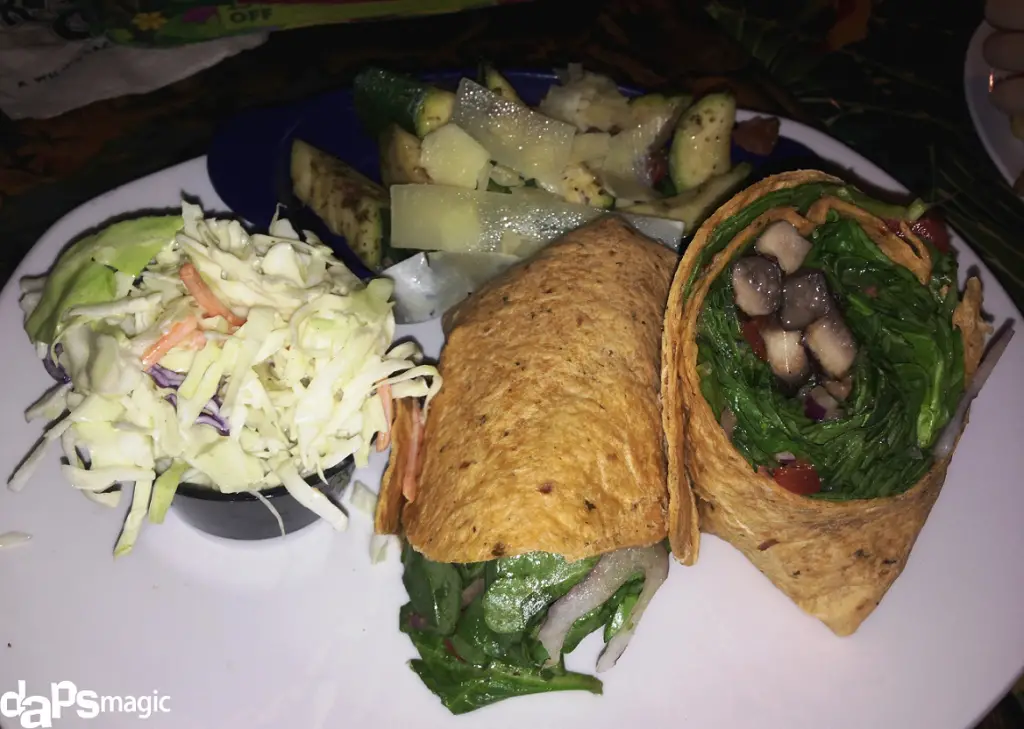 The Portabella Wrap meal was great and filling. According to their menu online, here is a complete list of what the wrap entails, "Tomato Basil Wrap layered and rolled with Spinach, Red Onions, Roasted Red Peppers and grilled Portabella Mushrooms with Roasted Garlic Balsamic Dressing." On top of that, the meal came with side and an order of slaw. In this case, I selected the grilled vegetables. The side order of grilled vegetables contained that of onions, zucchini and cheese. Put all these flavors together and you have a great and healthy meal.
The Portabella Wrap is offered during both lunch and dinner. Price of meal is $14.49, before Annual Pass discount.
One of the great things about this location is how close it is to the Monorail. If you are visiting Disneyland Park, picking up the Monorail in Tomorrowland and cruising to the Downtown Disney District is easy. A trip with a view right before your meal, so fun in my opinion.
Also, during certain days of the week, live bands perform right outside of the Rainforest café, between the AMC Theater and ESPN Zone. Just another way to enjoy the night.
If you would like to know more about vegetarian options at the Disneyland Resort, feel free to call Disney Dining at (714) 781-DINE or (714) 781-3463. And if you would like to view the menu of the Rainforest Café, please click here.
Be sure to stay tuned to DAPs Magic as I venture through the Disneyland Resort tasting other delicious vegetarian options. You never know what may appear on my plate next.
Hope you enjoyed this meal recap. If you have any suggestions, please let me know.