Happy Earth Day Foodies! I wanted to write a blog that was food based, topical and not preachy. There is so much negativity floating around the culinary world in regards to sustainability, GMOs, etc. I decided that I wanted to write about something positive and recently at Devoured Phoenix, Mister and I received some amazing glasses in our goodie bags that happened to fit that bill. It was perfect! The tumblers we received were from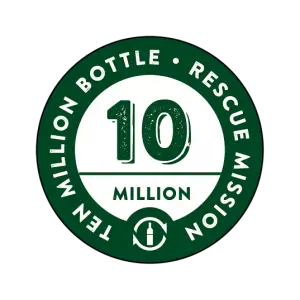 a local company called Refresh Glass.
Refresh Glass, is based out of Phoenix, Az. They collect empty wine bottles from local restaurants and hotels who would have otherwise thrown them away. They then transform them into beautiful glassware. In 2015, Refresh has collected and repurposed over 600,000 bottles. Their mission is to grow to collect and repurpose over 10 million bottles per year.
Owner Ray DelMuro grew up in Pasadena, California, and received his BS and MS in Industrial Technology at Cal Poly SLO. After school he worked as a manufacturing engineer for an aerospace company for 5 years before quitting and taking a year long trip around the world to try and figure out his passion profession. A year after his trip ended he launched Refresh Glass.
In 2009, Ray was selected by the Arizona Republic as one of the Top 35 Male Entrepreneurs under the Age of 35 in the state of Arizona. In 2010 Refresh Glass was selected by the AZRC as the Small Business of the Year for Recycling in the state.
Ray loves art and engineering and wanted to create a product that blended his favorite parts of both. To him, engineering has to do with function and utility; logic, quantifiable tests. This was his job as a manufacturing engineer, to ensure fit, form, and function. He was also responsible for establishing efficient processes by managing the variables of cost, quality, and time & still does this now. For Ray, the kicker is the art. Since he was a kid I he has always loved drawing and then that turned into a love for fabricating. The concept of taking a mechanical design, or art concept, on paper and then making it come to life is still fascinating to him. He believes that art has to do with designing for an emotional response; something that his glassware has had a strong track record of achieving. With Refresh Glass he wanted to create solutions where others benefit both financially and emotionally as a result of their pursuits.
One of Ray's best friends told him in late 2008, when he first started making the glasses out of his garage, that people want this project to succeed because they want to be able to say that they played some part in Refresh Glass' success. Ray wants everyone who eats at a restaurant that collects for Refresh Glass, works there, sells, distributes, or has a set and tells his story to feel like they played an important part in helping our project grow, because he believes they have. He wants people to enjoy the elegance of the function and the feeling that the glasses represent.
Refresh Glass has glasses being used at Wolfgang Puck, Four Seasons, Ritz Carlton locations in addition to many other restaurants and hotels around the country. Refresh products are also sold at many retailers in the states as well.
Empty bottles are rescued with the help of local collection partners which include: Postino locations, Beckett's Table, House of Tricks, the Parlor, Sheraton downtown, Pizzeria Bianco, FireSky Resort, Hyatt Regency at Gainey Ranch, La Bocca, El Chorro, and the Marriott Buttes. Products are available locally at Practical Art and select Whole Foods Locations
Well foodies, that about does it for this blog! I hope you enjoyed learning about one of my favorite local companies. What we choose to buy matters and it's great to support a company who not only shares your beliefs but creates a beautiful and functional product too! ­­­­­­­­­­­­­­­­­­More information about Refresh Glass is available at www.refreshglass.com. Until next time!
Enjoy What You Eat!
DC