Jump to recipe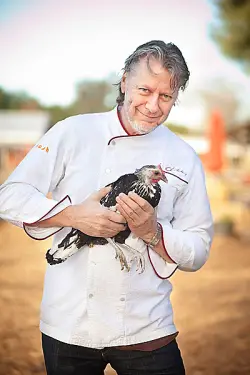 Greetings Foodies! Welcome to our latest Culinary Cameo featuring James Beard award winner Chef Christopher Gross. I had the pleasure of meeting Chef Gross at Check, Please! Arizona Festival after his panel with other James Beard award winners from Arizona. His unique attitude towards food, the culinary industry and life in general intrigued me (not to mention he knew Julia Child!) and I knew I wanted to speak with him more. We are excited to have had the opportunity to do an interview with him and without further delay, lets get started!
Highly regarded in his field, Chef Gross' awards are many. He was named one of America's 10 Best New Chefs by Food & Wine Magazine, his restaurant was named Best New Restaurant by William Rice of the Chicago Tribune and Best New Restaurant by John Mariani of Esquire. Perrier Jouet and the James Beard Foundation named him Best Chef Southwest and he was the first chef in Arizona to be honored with the Robert Mondavi Culinary Award of Excellence. Christopher has also been featured on numerous panels with Jacques Pepin and Julia Child at the Food & Wine Classic in Aspen. He and his recipes have appeared in numerous cookbooks, including the Julia Child PBS series and cookbook "In the Kitchen with Master Chefs." He has been a featured chef for the James Beard Foundation Dinner of the Decade, and cooked for Presidents Ford, Reagan, Bush as well as former Vice President Al Gore and former House Speaker Nancy Pelosi.
Chef Gross was a founder of the Arizona chapter of the American Institute of Wine and Food (AIWF), is on the National Board for the American Liver Foundation, has served as co-chair of the American Liver Foundation's "Flavors of Phoenix," and was Chair of the Share Our Strength's "Taste of the Nation." Christopher was also on the National Advisory Boards for the James Beard Foundation and for the Art Institute of Phoenix.
Chef Gross' culinary legacy continues with his latest endeavor, Christopher's & Crush Lounge, named one of the Top 10 New Restaurants in the U.S. by Gayot.com.
How long have you been a chef?
I got my first chef job in 1980, about 35 years.
What inspired you to become a chef?
My love of racing motocross, for which I needed money.
What training did you go through?
I worked in kitchens here in Phoenix, then went for 2 years in L.A. Following that I moved to London to work for about a year and then to Paris for about 2 years.
What is your favorite thing to cook?
Did any pre-conceived notions about cooking change once you became a chef?
Not really. Except that a good chef should know how to be a pastry chef as well and to learn wine.
What is the best thing about being a chef?
A lot. Meeting people, travel, doing what you love to do, eating and drinking.
What is the worst thing about being a chef?
The hours
Are there any foods you hate to cook?
Anything I don't like to eat myself.
Do you find TV chefs inspirational or annoying to the culinary community? Why?
Annoying, look at most of the ads or commercial breaks; they are selling Crisco salad dressing their demographics are not really for people who love good food its just TV
Who has been most influential in your culinary career?
There are too many people name.
What were your inspirations when you created the menu for Christopher's?
The end product.
After you won a James Beard award how did your career change?
It became a little more business and I was asked to travel more; doing events all over the world such as a wine expo in France, cooking in China, Thailand, South America, all over Europe and the USA.
Can you share one kitchen tip with our readers?
Taste everything and taste again; don't be afraid of salt.
Do you have any advice for someone who wants to become a chef?
Learn to cook first. Too many young cooks want to be the TV chef and create stuff before they even know how to cook or taste well.
Can you share one of your favorite recipes with our readers?
See below for Chef Gross' Lobster Pasta and Portabella Pasta with Tomato Tea
I hope everyone enjoyed our Culinary Cameo of Chef Christopher Gross. We really appreciate him taking the time to answer our questions and share a recipe. If you are in the area, he will be at the Scottsdale Culinary Festival's Great Arizona Picnic this Sunday. Check back next week for our next Culinary Cameo as we will be featuring James Beard award winner Chef Nobuo Fukuda. Until then!
Enjoy What You Eat!
DC
Chef Christopher Gross' Lobster Pasta and Portabella Pasta with Tomato Tea