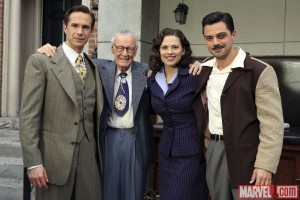 If you have caught Marvel's Agent Carter on TV this winter, it only takes a few seconds to realize that two of the lead roles belong to people with really awesome accents. As this first season continues on, Hayley Atwell (Peggy Carter) & James D'Arcy (Edwin Jarvis) sat down and shared about their experience.
The two clearly have a lot of fun together, as they share how much fun they have. They also talk about the "Britishisms" that are included in the show along with the dynamics between these two British stars.
Marvel's Agent Carter currently is playing on ABC on Tuesday nights at 9:00 PM ET/PST. You can follow @AgentCarterTV on Twitter and like "Marvel's Agent Carter" on Facebook.
What do you think of Marvel's Agent Carter so far?