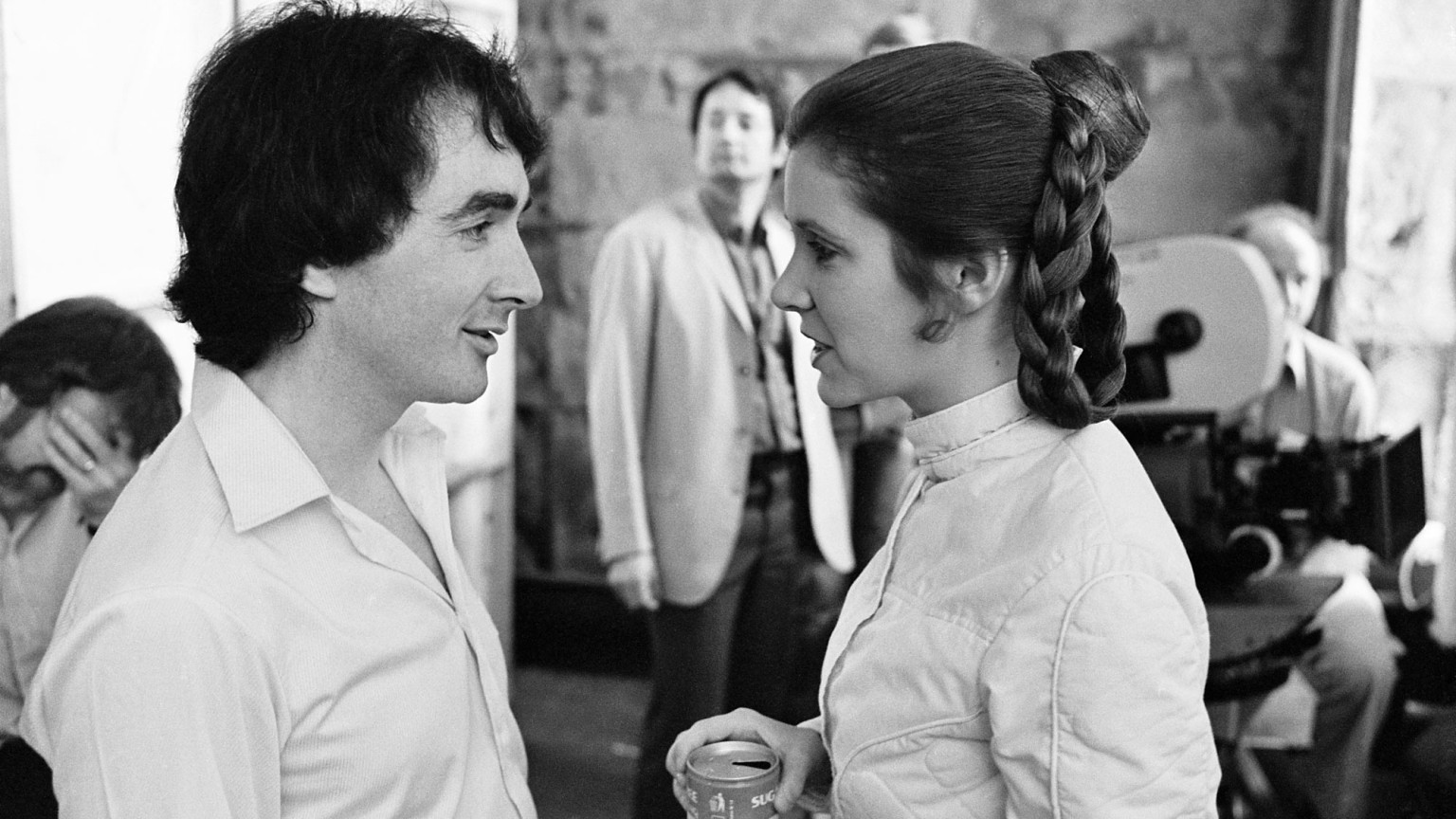 When Star Wars Celebration 2015 lands in Anaheim April 16-19, it will become the hottest place in the Galaxy for Star Wars fans. As things start to gear up for this event, announcements have begun to be made regarding featured guests. Today, we are pleased to announce that Carrie Fisher (Princess Leia), Anthony Daniels (C-3P0), and Kenny Baker (R2-D2) will be appearing at Star Wars Celebration 2015.
Fisher will appear on stage during the event and then sign autographs in the Official Pix Autograph Hall. She is set to reprise her role of Princess Leia in Star Wars: The Force Awakens.  Anthony Daniels, the man behind perhaps the Galaxy's most famous droid, will be on hand on the Celebration Stage as well and will also be meeting fans and signing autographs. Finally, the other man behind perhaps the other most famous droid, will be on hand in Autograph Hall as well.
This will be just some of many announcements that will be made leading up to Star Wars Celebration. Continue to check back to DAPs Magic for future updates. Also, keep your eyes open for the trilby and bow tie while at Star Wars Celebration as I, your humble correspondent, will be on hand to cover the events!
Are you going to Star Wars Celebration 2015?
Official Star Wars Celebration 2015 Announcement:
The Sharp-Shooting Princess Set for Celebration

When you can hide stolen Death Star plans, talk back to Grand Moff Tarkin, and win the heart of Han Solo, you're kind of a big deal. So, StarWars.com is thrilled to announce that the sharp-shooting princess of a galaxy far, far away — Carrie Fisher — will return to Star Wars Celebration!

The legendary actress and author, who will reprise her role of Princess Leia in the upcoming Star Wars: The Force Awakens, will appear on stage and sign autographs in the Official Pix Autograph Hall (learn more about Official Pix below). Fisher's participation leads a slate of exciting new announcements for Star Wars Celebration, April 16-19 in Anaheim, California — including the attendance droids you're definitely looking for.

The Galaxy's Greatest Droid Duo Return

Anthony Daniels, who has portrayed C-3PO in all seven Star Wars movies, as well as the Star Wars: The Clone Wars and Star Wars Rebels animated series, will meet fans, sign autographs, and appear on the Celebration stage. Kenny Baker, who played R2-D2 in the original trilogy, will also appear in the Autograph Hall. Whether they are carrying stolen Death Star plans is unconfirmed at this time. But StarWars.com can confirm that even more attendees and events are coming to Star Wars Celebration.

Official Pix Returns to Celebration, Presenting the Autograph Hall

Among the most popular memories fans take with them from the Celebrations are their meetings with cast and crew from the Star Wars movies and television. For the eighth time, Official Pix will again produce the autograph program at aStar Wars Celebration, making it possible for attendees to meet their favorites in person while they get their signature, and maybe have a photo taken with them as well.

"We are thrilled to kick off our Celebration Anaheim announcements with fan-favorite Carrie Fisher," says Ben Stevens, co-owner of Official Pix. "We are once again honored to be chosen to produce the autograph program for Lucasfilm, and for Reed Exhibitions."

Stevens and Philip Wise, partners in the company, plan to bring guests whose combined careers span the Star Wars saga, with special attention to guests who are favorites with fans, and also to guests whose autographs are rare and hard to come by.

Look for more Star Wars Celebration Anaheim guest announcements soon! For detailed information on how the autograph area will work at Celebration, and to purchase advance sale autograph coupons, go to www.officialpix.com.