When you think of eating out at a steakhouse, the first thing that comes to mind is obviously steak. What if you are eating with someone that specifically eats vegetarian? Well, if you are eating at the Disneyland Resort, have no fear, there is bound to be something to fit your dietary need.
At a recent visit to Steakhouse 55 of the Disneyland Hotel, I attended with family for a special occasion dinner. At first, I was unable to locate an entrée on the menu that would fit my lifestyle eating habits; that of being a vegetarian. When I brought this to the attention of our waiter, he gave a selection of options. First off, several of the salads on the menu were meat free or could be made meat free. So that was an option for dinner.
Second, the dinner menu at Steakhouse 55 lists many options of sides that guests can order with their entrée. The waiter suggested that some will just order a selection of sides and that is their dinner. Some of these sides are vegetarian, but note not all are. With a menu that varies in season, items may change through the year.
Third, the option I felt which was fitting for dinner, was a warm and yummy entrée. The waiter gave the option of either a pasta primavera with vegetables or a risotto with mixed vegetables. I chose the option of the risotto.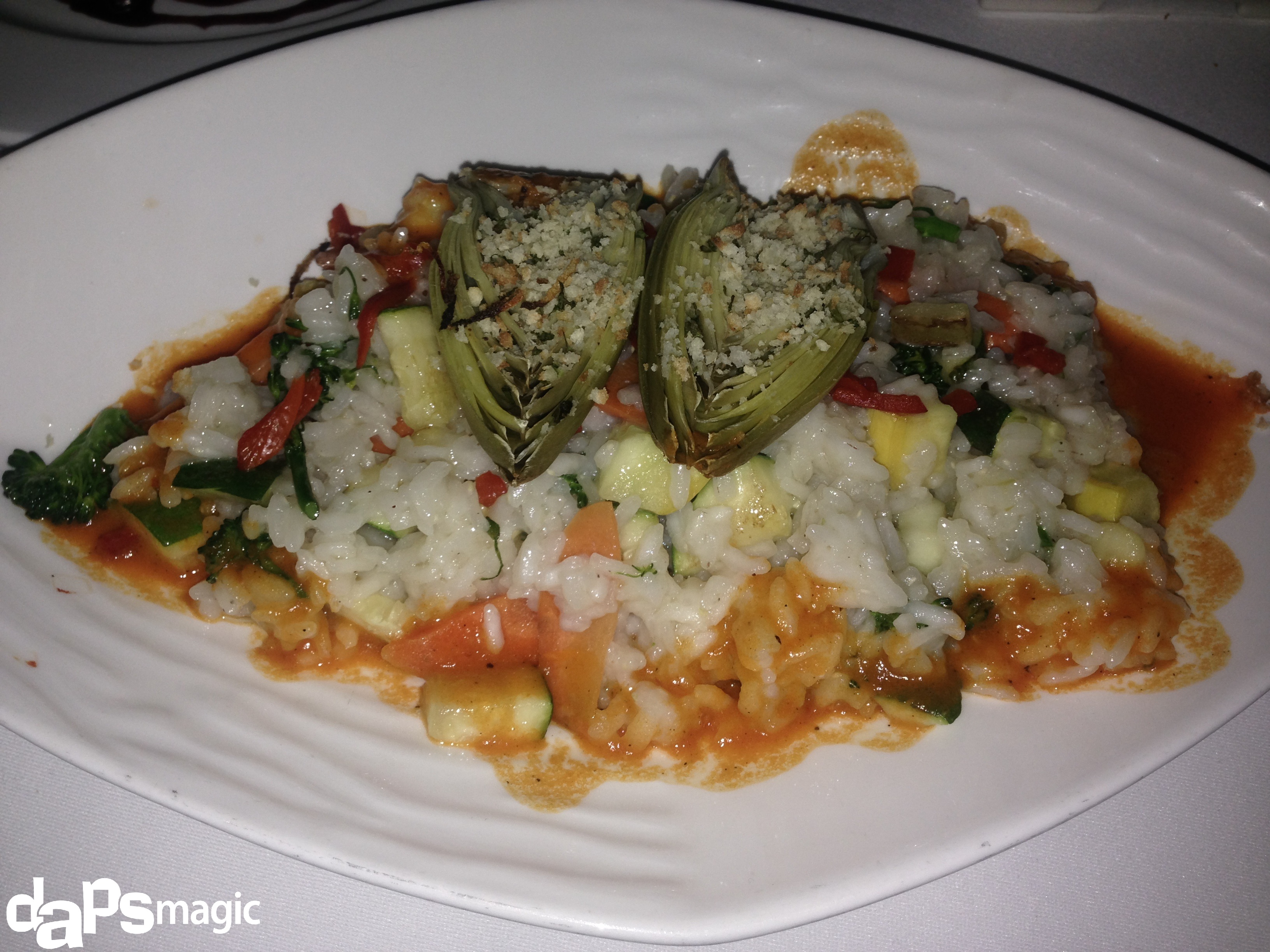 As soon as my plate came out, I knew I made the right decision. The meal consisted of an enjoyable ratio of risotto to vegetables. Place on top of the entrée was that of my favorite, artichokes. The dish consisted of a variety of vegetables such as carrots, squash, broccoli and bell peppers. In addition, there was also a vegetable sauce mixed in. This meal was light and pretty yummy. As for the price, this entrée came out to be $27.00, before taxes and an Annual Pass Discount.
If you plan on eating at Steakhouse 55 at the Disneyland Hotel with family or friends, vegetarians should be comfortable in finding a meal here even if it is a steakhouse.
If you do have further questions about specific dietary needs when eating at the Disneyland Resort, please call Disney Dining at (714) 781-DINE or (714) 781-3463. This number can also be called to make dining reservations. If you would like to view the restaurant's menu, please click here by visiting the Disneyland Resort's website.
Be sure to stay tuned to DAPs Magic as I venture through the Disneyland Resort tasting other delicious vegetarian options. You never know what may appear on my plate next.
Hope you enjoyed this meal recap. If you have any suggestions, please let me know. Also, if you have dined at Steakhouse 55, what is your favorite entrée?