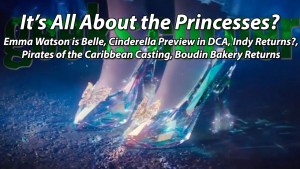 Welcome to Geeks Corner – Episode 417. This week It's all About the Princesses? Apparently so, because that's what the title suggests. Mr. DAPs, Johnny 5, and Hayley the Hatter are all on deck (or TARDIS) to talk about quite a few things this week so let's get right to it.
Princesses
Emma Watson Cast as Belle – Emma Watson, of Harry Potter and UN fame, has been cast as Belle in the upcoming Disney live-action adaptation of Beauty and the Beast. Apparently, this movie is a musical and Watson is going to have to learn how to sing. So the question has to be asked, is this a good casting idea? Also, who will join her in the cast? Who would you like to see as Gaston or Beast? You can read more about this story here.
Cinderella Preview Coming to Disney California Adventure – The next Disney live-action adaptation to hit the big screens is Cinderella. This preview will be happening at the Bug's Life Theater at the entrance of Bug's Land beginning on January 30, 2015. The geeks talk about the trend of movie previews at the Disneyland Resort along with some of the more exciting side effects of having these previews in interactive theaters. Read more about the preview here.
Pirates
Pirates of the Caribbean: Dead Men Tell No Tales continues to sail onward in its production progress. This week, a new casting announcement was made with Kaya Scodelario (Maze Runner) has been added to the cast that currently includes Johnny Depp and Brenton Thwaites. More details on the newest casting and pirates can be found here.
Boudin Bakery Tour
The Boudin Bakery Tour has returned to the Disneyland Resort in Disney California Adventure. This tour has been updated a bit with some new features being added. Of course, this makes Johnny 5 quite happy obviously. Murray the Bellhop visited the park and filmed the new tour through the bakery. You can see the video and photos here.
Chris Pratt as Indiana Jones
It appears that Chris Pratt is being actively considered by Disney to don the hat and coat and become the next Indiana Jones. This seems to build off of a rumor from last summer that was quite similar. The question has to be asked, is he the right guy for the job? If not, who should be the next Indiana Jones? You can read the initial report here.
There are a few other surprises included in this week's Geeks Corner but watch and find out. Also, Mr. DAPs will be hosting live coverage of Disneyland's Diamond Celebration Unveiling live on dapsmagic.com/live starting at 8:00 PM PST on January 28, 2015 so don't miss the exciting announcements from the Disneyland Resort!
We hope you all have a geektastic week! Let's go to the corner!