Club 33 is a legend inside Disneyland.  It is known to be an elusive area of the park.  This last year, the exclusive eatery received a major upgrade and expansion.  Inside is a breathtaking look at the past and present.
Club 33 is exclusive to members only.  These members pay a hefty annual fee, but get to have some worthwhile perks….besides the restaurant.  For a moment recently, I got to have a glimpse inside, as well as an experience with the exquisite fare!
Club 33 doesn't begin when you're at your table.  The experience takes place along the street of New Orleans Square.  Guests and members ring a doorbell that is an intercom to the host or hostess at a desk on the ground floor.  As long as you have reservations, you're in.  The door opens remotely and a host or hostess greets the party.  It's still not time to go up to the table yet, but that's ok because there is much to see before heading up.
The entry way to the Club was a formerly open area of New Orleans Square.  Known as the Court d'Angels, this small courtyard was a nice, relaxing place to get away from the hubbub of a busy park.  Now it has been absorbed into the Club to be its beautiful entrance.  Though it's sad that one cannot experience this part of the park freely anymore, it was nice to see that it has kept its beauty.  To get to the courtyard, the party passes through a small reception area with a desk and glass case full of buyable merchandise.
After waiting for a time to head up, guests are escorted by another host or hostess to the main part of the Club.  Stepping through the door, anyone can see a dark, wood hallway that leads to an even more exclusive area of the already exclusive restaurant.  This is a lounge that members only can venture into.  I was not with members, so I cannot write about what this place was like.  So, let's venture on, shall we?
The ornateness of the lobby was magnificent!  On the ground sat a tiled mosaic with the 33 logo.  A grand harpsichord sat by a window, just ready to be played.  A beautiful grandfather clock (with much Disney history to it) sat in a corner with a vulture on top.  The vulture would talk at certain moments throughout the day, sometimes startling anyone around.  Above heads was a great chandelier that would fit in any ballroom.  Every fixture and statue and frame…everything looked carefully picked out to make this one of the most elegant places anyone can visit.  This part of the restaurant fit my definition of being the most elegant place I have ever been.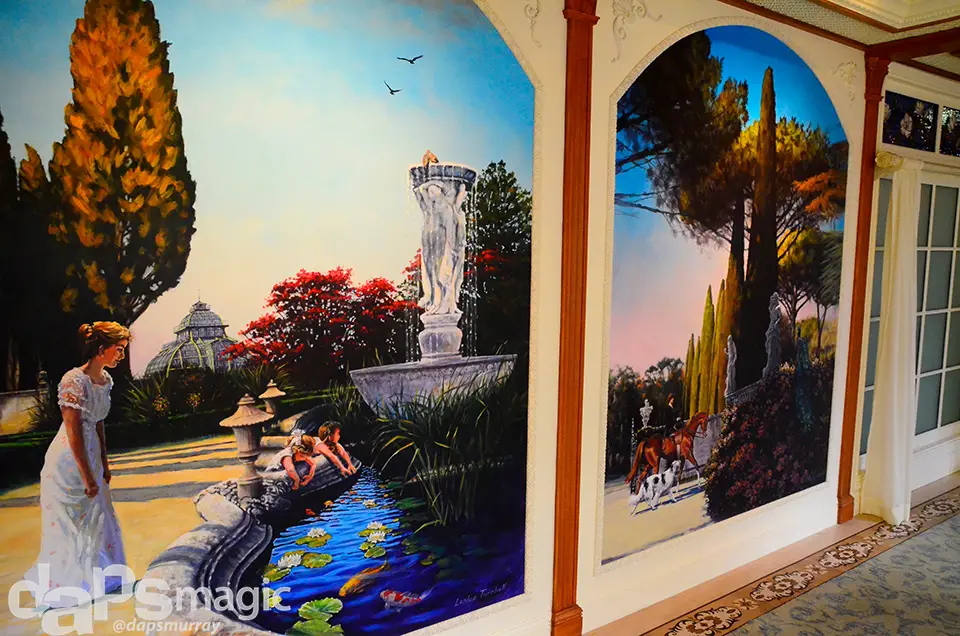 To get to the main dining area, guests travel by a beautiful, large mural along a wall.  On the other side are large windows that overlook New Orleans Square.  On days that you can look in from below, you can see it walking through the land.  But, the mural isn't visible.  The painting was beautiful and kept up the elegance of the whole club.
I expected the dining room to be dark because of either paint or wood design along the walls.  It was anything but.  Though there was wood, this place has undergone a transformation to be brighter and a more fun atmosphere.  We sat across from the bar area of the dining room, and that bar looked delectable!  But, we were there to eat…mostly.
I have been to some fancy restaurants and dinner parties but this took it up a notch.  The place settings were already made and servers put napkins in our laps as we sat down.  Throughout the meal, everything was served with flare as plates were revealed by taking a serving lid off.  It was a wonderful added touch to an already great atmosphere and experience.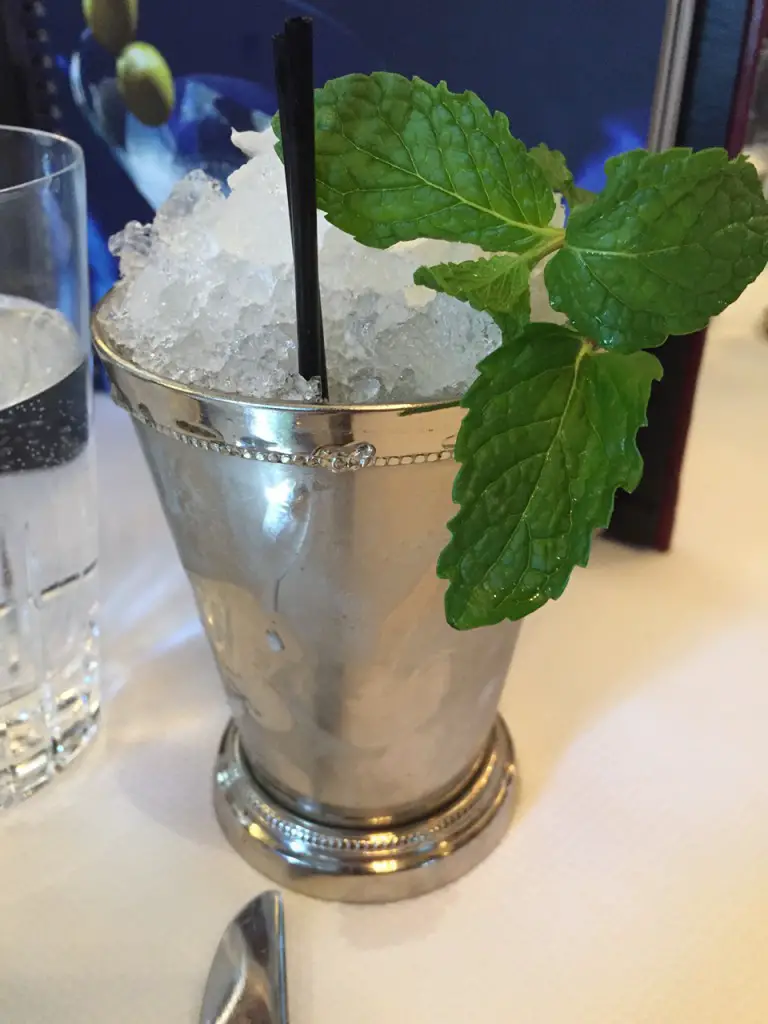 But, back to the food experience.  I had heard that the menu changed, though I never experienced Club 33 before.  I was concerned the food wouldn't be great.  Boy, was I wrong!  This was some of the best, possibly the best that I have had so far!
I began with a Mint Julep, because we're in New Orleans Square!  The drink was served in a silver cup, and our server mentioned this is the way Mint Juleps are supposed to be served.  It was delicious! I've had real Mint Juleps before, but this was the best!  The appetizer I picked was the Zucchini Blossom.  It was scrumptious as it was very soft with a crisp outside to it.  Next was the Duck Confit that had a savory taste that made me want more.  For the main course I had the Filet Mignon that melted in my mouth with some of the finest flavor of the steak that I have ever had!  Finally, for dessert, was Monkey Bread with a perfect scoop of vanilla ice cream.  You would think that Monkey Bread would be too simple, but this gourmet taste filled my mouth with delight!
If you look at the pictures or even read what I ate, it doesn't seem like this would be enough food to satisfy my stomach, though it's four courses.  This was on the contrary, as I was very satisfied by the end of the meal.  I simply could not have more, though I wanted to go another full meal because of how delicious the cuisine was!  Truly it was some of the best I have had anywhere.
After the meal we ventured around to take in the sights of this great Club.  The places we wanted to go the most were out on the balconies.  There is almost no other view like this in the park, especially that the Disney Gallery has been relocated to Main Street.
The thing I noticed most about the view was how much you see over the rails of the other balconies around New Orleans Square.  The detail of decorations really added to the land and its story. It felt like we were in New Orleans at some restaurant on Bourbon Street.  I know I've seen some of the decorations from walking around the land, but this view made me appreciate them even more.  They were all much more up close and it showed off their beauty even more.  The balconies were the kind of place that you could sit and enjoy a nice day, watching bands play around New Orleans Square.  It was relaxing, yet entertaining.  Also, I loved that I could admire the ornateness of railings and patios.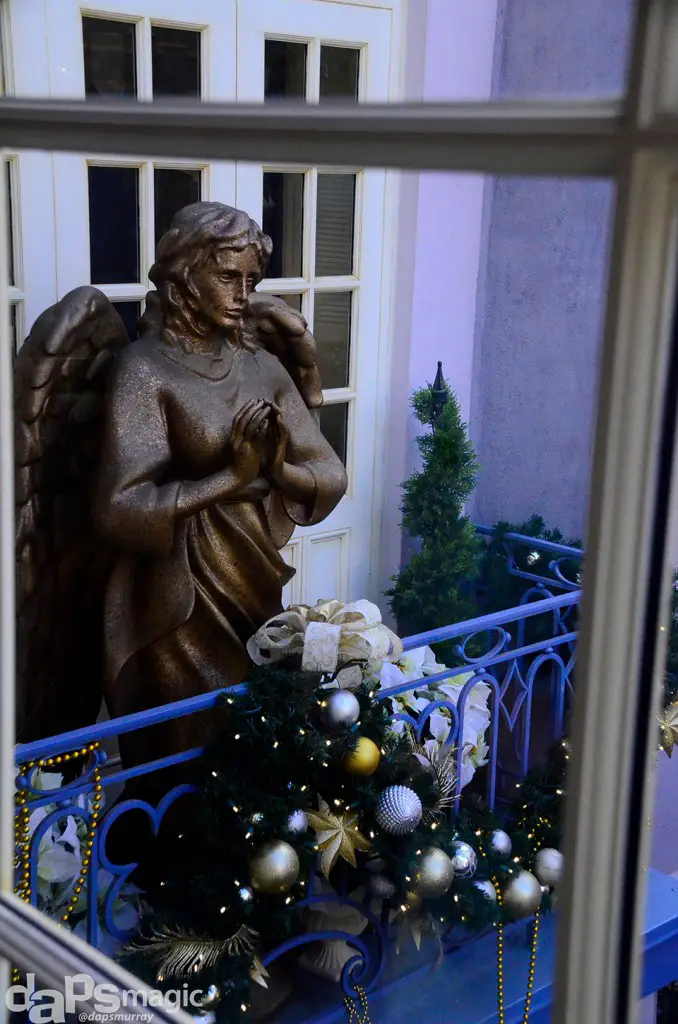 Heading back to leave, a necessary stop was the bathroom.  Not because of obvious reasons, as a lot of it was to see how decorated it is.  Probably the most interesting thing about the men's bathroom (the only one I went into, don't worry) is a bookshelf right by the entrance door.  On it were several books, some with Disney ties and others were puzzles as to why they were on the shelf.  I'm sure in all it points to something significant in Disney history, and even Walt's history itself, but I couldn't figure it out.  The rest of the bathroom was a very nice den-like atmosphere, with wooded doors to stalls and beautiful sinks.  Amenities lined these sinks, showing Disney really takes care of the members.
As I passed through each location leaving I took note of some artwork that adorned the walls.  One area had a very Rivers of America feel to it, with a big painting of the Mark Twain.  Another note was a sketch I have seen in books of the castle before it was built.  Could this be an original?  It seemed like it, but I don't think they would have put it even in an exclusive club like this.  Still, I liked the attention to detail of making this seem like a royal area of the park to be in.
Leaving was hard as we were treated like kings and queens here, and had as much fun.  It was an experience I will not forget!  I'm thankful to have been in this place that I have dreamed about going into most of my life so far.  The service was excellent!  The food was delicious, though that hardly describes how amazing it was.  This was the great experience that one would expect from a Disney club!