Announced this morning on Disney Parks Blog, Disney's Frozen will now be celebrated at the Disneyland Resort on an even larger scale. For a limited time, 'Frozen Fun' will take part at Disney California Adventure Park. Starting on January 7, 2015, all theses experiences will begin. You soon may even be calling yourself a resident of Arendelle.
The first addition to the fun is the "For the First Time in Forever – A Frozen Sing-Along Celebration." Here fans will get a chance to experience the story of Frozen in a new and exciting way. Located at the The Muppet*Vision 3D theater in Hollywood Land, this area has been created into the majestic Crown Jewel Theatre from Arendelle. Along side the help of Arendelle Historians, the adventurous story comes to life right before your eyes onstage. Elsa, Anna and Kristoff will even be there too!
Right next door at Stage 17 in Hollywood Land, "Olaf's Snow Fest" brings the Kingdom of Arendelle right to you. Upon entering, you will notice the area has completely turned into a winter wonderland. This location will have a snow play area and will include musical performances from The Frolicking Fjords and The Tubadors. With all the fun you will have playing in the snow, the best part is, is that Olaf will be there meeting guests. This will be your chance to give him a warm hug and take a photo with him. If you happen to get hungry, there will also be yummy themed treats offered.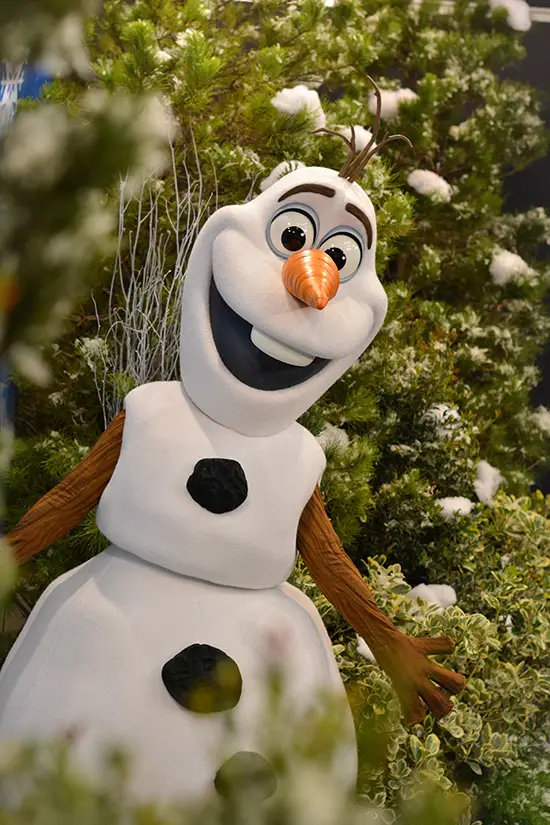 The Disney Animation Attraction in Hollywood Land has also had a few changes. At this location, "Anna and Elsa's Royal Welcome" will take part. This area will have an inside courtyard featuring music and scenes from the film. You will also get a chance to draw Olaf at the Animation Academy. Last but not least, this location will now be the new meet and greet area for Anna and Elsa. Similar to the current meet and greet, a Return Ticket system will be used to meet Anna and Elsa at their new location. Be sure to visit them in their elegant and stunning new location.
For those that love to dance, "Freeze the Night! A Family Dance Party" has too made its way to Hollywood Land. Here families will be able to experience interactive fun, music, dancing and so much more. This dance party will have you enter under an icy archway and will be completely themed in winter decor. Families can make their experience even more memorable by taking photos at one of the many photo spots and sharing some themed treated. There will also be frosty beverages that people of all ages can enjoy.
All of these entertainment options will officially begin on January 7, 2015, but guests can get a sneak peek of these features starting December 20.
Over at Disneyland Park, the Fantasy Faire Theater will  have an all new Frozen stage show. Mr. Smythe and Mr. Jones will retell the story of Frozen using their imaginative ways of the theater and will be helped along the way by Anna, Elsa and the Faire Maidens. The "Tangled" and the "Beauty and the Beast" show will return in the future. Guests at Disneyland Park will also get a chance to see Anna and Elsa right before Mickey's Soundsational Parade beginning January 7, during the pre-parade.
The Storybook Land Canal Boat attraction in Fantasyland,  will also receive new Frozen additions. The fjord-side village of Arendelle, castle of Anna and Elsa, Wandering Oaken's Trading Post, and Elsa's mountaintop ice palace will be added into the attraction. These new miniature new locations will replace the area of where the Old Mill stood.
Last but not least, the Downtown Disney District will continue to offer Olaf's Frozen Ice Rink and the new Anna & Elsa's Boutique.
Be sure to check out these great entertainment options from January 7 to May 15, 2015.
What is your opinion of all the new Frozen entertainment options?