Happy Birthday Mickey Mouse, Murray, and Victor!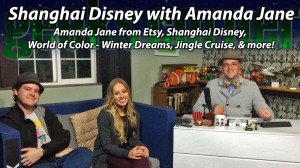 Welcome to this week's episode of Geeks Corner! This week, we have a special guest. Amanda of Amanda Jane Designs is coming to showcase her fantastic work. She creates necklaces that are a necessity for your #DisneySide collection. Her shop is at: http://www.amandajanedesigns.etsy.com
Her instagram is: http://www.instagram.com/amandajanedesigns
Her Facebook is: http://www.facebook.com/amandajanedesigns
She brought with her these necklaces along with a surprise keychain for Mr. DAPs (thanks Amanda!):
This week we will also cover news on Shanghai Disney Resort. There are new hotels coming and also new details on Disneytown, a new take on the Downtown Disney District concept.
We also briefly chat about the Jingle Cruise at the Disneyland Resort along with Mr. DAPs' review of World of Color – Winter Dreams.
Finally, it's time to ask Amanda some questions so we'll give her a fast five and see how that goes for her! We look forward to sharing this week's episode with you live! Please take a moment to comment, share, and subscribe!
Let's go to the corner!
Like to geek out with us?
Subscribe for more weekly geeky videos: http://bit.ly/WsmjJT